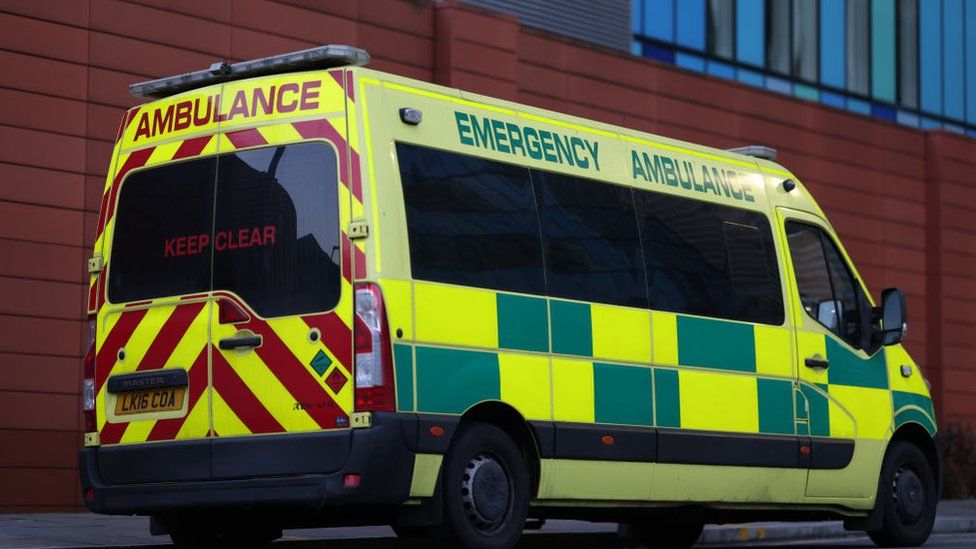 Health secretary Steve Barclay says flu and Covid have put "massive pressure" on the NHS and warned that reducing backlogs caused by the pandemic would "take time."
Speaking amid mounting concern over hospital delays, he said the government was working on freeing up beds.
He said this would relieve pressure in A&Es and on ambulance services.
But the pandemic had led to more people waiting for care and worsened the health of the most vulnerable.
Mr Barclay said people with conditions like heart disease had been reluctant to come forward for support at times during the pandemic – and this was a major factor in the demands now being seen.
He acknowledged the NHS was facing huge challenges, but said the government was providing extra funding to help.
This includes a £500m winter fund that has been set up to help hospitals discharge patients who are medically fit to leave but cannot because of a lack of support available in the community.
And he added: "We are so focussed on getting people out of hospital who do not need to be there."
In recent days, a number of hospitals have declared critical incidents, suggesting they cannot function as usual because of extraordinary pressure.
Senior doctors have described the NHS as on a knife edge, with some accident and emergency units in a "complete state of crisis".
It comes as the UK Health Security Agency (UKHSA) has reiterated the importance of people wearing masks if they are ill and need to go out.
There have been sharp rises in the numbers of people in hospital with Covid and flu in recent weeks – about one in eight beds in England is now occupied by patients with these infections.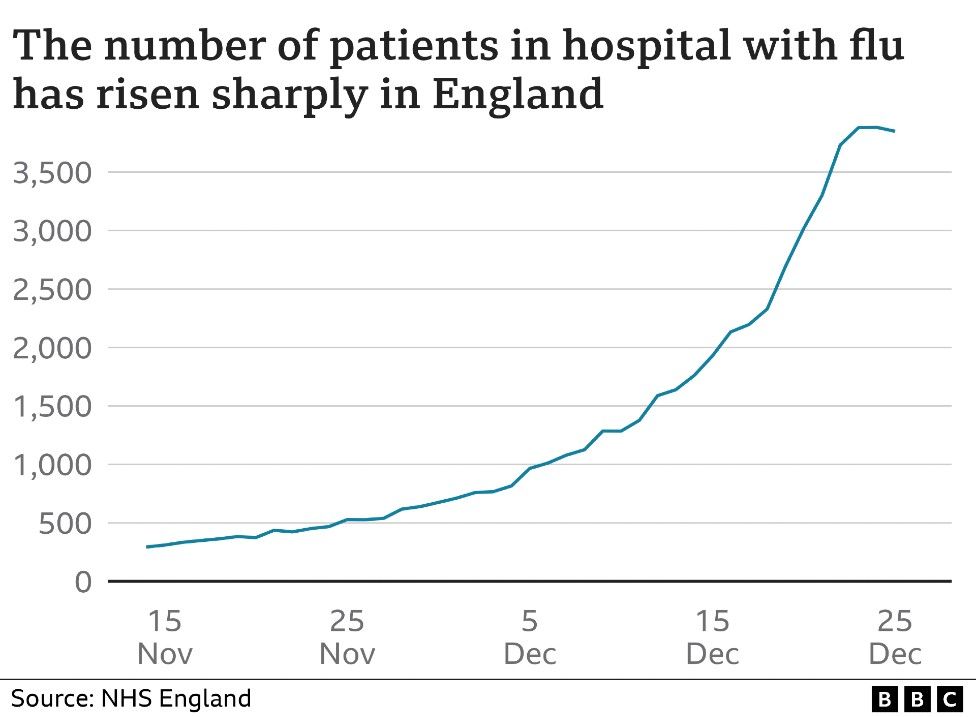 'I had to sleep in my car while waiting for an emergency op'
Having gone to A&E with stomach pain, Michael Woodcock, from Harrogate, was told he needed an emergency operation because his appendix was at risk of bursting.
It was late at night and he was booked in for surgery the following day.
But with no beds available, asked nurses whether he could sleep in his car rather than a waiting-room chair.
"I ended up getting some blankets from the nurses and sleeping in the car for a few hours and then heading back into the hospital in the morning for the operation," Mr Woodcock said.

Labour criticised the government's management of the health service, while the Liberal Democrats called for Parliament to be recalled early.
MPs are due back at Westminster next Monday, following their Christmas break.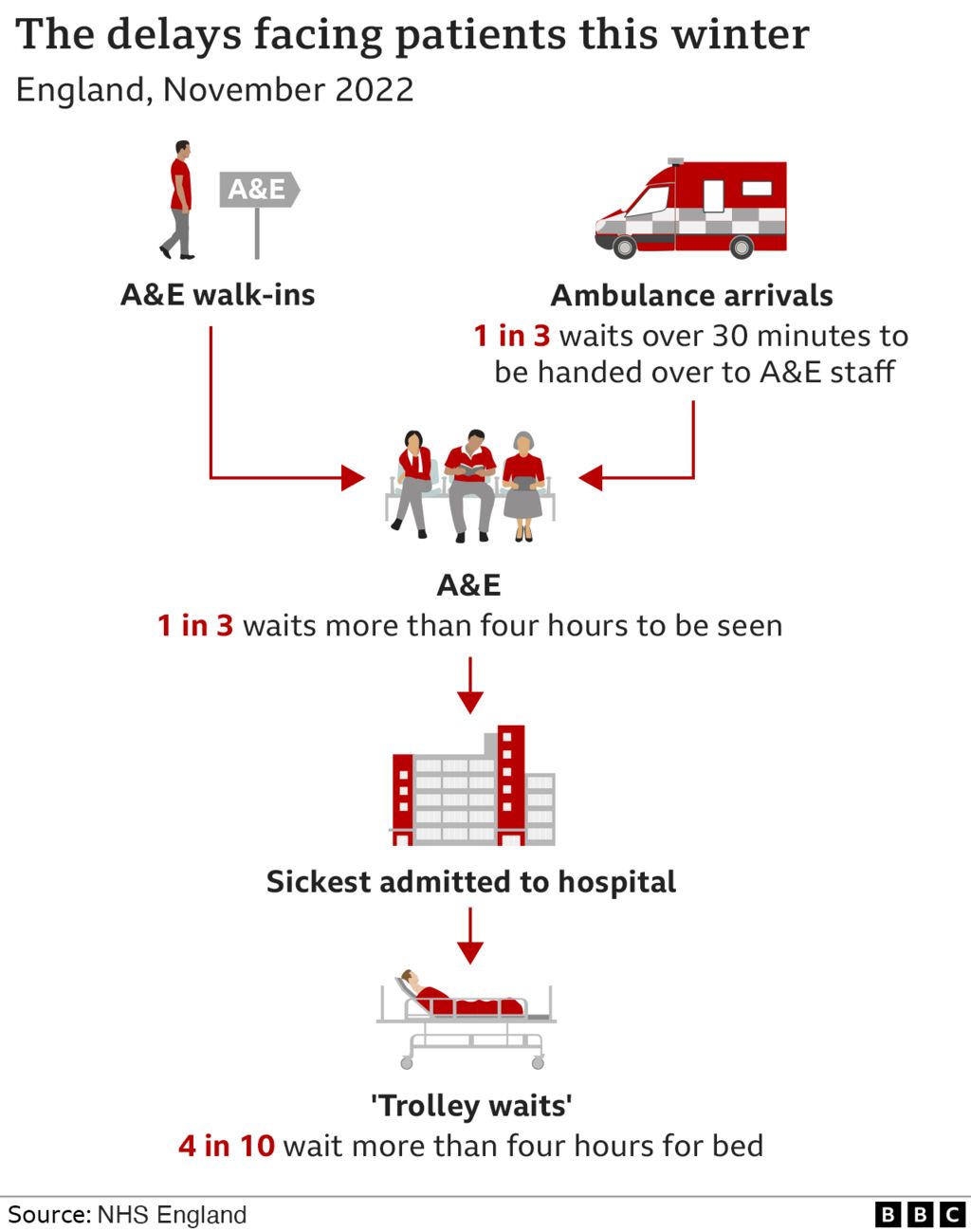 Prof Phil Banfield, who chairs the British Medical Association, which represents doctors, called on the government to "step up and take immediate action".
The situation was "intolerable and unsustainable", he said, with the NHS's survival on a knife edge and patients needlessly dying because of a political choice.
Richard Webber, of the College of Paramedics, said the current situation was the worst in his 30-year career.
Delays were causing patients "significant harm", he said, with ambulance services now struggling to find available crews for cardiac arrests – the highest category of emergency call.
"I've never known anything like it," Mr Webber said.

Have you been affected by the issues raised in this story? Share your experiences by emailing haveyoursay@bbc.co.uk.
Please include a contact number if willing to speak to a BBC News journalist. You can also make contact in the following ways:
If reading this page but unable see the form, visit the mobile version of the BBC website to submit a question or comment – or email HaveYourSay@bbc.co.uk. Please include your name, age and location, with any submission.