Rishi Sunak has asked people to hold him to account if NHS waiting lists in England do not fall in two years.
It is one of five pledges set out in the prime minister's first major speech of 2023, with others including the economy and small boat crossings.
Mr Sunak is facing challenges this winter, including a wave of strike action, a cost-of-living crisis and huge pressure on the health services.
But the PM said he was "taking urgent action" and increasing NHS funding.
He said the government was also increasing bed capacity and the extra money would help ensure people who are ready to be discharged can be moved into social care or looked after in the community.
With the Conservatives trailing in the polls after last year's political turmoil, Mr Sunak used his speech to set out the priorities for his premiership.
He also sought to reassure the public that he could deliver, ahead of a general election widely expected in 2024.
His speech set out five key pledges:
Halve inflation this year to ease the cost of living
Grow the economy, creating better-paid jobs and opportunity across the country
Ensure national debt is falling
NHS waiting lists will fall and people will get the care they need more quickly
Pass new laws to stop small boat crossings, making sure those who arrive illegally are detained and swiftly removed
He said people would be able to judge his government on whether it had delivered on these priorities, "no tricks… no ambiguity".
But when pressed he provided little detail on how some the pledges would be achieved and admitted "many factors are out of my control".
The speech came after senior doctors warned the NHS was on a knife edge, with some accident and emergency units in a "complete state of crisis".
A sharp rise in Covid and flu admissions in recent weeks has put pressure on hospitals, which are also dealing with a backlog of treatment that built up during the pandemic.
This has contributed to long waits for ambulances, emergency treatment and non-urgent care.
A shortage of capacity and staff in social care also means there is often a delay in people leaving hospital when they are ready to be discharged, meaning fewer beds are available for other patients.
Asked by the BBC's Chris Mason how soon things would improve in the NHS this winter, Mr Sunak said cutting waiting times was one of his priorities, adding: "I want the country to hold me to account for delivering it."
He said the government was increasing funding and bringing in innovations like virtual wards, so people could be treated at home where appropriate.
"I believe in just a few months we will have practically eliminated waiting times for those waiting a year and a half", he said.
"We've already eliminated those waiting two years, and by next spring I think we will have eliminated those waiting a year."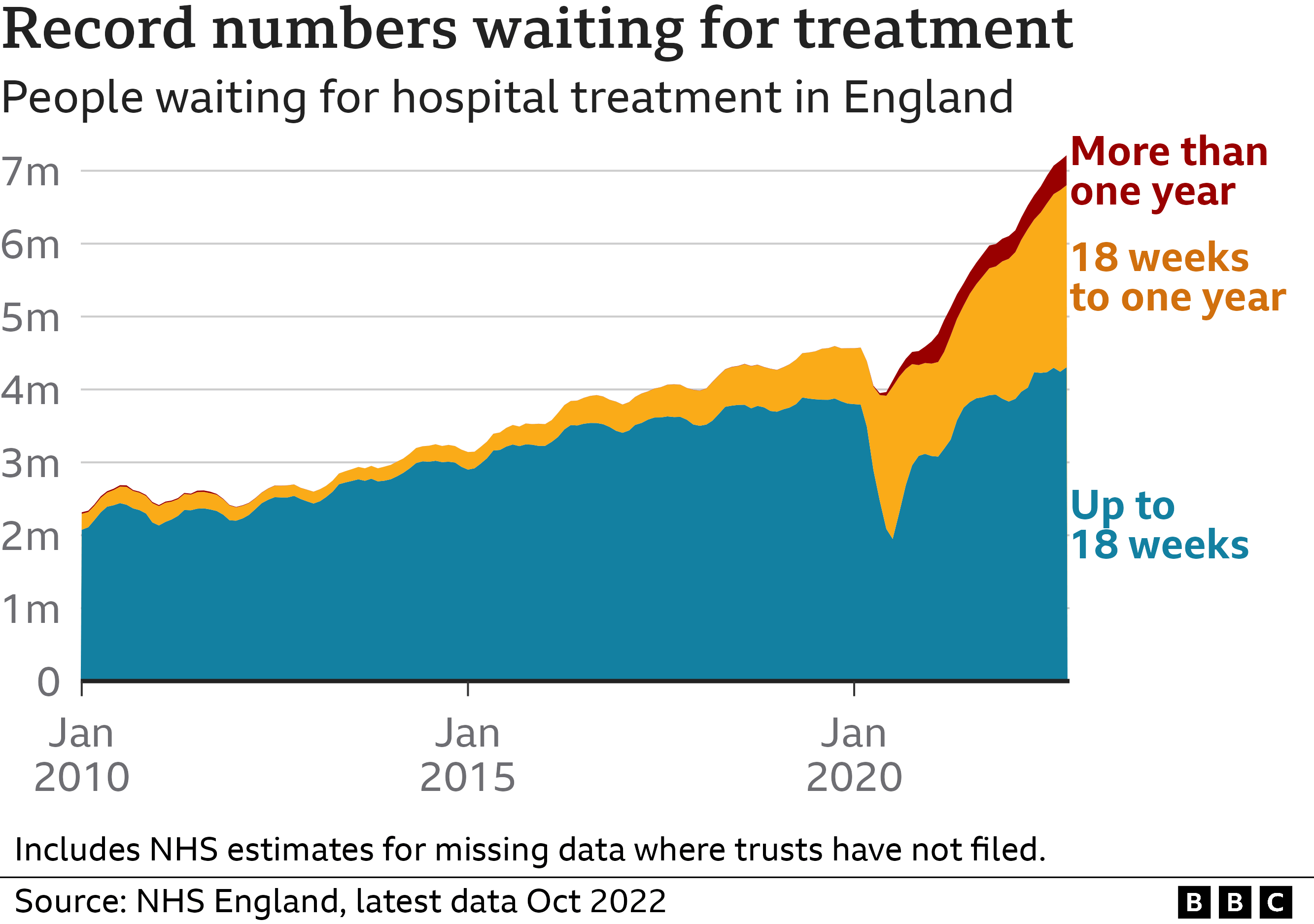 Labour said Mr Sunak's pledges were all things that were happening anyway, were easily achievable or "aimed at fixing problems of the Tories' own making".
"For weeks this speech was hyped up as his big vision – now he's delivered it, the country is entitled to ask: is that it?" the party's deputy leader Angela Rayner said.
Liberal Democrat Leader Ed Davey said the prime minister was "asleep at the wheel", adding: "People will be dismayed that Rishi Sunak still doesn't have a proper plan to deal with the crisis raging in the NHS."
The SNP accused Mr Sunak of making "flimsy promises, whilst people in Scotland are paying the price of five Tory prime ministers over the last 13 years".
The prime minister said the pledges would be delivered during this parliament, which goes up to January 2025 at the latest.
He said he expected inflation – the rate at which prices rise – to halve this year and that he would also like the economy to be growing by the end of 2023.
Inflation is currently at a near 40-year high of 10.7%, with wages failing to keep up with prices.
Based on current forecasts from the Bank of England and the independent Office for Responsibility (OBR), the aim to halve inflation this year should be achievable.
The Bank expects inflation to fall sharply to 5.2% in the final quarter of the year, while the OBR has forecast the figure to fall to 3.8%.
However, some of his other pledges are likely to be more challenging to achieve.
There are currently more than seven million people waiting for NHS care in England – one in eight of the population.
Waiting lists have continued to grow since the height of the Covid pandemic, as more patients come forward after missing treatment during lockdowns.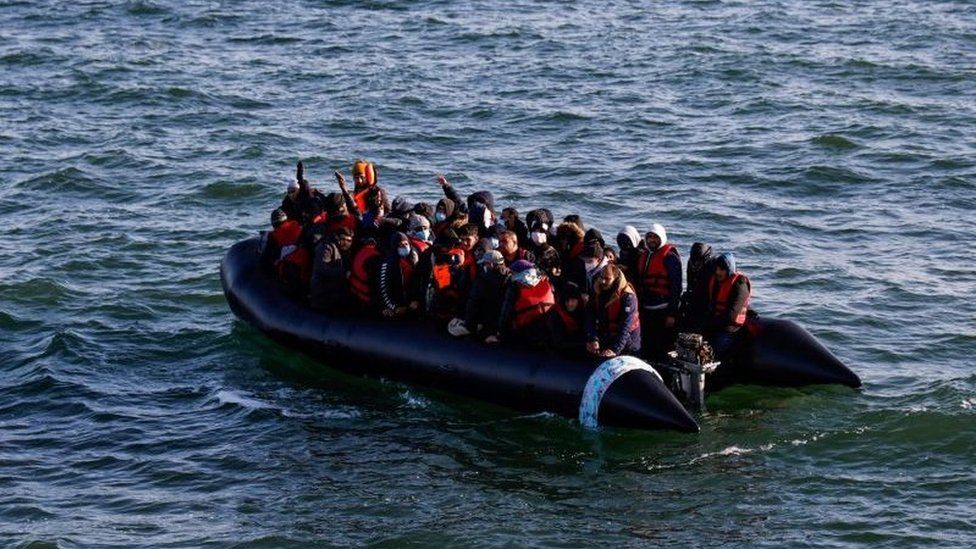 The prime minister promised to introduce legislation to ensure people who arrive illegally are removed quickly – but he admitted this "is not going to happen overnight".
Progress will depend on how quickly Parliament passes any new law, while the plans could also get bogged down in the courts as a potential breach of the UK's refugee obligations.