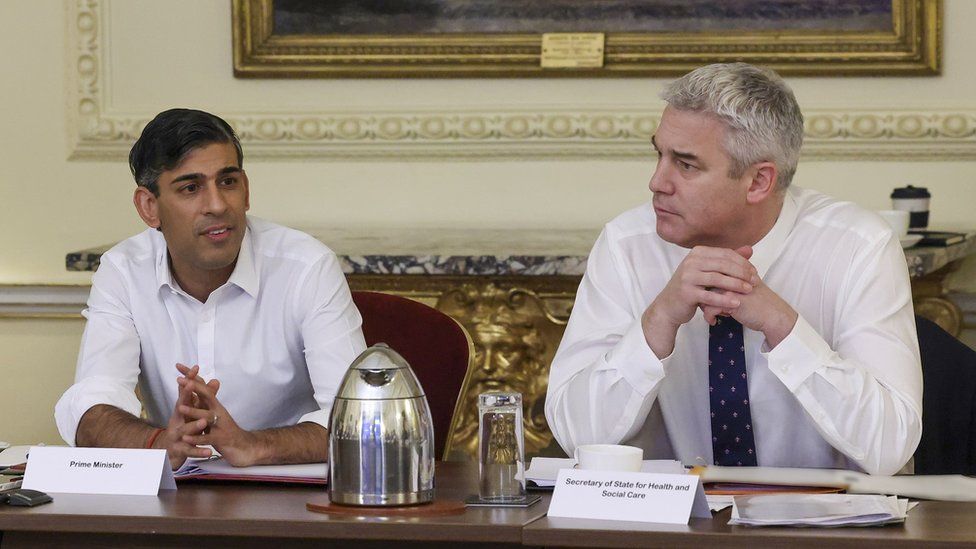 Rishi Sunak found a meeting with health leaders to tackle the pressures in the NHS "highly valuable", Downing Street has said.
The prime minister, health secretary and Treasury ministers met health experts from across England on Saturday to discuss "crucial challenges".
Reports have emerged of patients spending days on trolleys because of shortages of beds in some hospitals.
Following the Downing Street talks, a government spokeswoman said the prime minister and his health ministers "found today's discussions highly valuable for sharing ideas and best practices that could be spread nationwide to improve care for patients throughout the country".
The spokeswoman added that Mr Sunak "expressed his deep gratitude to the health and social care experts who attended today's forum – and to the wider workforce they represent for all their hard work and dedication especially during the pandemic".
Representatives from the public and private sectors attended Saturday's forum, alongside chief executives and clinical leaders of NHS organisations, local areas and councils from across the country, plus medical and social care experts.
Amanda Pritchard, chief executive of NHS England, and Sir Chris Whitty, chief medical officer for England, also took part in the meeting.
The spokeswoman reiterated that Mr Sunak has made it one of his top five priorities to reduce NHS waiting lists and said that "the government is investing a record amount in the health service, including in recruiting a record number of doctors and nurses".
She added: "Next steps will be set out in due course."
Labour said patients deserve "more than a talking shop" and the Lib Dems said the meeting was "too little too late".
Senior doctors have said the NHS is on a knife-edge, with long waits for emergency care, routine operations, GP appointments and care for patients when they are discharged from hospital.
High levels of flu and Covid, a wave of strike action and a cost-of-living crisis are also putting huge pressure on the health service.
On Monday, health unions have been invited to meet Health Secretary Steve Barclay to discuss pay for 2023-24 from April – but union leaders say the government must act on the current pay dispute for this year, and the talks will not stop planned strikes in January.
Speaking to the BBC's Today programme on Saturday, Royal College of Nursing General Secretary Pat Cullen said the pay increase nurses would receive in 2022-23 was "fundamental" to the ongoing dispute.
"We'll of course go to the meeting… but it's sadly not what's going to prevent strike action that's planned for 10 days' time," she said.
Asked about earlier comments in which she appeared to suggest the union would consider lowering its pay increase demand from 19%, and about reports it would be prepared to accept 10%, she called on Mr Sunak to meet her "halfway".
"I have put out an olive branch to get us to the table," she said. "The ball is now firmly in the prime minister's court. He needs to come to the negotiation table with me and he needs to put money on that table, and it needs to be about the current year."
The government says it has organised all-day NHS Recovery Forum on Saturday to focus on how to "share knowledge and practical solutions" across different regions of England.
Downing Street said the aim was to tackle "the most crucial challenges" faced by the health service, such as delayed discharge and emergency care.
A spokesperson said: "We're bringing together the best minds from the health and care sectors… We want to correct the unwarranted variation in NHS performance between local areas, because no matter where you live you should be able to access quality healthcare."
But shadow health secretary Wes Streeting said: "Health experts have been sounding the alarm for months about the crisis the NHS is facing, so why has it taken so long for Rishi Sunak and Steve Barclay to decide to listen to them?"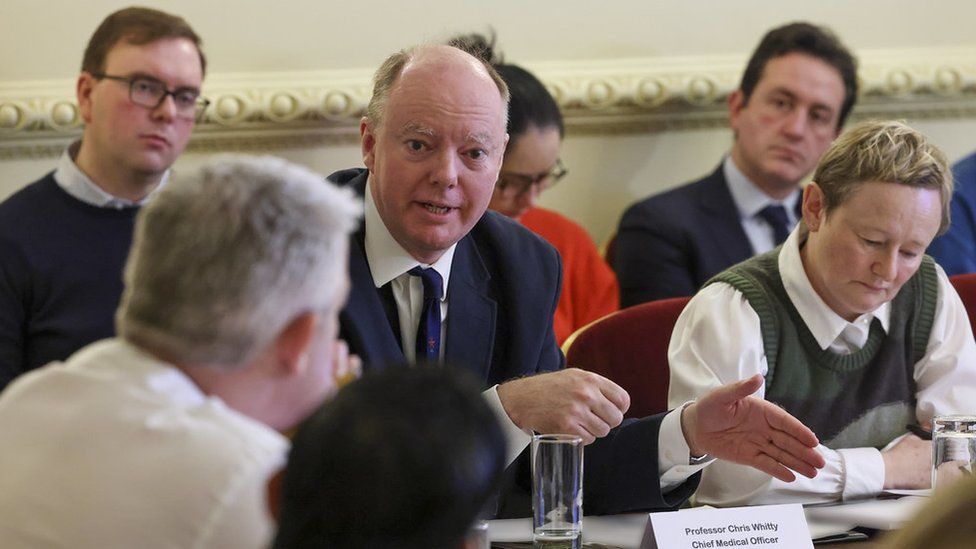 The government in England has already announced plans to roll out virtual ward beds so that more people can be treated at home, a new service to save thousands of ambulance call-outs to people who have fallen, and more funding to improve emergency care and adult social care.
More than 90 diagnostic hubs, housed in venues such as football stadiums and shopping centres, have also been opened to reduce the queues for tests, checks and scans.
The hubs enable GPs to refer patients for procedures like MRI and CT scans without the need for a hospital visit.
The government says it wants 40% of all diagnostic activity to take place in the hubs by 2025. It also aims to eliminate 18-month waits by April 2023 and 12-month waits by March 2025.
Although two-year waits for routine treatment have shrunk since the pandemic, experts say there is still a mountain to climb before the numbers of patients waiting longer than a year start coming down.
More than seven million people are currently on a hospital waiting list for a non-urgent operation or treatment in England – one in eight of the population.