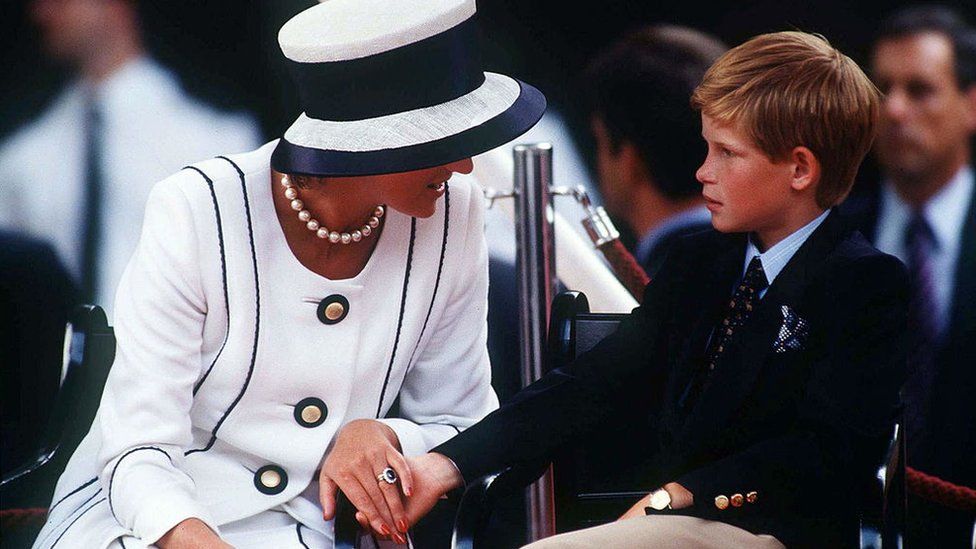 Prince Harry has revealed he cried only once over the death of his mother, Diana, the Princess of Wales, in 1997.
In a new interview clip promoting the publication of his autobiography Spare, Prince Harry recounts how he and Prince William were unable to show any emotion as they met mourners in public.
He told ITV's Tom Bradby he had cried when his mother was buried.
The Duke of Sussex said he had felt "some guilt" walking among crowds who left flowers outside Kensington Palace.
The book is not due to be published until 10 January, but extracts were leaked after some copies went on sale early in Spain. BBC News has obtained a copy and has been translating it.
In the ITV interview, due to be broadcast on Sunday evening, Prince Harry said "everyone knows where they were" when his mother died in a car crash in Paris in August 1997.
He said he had looked back on the footage of him and his brother meeting mourners a few days later.
"I cried once, at the burial, and you know I go into detail [in Spare] about how strange it was and how actually there was some guilt that I felt, and I think William felt as well, by walking around the outside of Kensington Palace," he said.
"There were 50,000 bouquets of flowers to our mother and there we were shaking people's hands, smiling…
"And the wet hands that we were shaking, we couldn't understand why their hands were wet, but it was all the tears that they were wiping away."
Prince Harry adds: "Everyone thought and felt like they knew our mum, and the two closest people to her, the two most loved people by her, were unable to show any emotion in that moment."
Spare includes details of Prince Harry's walk behind his mother's coffin at her funeral, where crowds reached out to him and how he felt unable to cry in public.
He also writes about getting a driver to take him through the road tunnel in Paris where his mother died, hoping for closure from a "decade of unrelenting pain".
And he says his father did not hug him when he broke the news Princess Diana had died, sitting on his bed in Balmoral.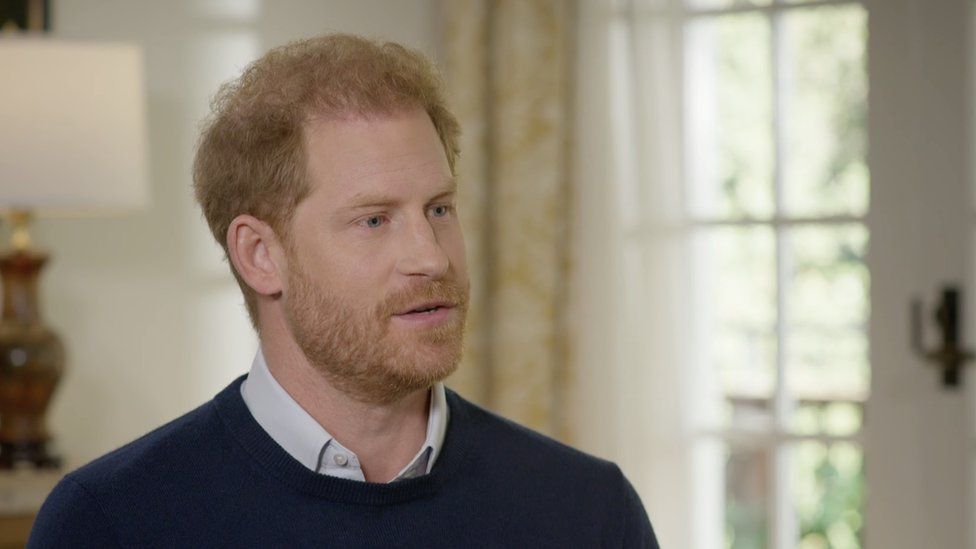 Prince Harry's ITV interview will be the first of four broadcast appearances to be aired over the coming days to promote Spare. He also spoke to three US TV networks – Anderson Cooper for 60 Minutes on CBS News on Sunday night, Michael Strahan of Good Morning America on Monday and Stephen Colbert on the Late Show on CBS on Tuesday.
Ex-colonel Tim Collins, best known for delivering the Eve-of-Battle speech during the Iraq War in which he called on his officers to "show respect", said Prince Harry had "badly let the side down" and "we don't do notches on the rifle butt".
Kensington Palace and Buckingham Palace have both said they will not comment on the contents of the book.
In February last year, they spoke to Oprah Winfrey about their difficult relationship with other members of the royal family, and a Netflix documentary series about the pair – released last month – revealed further strife.