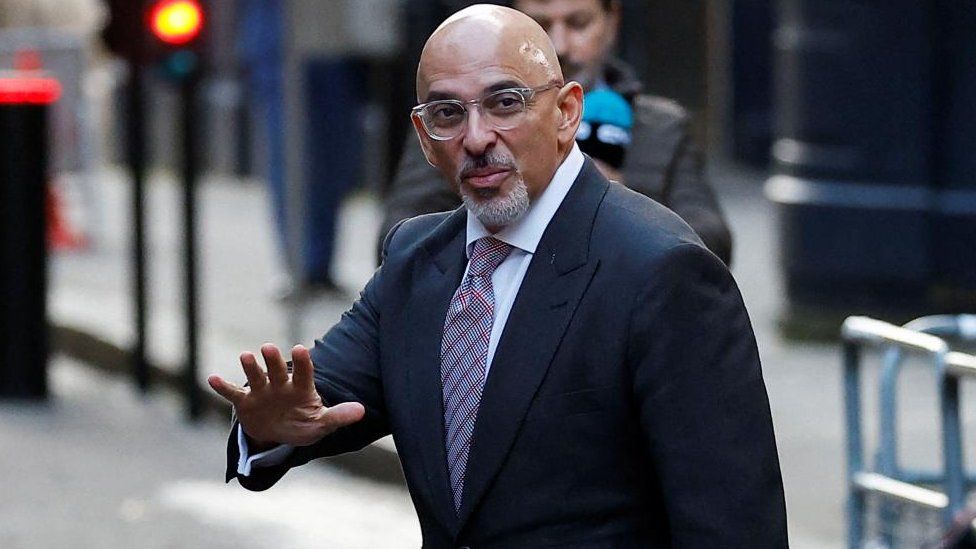 Nadhim Zahawi is determined to stay on as Conservative party chairman, allies have told the BBC, amid calls for his resignation after details of a multi-million pound tax dispute emerged.
Mr Zahawi paid a penalty to HMRC over unpaid tax while he was chancellor.
He has described the error as "careless and not deliberate".
Meanwhile Labour is calling on Rishi Sunak to "come clean" about his knowledge of the deal and called Mr Zahawi's position "untenable".
Mr Zahawi's allies have insisted he would continue in the role Mr Sunak appointed him to less than three months ago.
On Saturday, Mr Zahawi said he made a payment to settle the issue. But while it had previously been reported this included a penalty, it had not been confirmed.
The BBC understands the dispute was resolved between July and September last year, and that the total amount paid is in the region of about £5m, as previously reported.
Pressure has been growing on Mr Zahawi to give more details about his finances after reports emerged this week he had agreed to pay millions of pounds to HMRC to settle his tax affairs.
The tax was related to a shareholding in YouGov, the polling company he co-founded in 2000 before he became an MP.
Mr Zahawi has not confirmed how much his penalty amounted to, nor the total value of the final settlement with HM Revenue & Customs.
Labour said there were questions that still needed answering – and called on him to publish all his correspondence with HMRC "so we can get the full picture". Labour also said there are questions over the timing.
Although the BBC has been told the issue with HMRC was resolved while Mr Zahawi was chancellor – and the minister ultimately responsible for HMRC – it is still not clear when he originally became aware of it.
His allies claim he told the government's Propriety and Ethics Team – which is in charge of ensuring ethics across government departments – about it before his appointment as chancellor.
And after having become chancellor, Mr Zahawi did not seek to challenge HMRC's demands, but instructed his accountants to pay all of what they said was due, the BBC has been told.
Former Conservative leader Sir Iain Duncan Smith urged Mr Zahawi on Sunday to release "the absolute facts", adding he did not believe he was "deceitful". Foreign Secretary James Cleverly said it was for Mr Zahawi to decide "how much detail to put in the public domain".
Later on Sunday, Conservative MP Tim Loughton told the BBC's Westminster Hour it was fair to let Mr Zahawi put his side of the case but he should have given a fuller account earlier on.
"The more transparency, as early as possible, might have avoided all this speculation.
"If there's more to it then he will absolutely have to stand up and take the consequences and the prime minister, I'm sure, will take the appropriate action."
The BBC was previously told on Saturday that Prime Minister Rishi Sunak was satisfied with Mr Zahawi's account and has confidence in him as chairman of the Conservative Party.
A former child refugee who fled Iraq with his parents in the 1970s, Mr Zahawi went on to co-found the successful online polling company YouGov.
He is now believed to be one of the richest politicians in the House of Commons, after being elected as Conservative MP for Stratford-on-Avon in 2010.
He gained public recognition for his role as vaccines minister during the pandemic and later served as education secretary.
Between July and September 2022, he served briefly as chancellor under Boris Johnson, after the resignation of Mr Sunak.
When Liz Truss took over as prime minister, he was made chancellor of the duchy of Lancaster, minister for equalities and minister for intergovernmental relations.
In October Mr Sunak appointed him Conservative Party chairman and minister without portfolio, attending cabinet as part of his role.
Additional reporting by Francesca Gillett