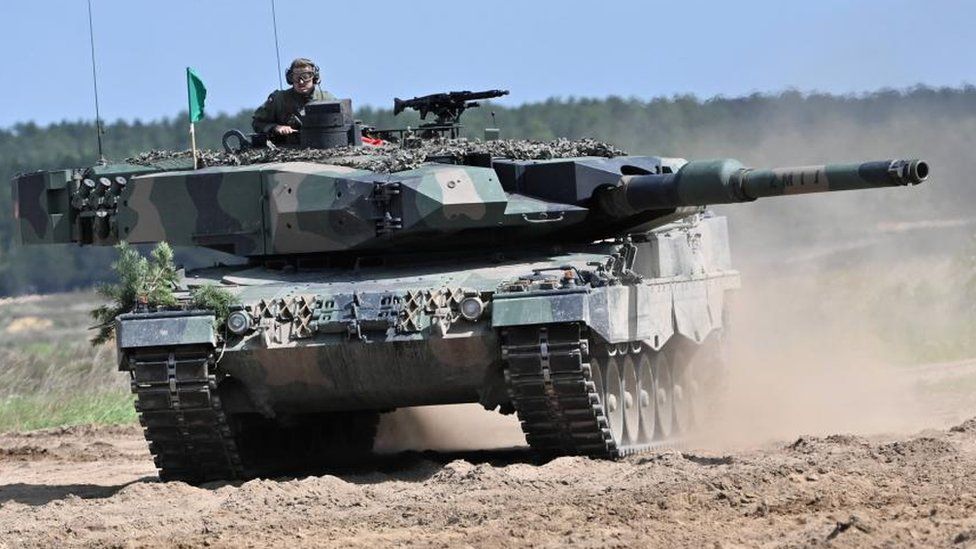 Ukraine's president has thanked Western leaders for sending tanks to support the fight against Russia, but said they needed to be delivered quickly.
In his nightly address, Volodymyr Zelensky also urged the West to send long-range missiles and fighter jets.
His comments came after the US and Germany announced they would send Abrams and Leopard tanks to Ukraine.
Russia condemned the announcement as a "blatant provocation" and said any supplied tanks would be destroyed.
The tanks would "burn like all the rest," said Dmitry Peskov, President Vladimir Putin's spokesman. "They are just very expensive."
Mr Zelensky said he told Nato Secretary General Jens Stoltenberg that "progress must be made in other aspects of our defence co-operation" – with Ukraine seeking supplies of long-range missiles and artillery.
He pressed not only for a prompt delivery of Western tanks but also for significant numbers: "We must form such a tank force, such a freedom force that after it strikes, tyranny will never again rise up."
While Mr Zelensky is likely to focus now on equipping the Ukrainian air force with more technologically advanced fighter jets after securing the tanks, many Western governments remain opposed to such a move – fearing the aircraft could be used to strike targets inside Russia.
In his speech to the Bundestag in Berlin on Wednesday outlining the details of the tanks plan, German Chancellor Olaf Scholz insisted there would be "no fighter jet deliveries to Ukraine".
US President Joe Biden announced on Wednesday that the US would send 31 M1 Abrams battle tanks to Ukraine.
The decision to deliver the tanks was announced hours after Germany said it would send 14 of its Leopard 2s to the Ukrainian battlefield.
Berlin also cleared the way for other European countries to donate German-made tanks from their own stocks.
Ukraine has lobbied Western allies to send the equipment for months.
It hailed the twin announcements as a turning point that would allow its military to regain momentum and take back occupied territory almost a year after Moscow invaded.
It also said the tanks could help deter a potential Russian offensive in the spring.
Announcing the decision to put its tanks on the battlefield, US President Joe Biden said Mr Putin had expected Europe and the United States to "weaken our resolve", adding: "He was wrong from the beginning and he continues to be wrong."
"We're also giving Ukraine the parts and equipment necessary to effectively sustain these tanks in battle," he said.
"This is about helping Ukraine defend and protect Ukrainian land. It is not an offensive threat to Russia."
A Ukrainian tank battalion typically consists of 31 tanks, which is why that number has been agreed upon, Mr Biden added.
The US decision, however, marks a reversal in their position as the Biden administration has insisted for some time that the heavy M1 Abrams tanks would be difficult to deliver, expensive to maintain and challenging for Ukrainian troops to operate.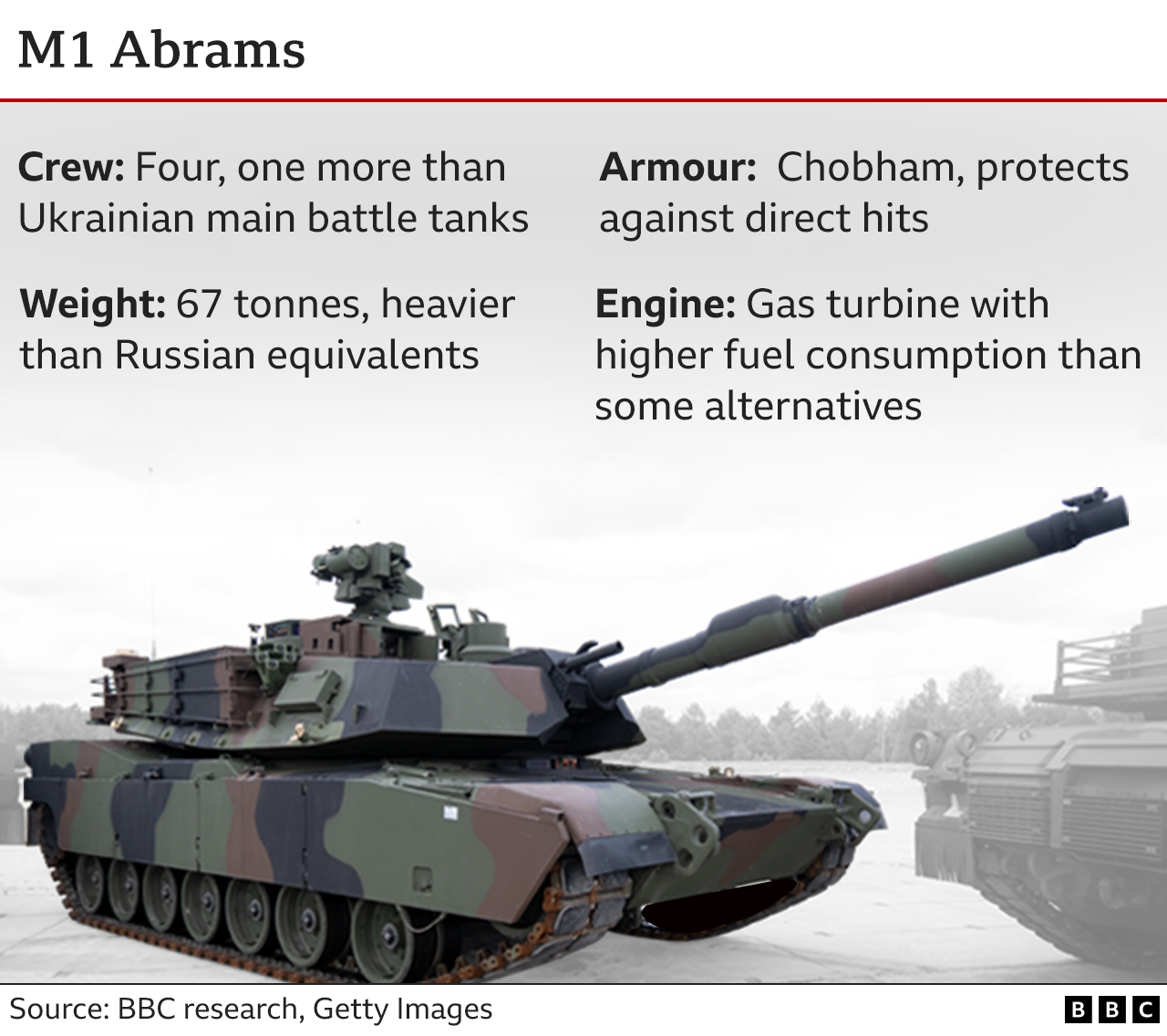 The US-made military vehicle is one of the most modern battle tanks in the world and requires extensive training to operate.
The $400m (£323m) US package also includes eight recovery vehicles that can tow the tanks if they become stuck, as well as ammunition, equipment, and funding for training and maintenance.
But it is likely to be many months before the tanks reach the battlefield.
White House national security spokesman John Kirby said there were no excess Abrams tanks in the US inventory. As such, they will have to be purchased from private contractors or bought from another country,
The German-made Leopard 2 tanks, however, will be drawn from existing inventories and are expected to arrive in two to three months. They are widely seen as one of the most effective battle tanks available.
The decision to send the heavy weapons follows weeks of diplomatic wrangling. Germany faced mounting international pressure to send the tanks, and there are reports that the eventual decision to do so was conditional on the US doing the same.
When asked if the US decision was designed to give Germany cover to send tanks, Mr Kirby said: "I wouldn't use the word cover. What this decision does do is show how unified we are with our allies."
He attributed the change in Washington's position to the conditions on the ground as well as Russia's tactics, without giving further details.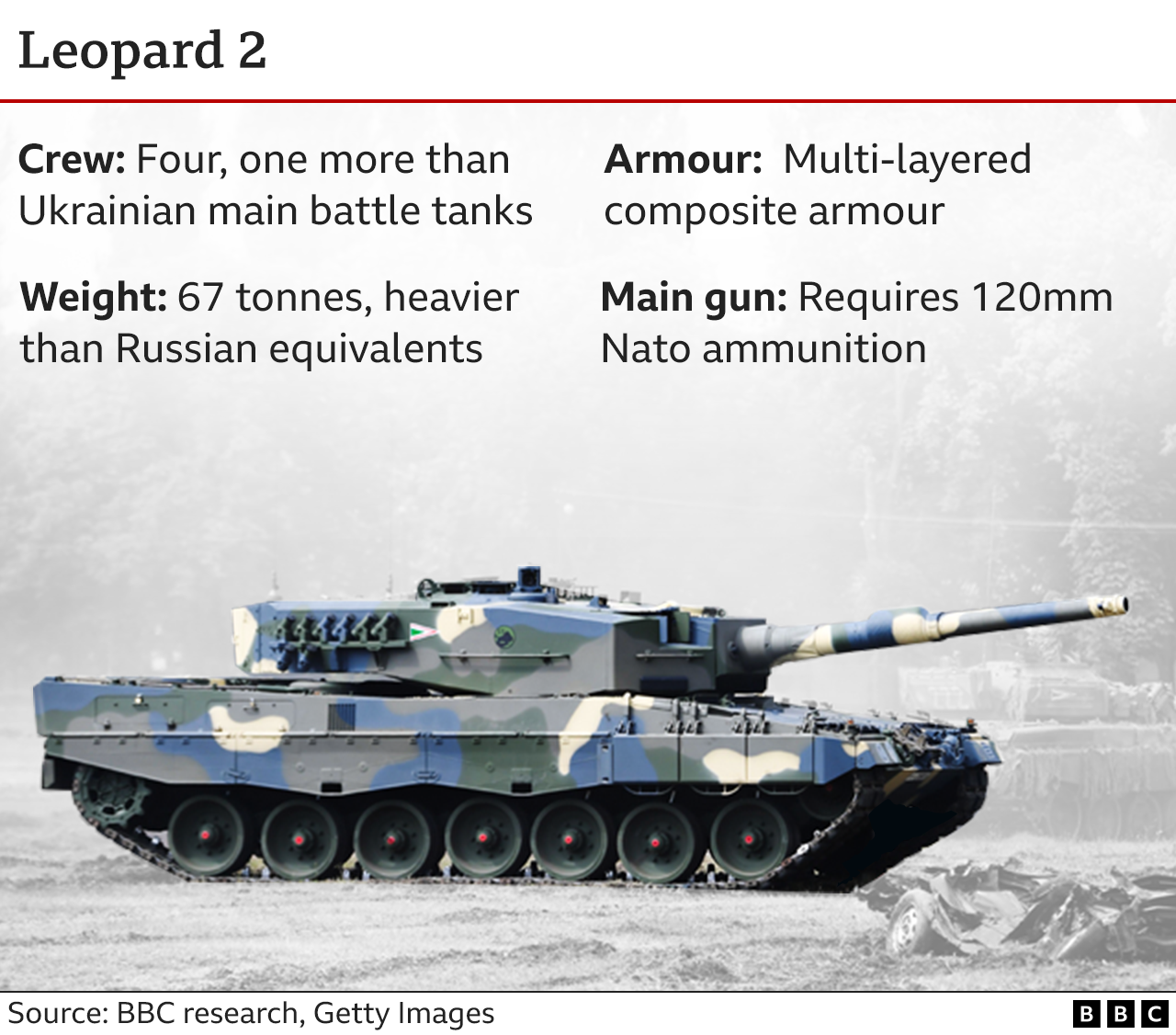 Ukrainian crews would soon be trained to use the Leopard tanks in Germany, officials in Berlin said.
While the acquisition of tanks from the West will be considered a diplomatic coup for Mr Zelensky, he said on Tuesday that his country required at least 300 of them to defeat Russia.
Several European countries have Leopard 2 tanks in their inventories, and the German decision means some of these can also be sent to Ukraine. Germany hopes around 90 will ultimately be delivered to the battlefield.
Poland wants to export 14 Leopard 2 tanks to Ukraine and Norway announced later on Wednesday that it would send some of its armoured vehicles – although it did not state how many.
The UK was the first Nato member to donate modern tanks to Ukraine when Prime Minister Rishi Sunak's government announced that 14 Challenger 2s – the British army's main battle tank – would be provided.