The Memphis Police Department has disbanded the so-called Scorpion special unit, whose officers are accused of murdering Tyre Nichols.
Scorpion stands for "Street Crimes Operation to Restore Peace in Our Neighborhoods".
The unit is a 50-person unit with the mission of bringing down crime levels in particular areas.
But now it is being abolished after its officers were seen beating Mr Nichols, 29, in the videos from 7 January.
In a statement, the department said "it is in the best interest of all to permanently deactivate" the unit.
"While the heinous actions of a few casts a cloud of dishonour on the title Scorpion, it is imperative that we, the Memphis Police Department, take proactive steps in the healing process for all impacted," it added.
The unit was launched in October 2021 with a focus on high-impact crimes, such as car thefts and gang-related offences.
The five officers – Tadarrius Bean, Demetrius Haley, Desmond Mills Jr, Emmitt Martin III and Justin Smith – were fired last week.
They were taken into custody on Thursday and each faces charges of second-degree murder, aggravated assault, aggravated kidnapping, official misconduct and official oppression.
Four of the five posted bail and were released from custody by Friday morning, according to jail records.
Lawyers for Mr Martin and Mr Mills have said their clients will plead not guilty.
"The unit that murdered Tyre has been permanently disbanded," a protester shouted into a megaphone in Memphis and the crowd erupted into cheers. 
Despite the rain, the group of fewer than 100 protesters had gathered in the square in front of the Memphis Police headquarters to demand change to a system of policing that they said makes a habit of brutalising black people in Memphis and across the country.  
"Memphis is taking a stand," said Casio Montez, one of the protest organisers. "This means we're doing something right."
Mr Montez vowed that he and other community organisers would continue to pressure Memphis Police Chief CJ Davis and city officials until "the community's demands are met", including reforming the department's organised crime unit.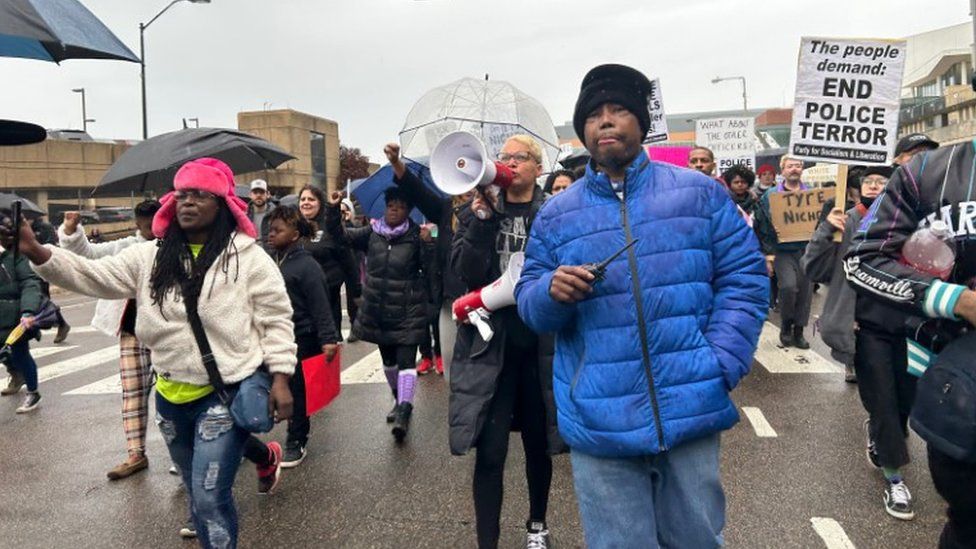 In an interview with BBC News on Friday, Chief Davis said the Scorpion unit was created to be "more responsive" and "more proactive" to gun violence in the city. But she acknowledged that the officers who brutally beat Tyre Nichols "decided to go off the rails".  
"We are doing an individual evaluation of all units," she said. "This is a necessary step. We want to be fully transparent to the community."  
But for some, the problem of police violence is more deeply rooted than any reform can address.
At the rally Saturday, Memphis native Allie Watkins held a sign that proclaimed, "All cops uphold white supremacy."  
The sign is historically accurate, she said, because the history of policing in America began with slave patrols.  
"This is not an issue of corruption in the United States, this is an issue of the fact that the system has been built against black bodies," she said.  If the system is broken, she added, the only way to fix it is to start again.
Police initially said Mr Nichols had been stopped on suspicion of reckless driving, which has not been substantiated. He died in hospital three days later, on 10 January.
Mr Nichols was black, as are all five officers charged in the case.
Memphis Police Department released four graphic videos of the traffic stop and its violent aftermath on Friday, totalling more than an hour of footage.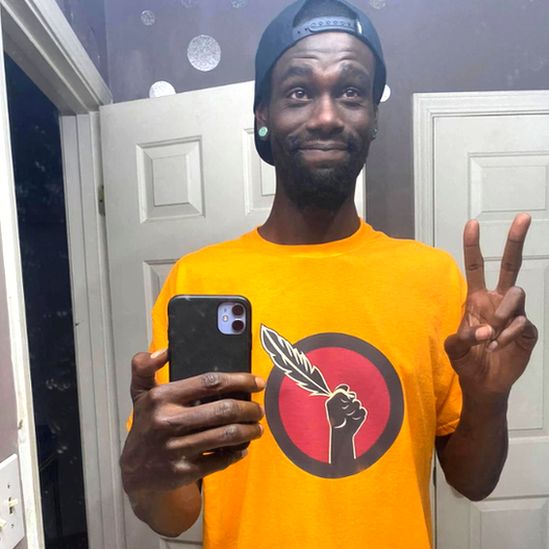 Peaceful protests took place in Memphis on Friday night after the video was released, with some demonstrators blocking a major highway in the city, while small-scale demonstrations were held elsewhere in the country.
Many protesters held banners demanding justice for Mr Nichols and an end to "police terror".
Lawyers for Mr Nichols' family likened the assault to the 1991 police beating of Los Angeles motorist Rodney King.
The Scorpion programme was touted by Memphis Mayor Jim Strickland in a speech a year ago. He said the city used crime data "to determine where the unit will conduct its enforcement activities within the city".
From October 2021 until January 2022, the unit made 566 arrests, he said. They also seized more than $100,000 in cash, 270 vehicles and 253 weapons.
In the wake of Mr Nichols' death, one local man, Cornell McKinney, told a Memphis-area TV network that he had a tense encounter with the unit on 3 January, just days before the incident involving Mr Nichols.
Mr McKinney alleges that the officers – who were travelling in unmarked vehicles – threatened to "blow his head off", pointed a weapon at his head and accused him of carrying drugs.
He complained to the Memphis Police Department after the incident, but says he has not heard anything back.
One of the officers that arrested Mr Nichols had previously been sued by a man who accused him of beating him when he was a prisoner eight years ago.