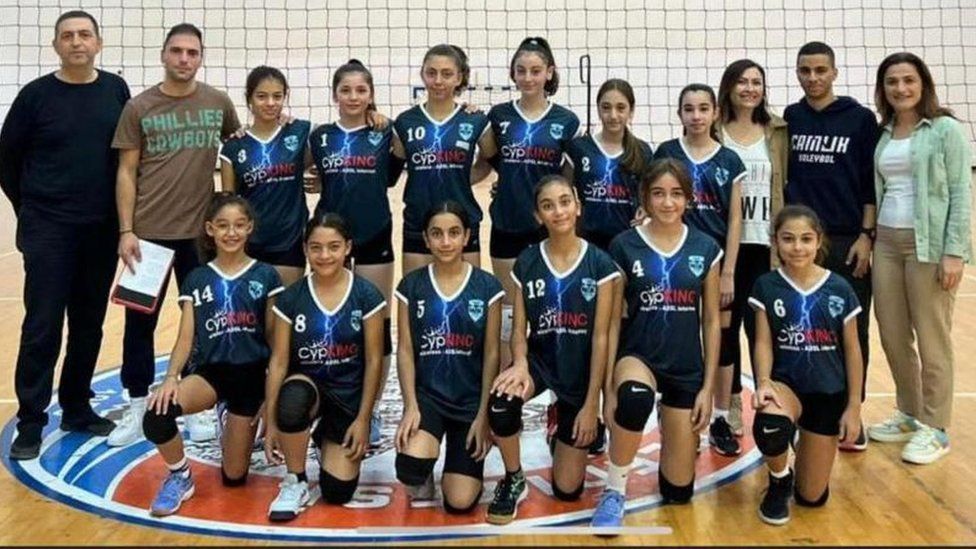 Three bodies have been found as rescuers in Turkey search a collapsed hotel for a group of school volleyball players following Monday's earthquakes.
The bodies of two teachers and a student were recovered from the Isias Hotel in Adiyaman, said officials in Turkish-controlled northern Cyprus.
A group of 39 people – including boys' and girls' teams – are said to have been in the building when it came down.
Search efforts continue at the site, where players' families have gathered.
The quakes have killed thousands in southern Turkey and northern Syria.
The athletes had travelled to Adiyaman from Famagusta Turkish Maarif College, accompanied by teachers and parents.
Four of the party are known to have survived after the seven-storey building fell down, having reportedly managed to escape from the rubble themselves.
Turkish-Cypriot media quoted officials as saying that the lifeless bodies of two teachers were found on Wednesday – and that the death toll had risen to three after an eighth-grade student was discovered.
The number of casualties was confirmed by the BBC Turkish team.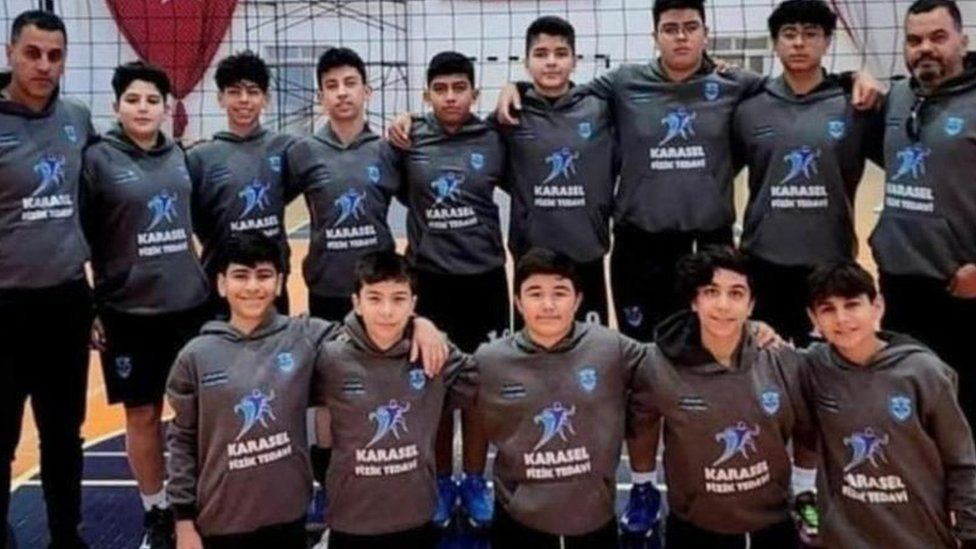 Some 170 people – including relatives and rescuers – have travelled to the wreckage from Turkish-controlled Northern Cyprus.
An education official from the island said they would remain there until the remaining students were found.
One mother at the scene questioned the construction of the buildings and asked if they had been adequately inspected.
Another woman said her niece, 12-year-old Nehir, had been staying with her in Adiyaman, but had gone to the hotel on the day of the earthquake to join up with friends.
Nehir, the youngest member of the girls' team, was still missing along with other children.
Meanwhile, a teacher who survived the quakes said they had not slept since the tremors and that their own daughter remained trapped in the wreckage.
Monday morning's initial 7.8-magnitude tremor struck near the Turkish town of Gaziantep, close to the Syrian border.
Numerous aftershocks were felt in both countries.
Nearly 16,000 people are known to have died in the two countries. The World Health Organization has warned that many more could lose their lives without shelter, water, fuel or electricity.
As freezing weather sets in, hopes are fading for the many still trapped under ruined buildings, more than 72 hours after disaster struck.