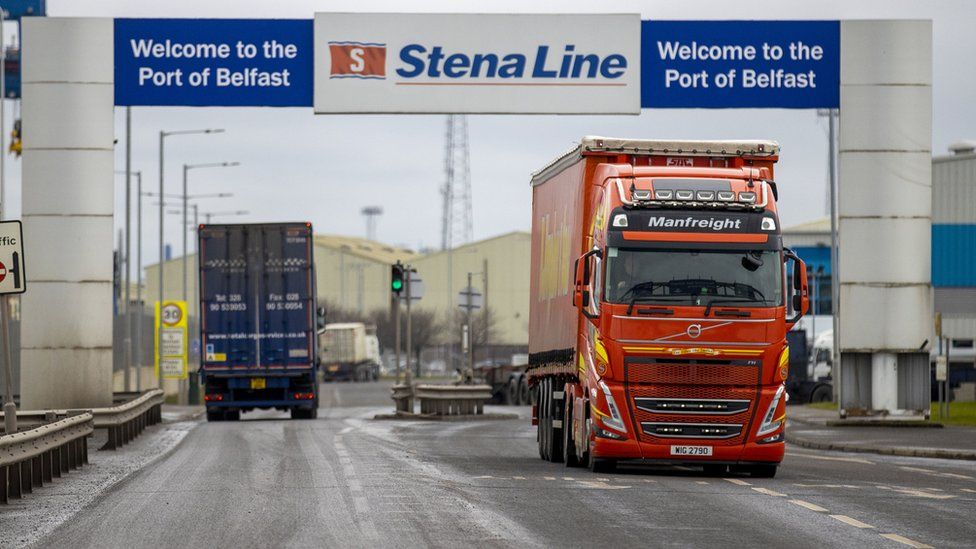 UK Prime Minister Rishi Sunak and President of the European Commission Ursula von der Leyen have announced they have reached a new deal, aimed at fixing post-Brexit problems in Northern Ireland.
The full details of their agreement have just been published, and we're working to get you a fuller picture of what's been decided.
Here is we know about the agreement, named the Windsor Framework, so far:
Goods from Britain destined for Northern Ireland will travel through a new "green lane", with a separate "red lane" for goods at risk of moving onto the EU
Products coming into Northern Ireland through the green lane would see checks and paperwork scrapped
Red lane goods destined for the EU still be subject to normal checks
Mr Sunak said this would mean food available on the supermarket shelves in Great Britain will be available on supermarket shelves in Northern Ireland.
New data-sharing arrangements would be used to oversee the new system
Where smuggling is suspected, some custom checks may still be carried out on green lane goods
Business moving goods from Northern Ireland to Great Britain would not be required to complete export declarations
Bans on certain products – like chilled sausages – entering Northern Ireland from Britain would be scrapped
Pets, parcels and medicines
"Onerous requirements" on moving pets will be removed
Medicines approved for use by the UK regulator available in Northern Ireland pharmacies and hospitals
Mr Sunak said that people sending parcels to friends or family or doing online shopping in Northern Ireland will not have to complete customs paperwork
Under the Northern Ireland Protocol, EU VAT rules could be applied in Northern Ireland
Under the new deal, Mr Sunak says the UK can make "critical VAT" changes which include Northern Ireland
For example if the government raises or cuts alcohol duty this will apply to pubs in Northern Ireland as well as the rest of the UK, he said
Under the protocol, some EU law applies in Northern Ireland, but politicians had no formal way to influence the rules
New agreement introduces a "Stormont brake" which allows the Northern Ireland Assembly to raise an objection to a new rule
The process would be triggered if 30 MLAs (representatives in the Stormont Assembly) from two or more parties sign a petition
14 day consultation period would follow, after which, if 30 MLAs still support it, there would be a vote in the assembly
To pass, it would need support from both unionists and nationalist representatives
The brake cannot be used for "trivial reasons" but reserved for "significantly different" rules
Once the UK tells the EU the brake has been triggered, the rule cannot be implemented
It can only be applied if the UK and EU agree.