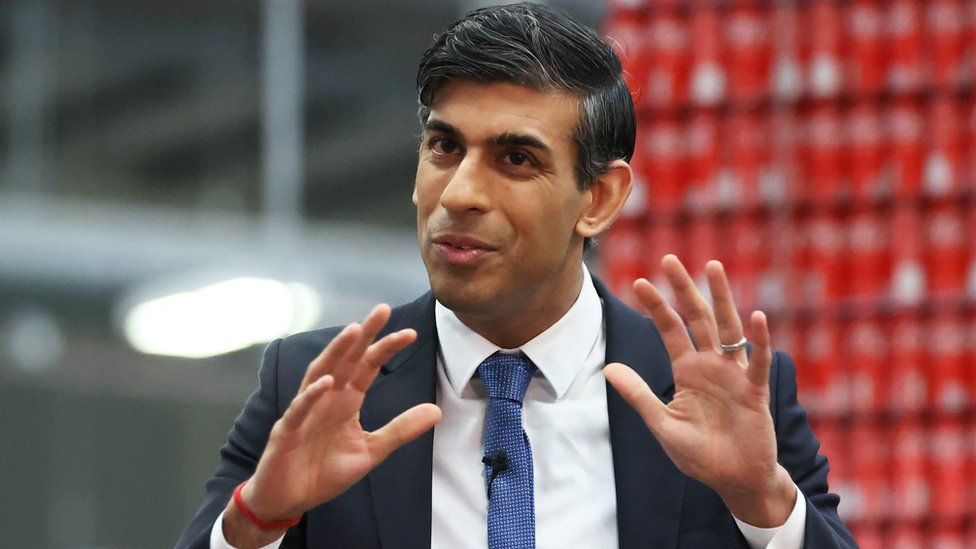 Prime Minister Rishi Sunak has urged his MPs not to create "another Westminster drama" as he sought to win their support for his new Brexit deal.
He told backbench Tories to give the Democratic Unionist Party (DUP) the "time and space" to consider the deal.
The agreement with the EU aims to address issues with post-Brexit trading arrangements for Northern Ireland.
The DUP's support will be key to restoring Northern Ireland's power-sharing government.
The party has been boycotting Stormont and preventing the devolved government from functioning because of its concerns over the current arrangements for Northern Ireland.
DUP leader Sir Jeffrey Donaldson said the new deal goes "some way" to addressing his party's concerns but some issues remain.
He said the party would take time to study the details and come to a collective decision.
On Tuesday, Mr Sunak addressed the influential 1922 committee of Tory backbenchers to sell his deal after unveiling the breakthrough in Northern Ireland a day earlier.
Following the meeting, Northern Ireland minister Steve Baker told reporters the deal was "as good as we're going to get", indicating the government would not be reopening negotiations with the EU.
Meanwhile, the European Research Group (ERG) of pro-Brexit Tory MPs, which heard from Sir Jeffrey at a meeting on Tuesday, have commissioned what they have called a "star chamber" of lawyers to scrutinise the deal.
ERG chairman Mark Francois said it could take about a fortnight or even longer for the group's "legal eagles" to go through it "with an extremely fine tooth comb".
He added that it was sensible for the prime minister to give the DUP time.
In contrast, the former Brexit minister, David Frost, has already drawn some of his own conclusions about Mr Sunak's deal.
Mr Frost said the new arrangements were "oversold" and do not change the fundamentals of the Northern Ireland Protocol, which was signed by former Prime Minister Boris Johnson and came into force in 2021.
Under Mr Sunak's new agreement:
Goods from Britain destined for Northern Ireland will travel through a new "green lane", with a separate "red lane" for goods at risk of moving on to the EU
Products coming into Northern Ireland through the green lane will see checks and paperwork significantly reduced, while red lane goods will still be subject to normal checks
A "Stormont brake" allows the Northern Ireland Assembly to raise an objection to "significantly different" new EU rules which would apply in Northern Ireland
Northern Ireland would also no longer have to follow certain EU rules, for example on VAT and excise for some drinks and goods
At his meeting with the 1922 committee, Mr Sunak is understood to have told Tory MPs he had "spent a lot of time" with Sir Jeffrey.
"And I would just say one thing to you all: we should give him and the DUP time and space," he said, adding that there was a "spectrum of views" within the party.
"So let's not pressure them for an instant answer," Mr Sunak added.
"Let's also remember that the last thing the public want is another Westminster drama."
The response from Tory MPs to the Windsor Framework since it was announced on Monday has been broadly positive.
Following Mr Sunak's speech to the 1922 committee, one ally of former Prime Minister Boris Johnson said "he did a good job", while another Brexiteer said the PM's words had gone down very well.
Another Tory MP, who last week had been deeply sceptical that Mr Sunak could reach an acceptable deal, told the BBC they should probably "eat humble pie" as it looked like the prime minister had done it.
The MP said negotiators had "squared the circle" and the "Stormont brake" mechanism, which aims to give the Northern Ireland Assembly a greater say on how EU laws apply, was a creative solution that should be welcomed.
The nationalist party has welcomed the Windsor Framework, although it said it still needed to examine the details.