A fingertip search of a vast area of around 90 square miles is being carried out for a missing baby.
Hundreds of officers are scouring land near Brighton and said they fear the infant has come to "serious harm".
Sniffer dogs, drones and thermal cameras are being used in a desperate effort to find the baby alive.
Police want more time to question parents Constance Marten and Mark Gordon on suspicion of gross negligence manslaughter.
They were detained on Monday after a 53-day search which began when their car was found on fire by the side of a motorway near Bolton in Lancashire.
Police believe Ms Marten had recently given birth and say the baby may have been born in the back of the vehicle, without a midwife or medical attention.
Ms Marten and Gordon – a convicted rapist and registered sex offender – are in custody but have not revealed anything to investigators about the baby's whereabouts, condition or its sex.
The search area stretches from Brighton to Newhaven and up to the South Down, and it is being combed inch by inch.
People living close to the search area are helping. Two told the BBC they alerted police to a pair of pink children's earmuffs discarded on the ground yesterday.
Search teams have been seen looking through thick bramble, allotments and inside bins for the missing two-month-old or any clues that could offer hope.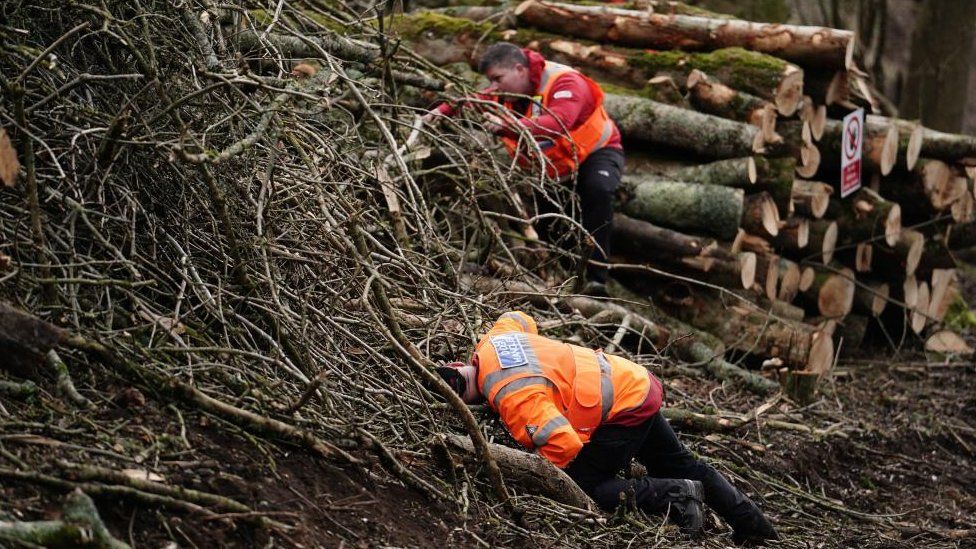 One dog-walker said it was like looking for a needle in a haystack, but police have urged members of the public to remain vigilant.
With night closing in, temperatures are expected to fall to little over freezing tonight.
Ms Marten, 35, and Gordon were arrested on Monday after a member of the public spotted them in a shop and alerted police.
They were initially arrested on suspicion of child neglect but were re-arrested on Tuesday on suspicion of gross negligence manslaughter.
Speaking at a press conference on Wednesday afternoon, Det Supt Lewis Basford from the Metropolitan Police said a huge search had continued throughout the night.
Members of the public have been asked to report any unusual activity or "suspicious items" they may have seen in recent weeks.
Inquiries are also being carried out in the South Downs and in Newhaven, where the couple were spotted with their baby on January 8, the last confirmed sighting prior to the arrest.
It is believed they were sleeping rough outdoors and were previously spotted carrying a blue tent.
Teams were seen working in Moulsecoomb Wild Park, around a mile from Stanmer Villas in Brighton where the couple were arrested, earlier on Wednesday.
The officers searched under sticks and logs close to where the area meets Hollingbury Golf Course.
Volunteers from London Search and Rescue have been drafted in to bolster efforts.
Allotments and the golf course were searched on Tuesday. A Facebook Group for the Roedale Valley allotments were told police had broken into every shed on the site in their search for the baby.
A car belonging to Ms Marten and Gordon, 48, was found on fire on the side of the M61 motorway in Bolton on 5 January.
Police said the family left the scene and travelled to Liverpool, Essex, London and East Sussex.
They appeared to cover their faces when in public, travelling at night and using cash to purchase supplies, apparently attempting to avoid detection.
Their home is in Eltham, in south-east London, but they have been living nomadically since September last year when Ms Marten first started to show signs of pregnancy.
Police have not ruled out that someone could be looking after the baby – though they added this was unlikely.
Det Supt Lewis Basford said the risk to the baby increased as time went on.
He said on Tuesday that police must now "be open to the fact this may not end in the way we would like".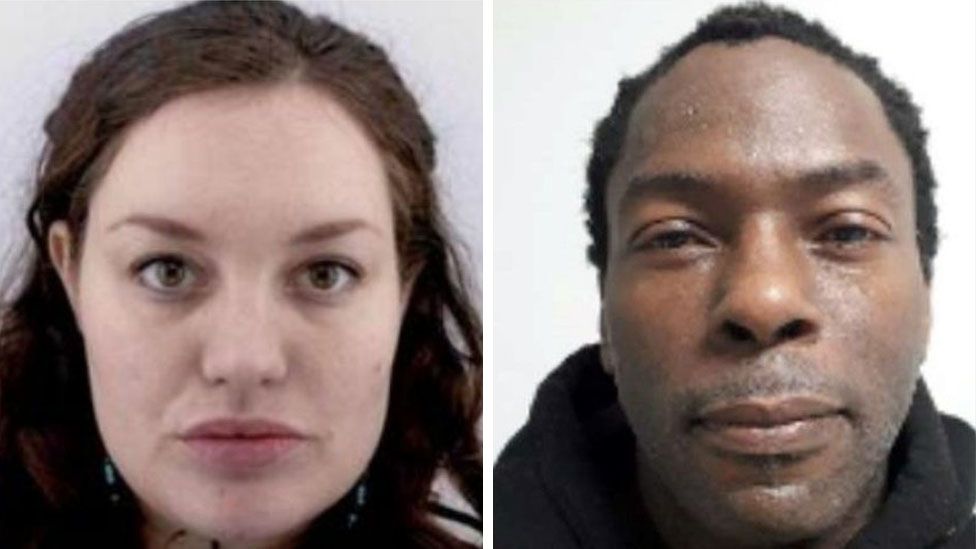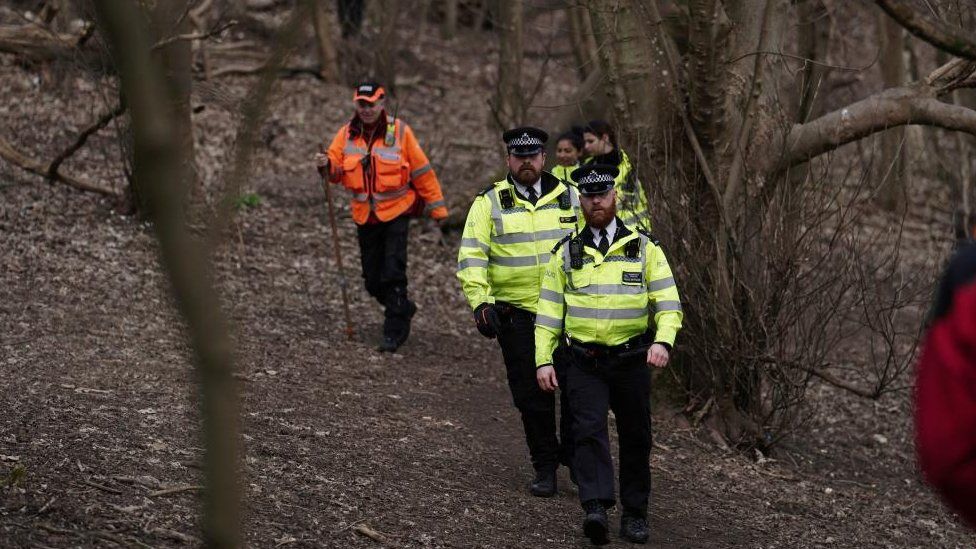 Police previously said Ms Marten's inherited wealth may have allowed the couple to remain at large for an extended period.
She is from a privileged background, having lived in a stately home growing up.
She became estranged from her family after meeting 48-year-old Gordon at drama school in 2016.
They believe the baby was alive at the time of the last previous sighting of the family in Newhaven, but little more is known about the family's movements in the weeks since.
After the pair were found on Monday, Ms Marten's estranged father Napier Marten told the Independent he felt "immense relief", though this was "tempered by the very alarming news [her] baby has yet to be found"
People charged with gross negligence manslaughter could face up to 18 years in prison if found guilty over a death caused by negligent behaviour.
This is different to unlawful act manslaughter, where a prison term can be up to 24 years if someone is proven to have intentionally done something unlawful or dangerous that inadvertently caused death.