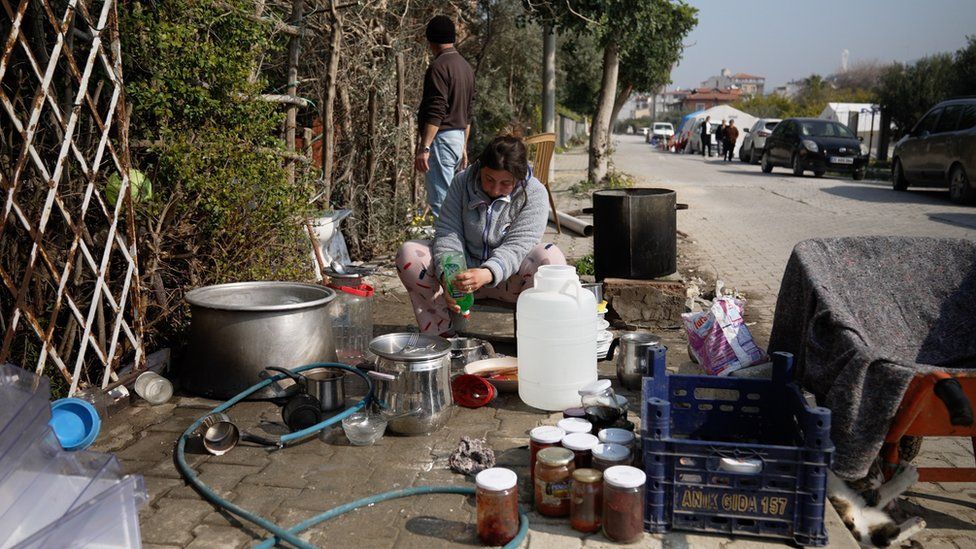 Songul Yucesoy carefully washes her dishes, soaping the plates and cutlery before rinsing off the bubbles and laying them out to dry. An unremarkable scene, except she's outdoors, sitting in the shadow of her ruined house.
It tilts at an alarming angle, the window frames are hanging out and there's a large chunk of the rusty iron roof now resting in the garden.
A month after the devastating earthquakes in Turkey and Syria, those who survived face an uncertain future. One of their most serious problems is finding somewhere safe to live. At least 1.5 million people are now homeless, and it's unclear how long it will take to find them proper shelter.
The Turkish disaster agency Afad, meanwhile, says almost two million people have now left the quake zone. Some are living with friends or loved ones elsewhere in the country. Flights and trains out of the region are free to those who want to leave. 
But in the town of Samandag, near the Mediterranean coast, Songul is clear that she and her family aren't going anywhere. "This is very important for us. Whatever happens next – even if the house falls down – we will stay here. This is our home, our nest. Everything we have is here. We are not going to leave."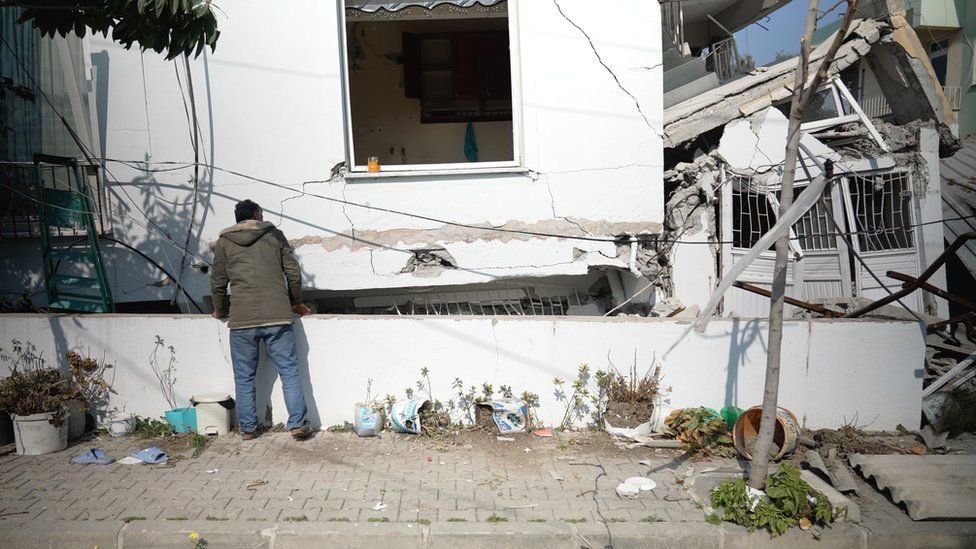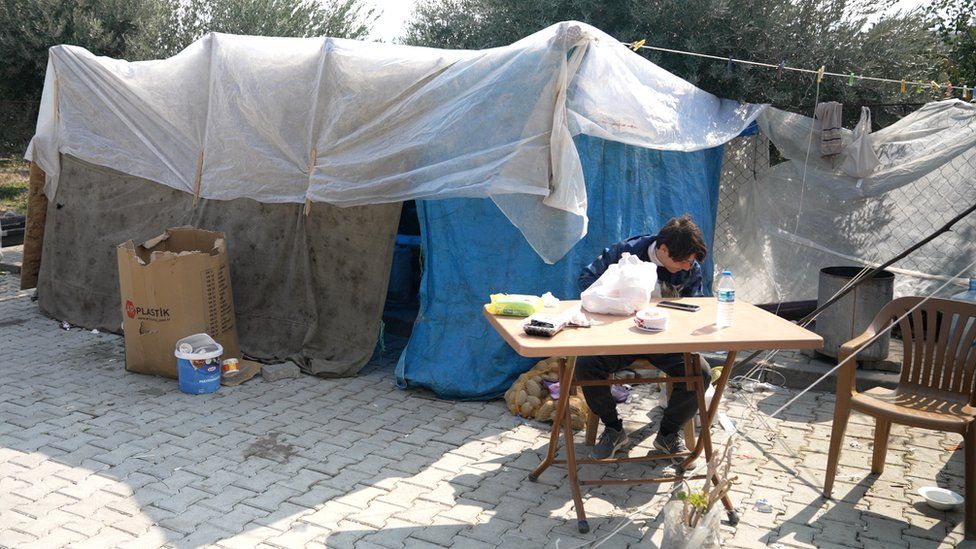 Precious pieces of furniture have been carefully pulled from the house and set up outside. On top of a polished wooden side table is a holiday souvenir, a picture made of shells from the Turkish resort of Kusadasi. There's a bowl of fruit, with white mould creeping across a large orange. Things that look normal indoors feel strange and out of place when they're sitting in the street.
Right now, the whole family is living in three tents just a few steps away from their damaged home. They sleep and eat there, sharing food cooked on a small camping stove. There's no proper toilet, although they've recovered one from the bathroom and are trying to plumb it in in a makeshift wooden shed. They've even created a small shower area. But it's all very basic, and the lack of space and privacy is obvious. These tents are cramped and overcrowded.
It's been an agonising month for Songul. Seventeen of their relatives were killed in the quake. Her sister Tulay is officially missing. "We don't know if she is still under the rubble," she tells me. "We don't know whether her body was taken out yet or not. We're waiting. We can't start mourning. We can't even find our lost one."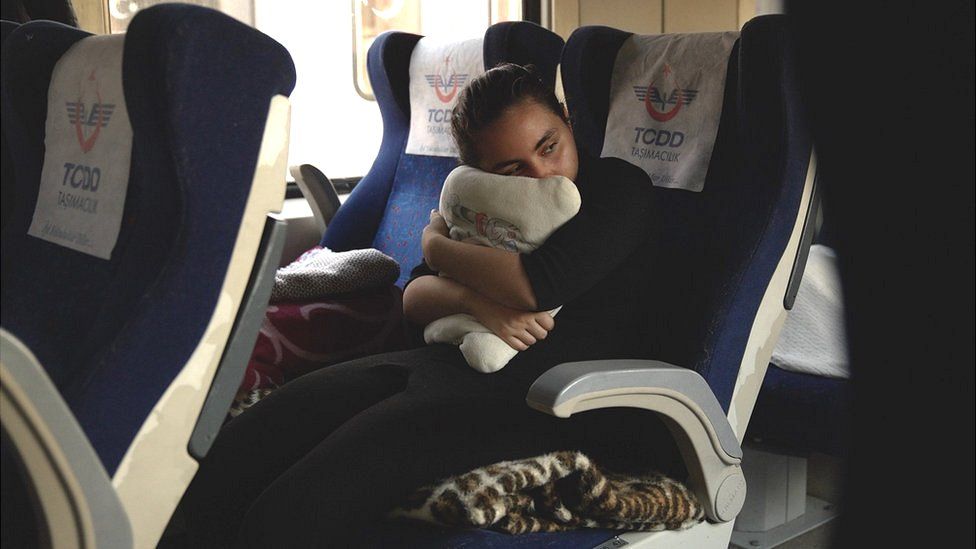 Songul's brother-in-law Husemettin and 11-year-old nephew Lozan died when their apartment building in Iskenderun collapsed around them as they slept. We visited what was left of their home, a sprawling pile of twisted debris. Neighbours told us three blocks of flats had fallen.
"We brought Lozan's body here," Songul says quietly. "We took him from the morgue and buried him close to us in Samandag. Husemettin was buried in the cemetery of the anonymous, we found his name there."
A picture of the family smiles out of Tulay's still-active Facebook profile, their arms around each other, faces close. Lozan holds a red balloon tightly.
The homelessness crisis created by the quake is so acute because of the real shortage of safe spaces that are left standing. More than 160,000 buildings collapsed or were badly damaged. The United Nations Development Programme (UNDP) estimates at least 1.5 million people are still inside the quake zone, but with nowhere to live. It's hard to know the real figure, and it could be far higher.
Study cabins are arriving, but too slowly. Tents have appeared everywhere, from sprawling new encampments to individual ones dotted amidst the rubble. There still aren't enough. News that the Turkish Red Crescent had sold some of its stock of taxpayer-funded tents to a charity group – albeit at cost price – led to frustration and anger.
In some cities, people are still living inside public buildings.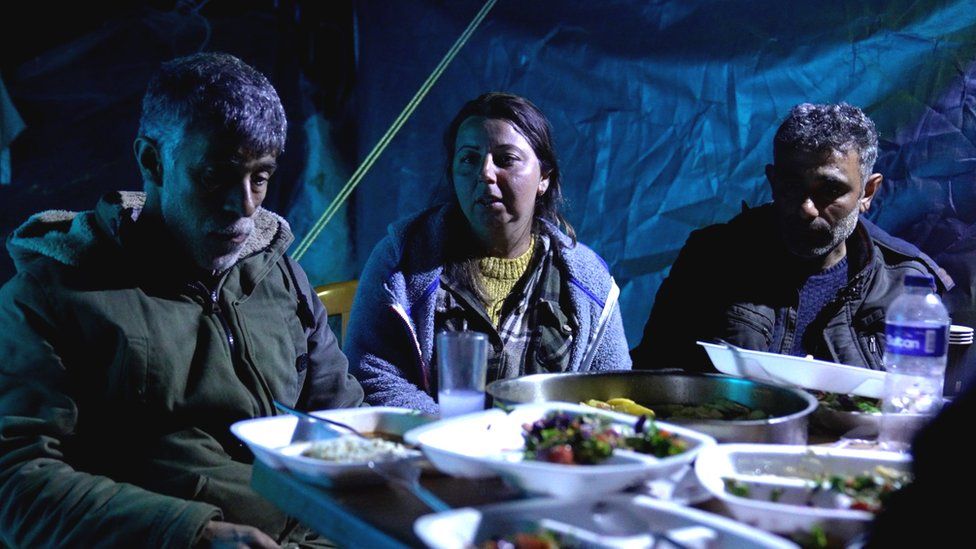 In Adana, I met families sleeping on blankets and mattresses spread across a volleyball court. In the port city of Iskenderun they have made their home on two trains parked at the railway station. Seats have become beds, luggage racks are filled with personal possessions and the staff there try hard to keep things clean and tidy. Tears fill the eyes of one young girl as she hugs a pillow instead of a teddy bear. This isn't home.
Songul's children are struggling, too. Toys and games are stuck inside dangerous houses, and there's no school. "They're bored, there's nothing to keep them busy. They just sit around. They play with their phones, then go to bed early once they run out of charge."
When night falls, things are even harder. There's no electricity in Samandag now. Songul has draped colourful solar lights across their white tent, just above the bold UNHCR logo. Homeless in their own country, they're not refugees, but they've still lost everything.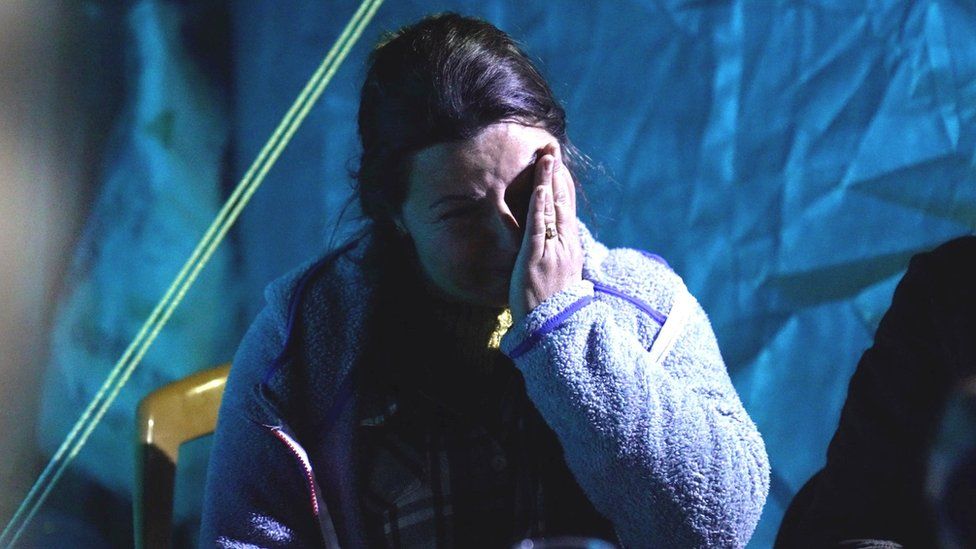 "I put the lamps here to be seen," Songul explains. "We're scared when it gets dark. Having no power is a big problem. The fear is too big, and all night long we feel the aftershocks, so it's hard to sleep." Starting to cry, she wipes away the tears with her hand.
"We are free people, we are used to freedom, independence, everyone living in their own houses," adds her husband, Savas. "But now we are three families, eating in one tent, living and sitting in one single tent."
"This is all new to us, we don't know what the future holds. And there's always the fear. Our houses have collapsed, what will happen next? We just don't know."

One month on from the devastating earthquake we speak to survivors living in fear on the streets