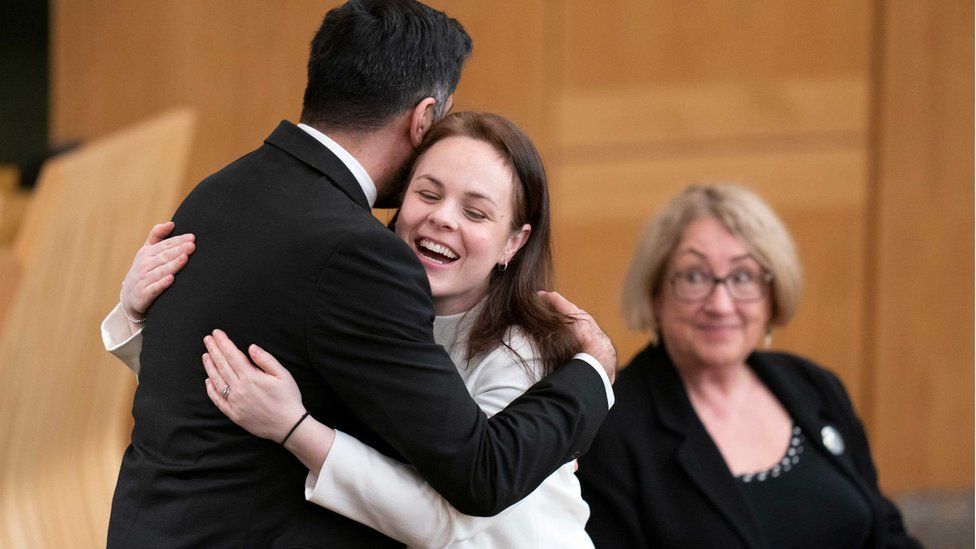 Kate Forbes, who finished second in the SNP leadership race, is to leave the Scottish government.
The BBC understands the finance secretary was offered a move to rural affairs by the new first minister, Humza Yousaf, but turned down the job.
Her departure came hours after the new SNP leader was confirmed as Scotland's first minister after a vote in the Scottish Parliament.
The post she was offered by Mr Yousaf would be seen as a major demotion.
Ms Forbes later tweeted that Mr Yousaf had her "full support" and said: "I have full confidence he will appoint a talented cabinet and ministerial team, able to meet the challenges facing the country."
She had been on maternity leave from her role when Nicola Sturgeon resigned as first minister and SNP leader last month.
Mr Yousaf was elected as first minister after being backed by his own MSPs and the Scottish Greens, which guaranteed him a majority over the opposition party leaders.
He becomes Scotland's youngest first minister, at the age of 37, and the first Muslim to lead a major UK party.
Prime Minister Rishi Sunak spoke to Mr Yousaf to congratulate him on Tuesday.
Ms Forbes had launched a highly-personal attack on Mr Yousaf during the SNP leadership contest when she questioned whether he was capable of being first minister during a live STV debate.
She told Mr Yousaf: "You were transport minister and the trains were never on time, when you were justice secretary the police were stretched to breaking point, and now as health minister we've got record high waiting times".
Ms Forbes came under fire from senior SNP colleagues during the campaign over her socially conservative views on issues like abortion and gay marriage, with Mr Yousaf warning the party against a "lurch to the right".
Her beliefs as a member of the evangelical Free Church of Scotland also clash with those of the Scottish Greens, who had threatened to walk away from their power-sharing agreement with the SNP if she had won the contest.
Speaking shortly after being confirmed as the new first minister on Tuesday afternoon, Mr Yousaf said he had spoken to Ms Forbes and "absolutely" wanted her to remain in government – but it was not known at that stage what role she had been offered or whether she would accept.
Mr Yousaf narrowly defeated Ms Forbes by 26,032 votes to 23,890 to become SNP leader on Monday after a contest that exposed deep divisions within the party.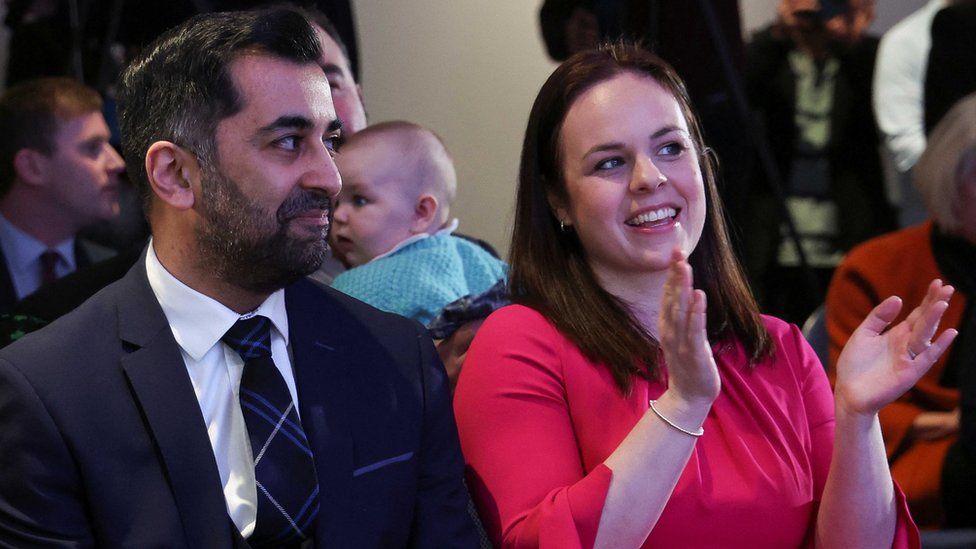 The result was closer than many people expected, and showed that Ms Forbes has considerable support among grassroots SNP members despite Mr Yousaf being backed by the party hierarchy.
Polling expert Prof Sir John Curtice has said Ms Forbes appeared to be more popular than Mr Yousaf with Scottish voters as a whole.
Ms Forbes congratulated Mr Yousaf after he was confirmed as the new SNP leader on Monday, saying: "Whatever the robust disagreements or frank exchanges of the last few weeks, I am confident we will unite behind Humza as our new party leader in the shared and common objective of independence".
The pair also embraced in the Scottish Parliament chamber after the vote that saw him also appointed as the country's sixth first minister.
Following the vote, Mr Yousaf announced that Shona Robison – who has been serving as the social justice secretary and was a close ally of Ms Sturgeon – would be appointed as his deputy first minister.
Scottish Conservative chairman Craig Hoy said Mr Yousaf had "poured petrol on the SNP civil war".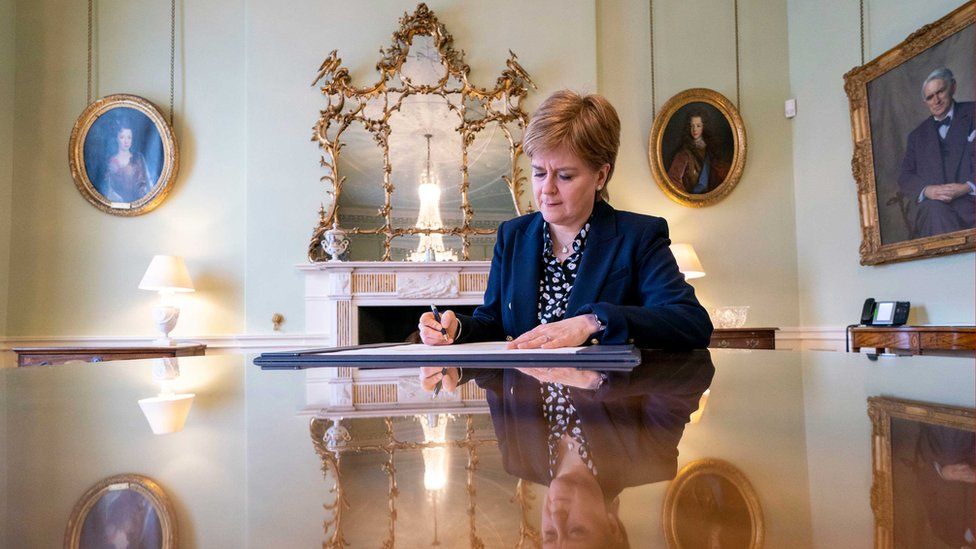 "Kate Forbes' furious snub to his offer of a cabinet demotion shows his mission to reunite their feuding party is doomed to failure," he said.
"It makes a mockery of his claim only yesterday that: 'We are no longer team Humza, or team Ash, or team Kate, we are one team.' The reality is the SNP are divided from top to bottom."
In his conversation with the new first minister on Tuesday, the prime minister is said to have reiterated his desire to "continue working constructively with the Scottish government".
After his victory, Mr Yousaf promised he would "argue tirelessly for independence"
He raised the question of an independence referendum during their call, but Mr Sunak suggested this would "distract" from "delivering on the things that are top of the priority list for people across Scotland".
Earlier in the day, Nicola Sturgeon officially tendered her resignation as Scotland's first minister in a letter to the King.