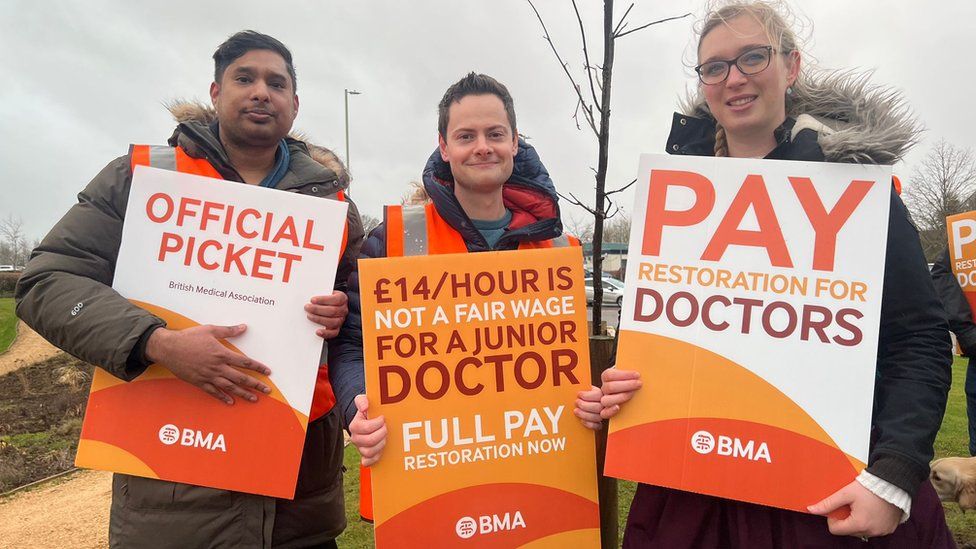 A four-day junior doctors' strike across England is expected to be the most disruptive in the NHS's history.
British Medical Association (BMA) members in planned and emergency care will walk out at 07:00 BST on Tuesday.
More than a quarter of million of appointments and operations could be cancelled, and some hospitals say up to half of planned treatment is affected.
The union said there were plans to pull doctors off picket lines if lives were in immediate danger.
Under trade union laws, life-and-limb cover must be provided.
The junior doctors' approach contrasts with recent strikes by nurses and ambulance workers, which saw unions agree to exempt certain emergency services.
But doctors say they are striking for patient safety as much as about pay, saying that current pay levels are affecting recruitment and leading to many doctors leaving the profession.
Prof Sir Stephen Powis, the NHS's national medical director, said it would be "the most disruptive industrial action in NHS history".
He said health leaders were concerned about the potential impact on patients and services, and cancer patients were among those whose treatment will be delayed.
Mental health services and some GP surgeries are also expected to be impacted, while the NHS said it will prioritise keeping critical care, maternity, neonatal care, and trauma operations running.
Between 250,000 and 350,000 appointments and operations could be cancelled, according to estimates from senior NHS figures.
An estimated 86,000 staff will strike, but the timing is as important as its scale – it immediately follows the bank holiday Easter weekend, a period when the NHS already faces increased demand and greater staff absence.

The patients left in limbo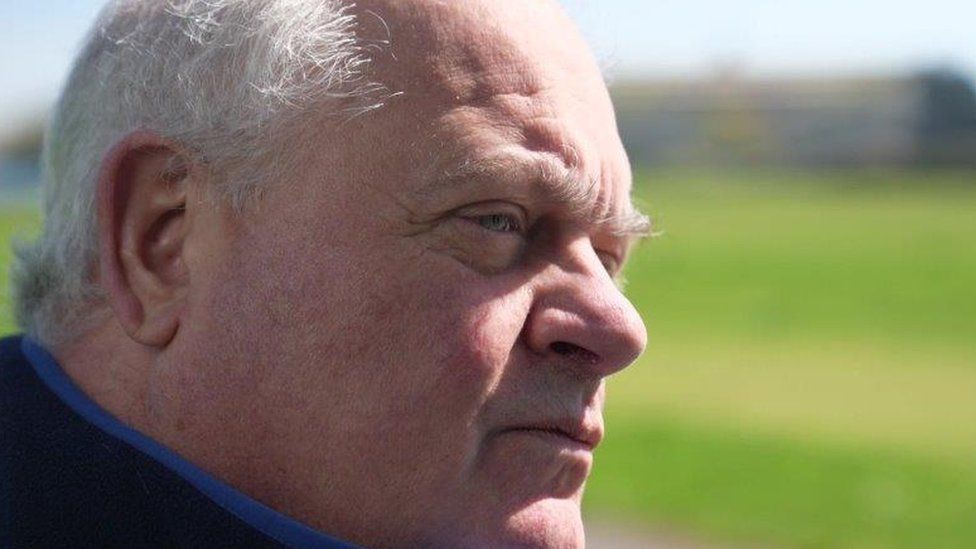 Dr Paul Turnbull, 61, from Hampshire, who is an occupational health doctor, needs a prosthetic femur bone implanted in his leg.
His operation has been cancelled twice – once in December, because he developed deep vein thrombosis, and the second time because of the first junior doctors' strike. The operation is now due to take place on 18 April, after the four-day strike.
He has limited mobility and is unable to work.
"As a doctor, I don't believe doctors should strike. I think our first responsibility is to our patients and I think using patients as pawns in a dispute with the government is not something we should be doing."
Neuroscientist Dr Camilla Hill, 42, from Nottingham, has also been affected. She has had two knee operations cancelled because of the junior doctors' strikes – one this week and one back in March. She now has a third date scheduled for 25 April.
She has been unable to do some of her favourite hobbies, which include hiking and sailing, in part because of the pain in her knees.
"I feel really frustrated. It's messed me about, it's messed about my employer, it's messed about my husband – and it's messed about his employer as well. It's not just the patient whose operation is cancelled that's impacted, it's everybody around them."

Junior doctors are demanding a 35% increase in pay, to compensate for 15 years of below-inflation wage increases.
But the government has said the pay demand is unrealistic, pointing to the deal other health unions have recommended to their members – which includes a 5% pay rise and one-off payment of at least £1,655.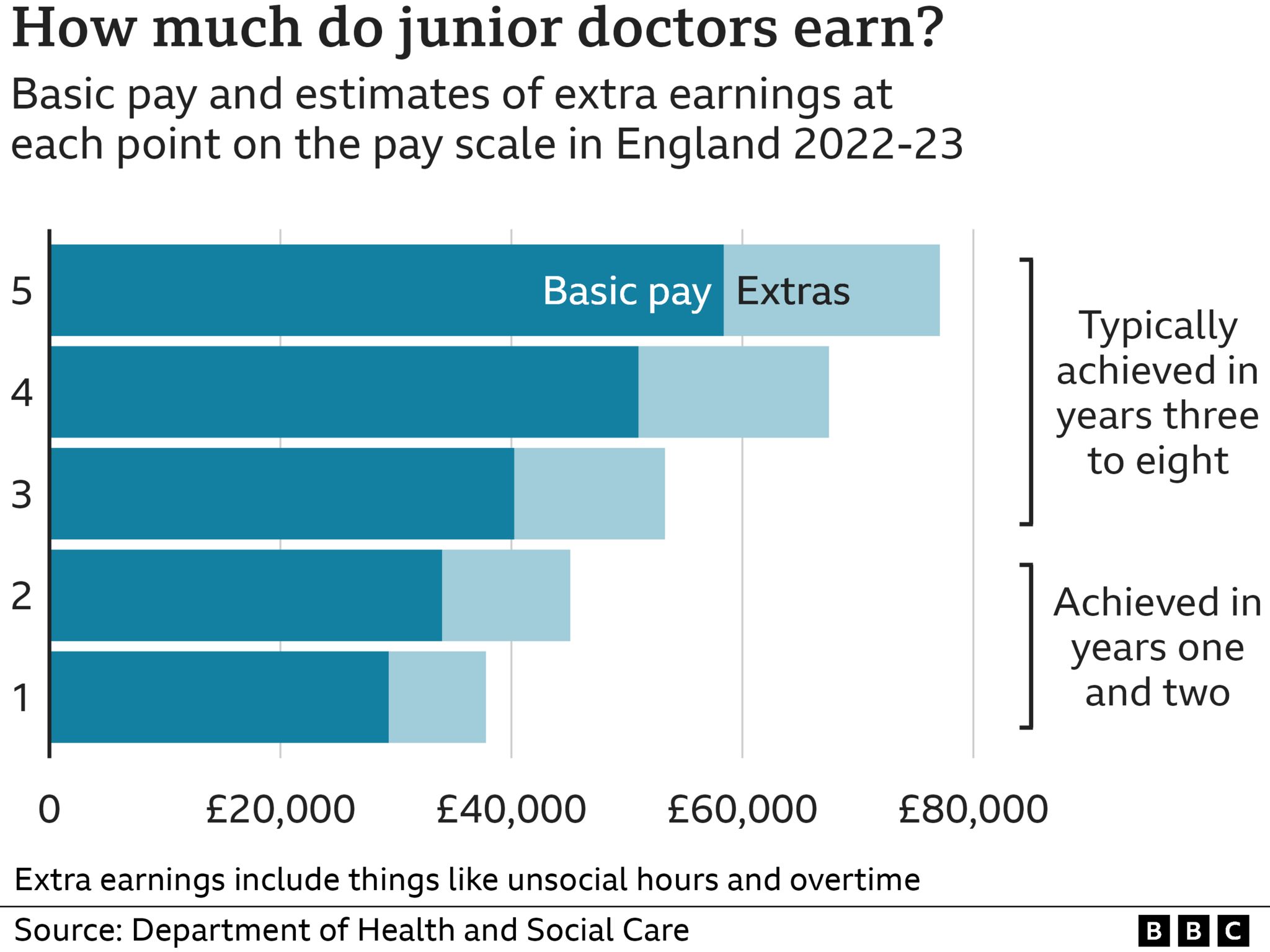 During last month's three-day walkout by junior doctors, more than 175,000 treatments and appointments were cancelled.
Hospital bosses have said the impending walkout has been even more difficult to manage, since it lasts 24 hours longer and comes after the four-day Easter weekend.
More than 40% of the medical workforce are classed as junior doctors, with two-thirds of them members of the BMA.
The NHS has said patients who have had appointments affected will be told beforehand. Those needing emergency care are being advised to seek treatment as normal, but less urgent cases should use the 111 service.

'Stretched to our limits' – junior doctors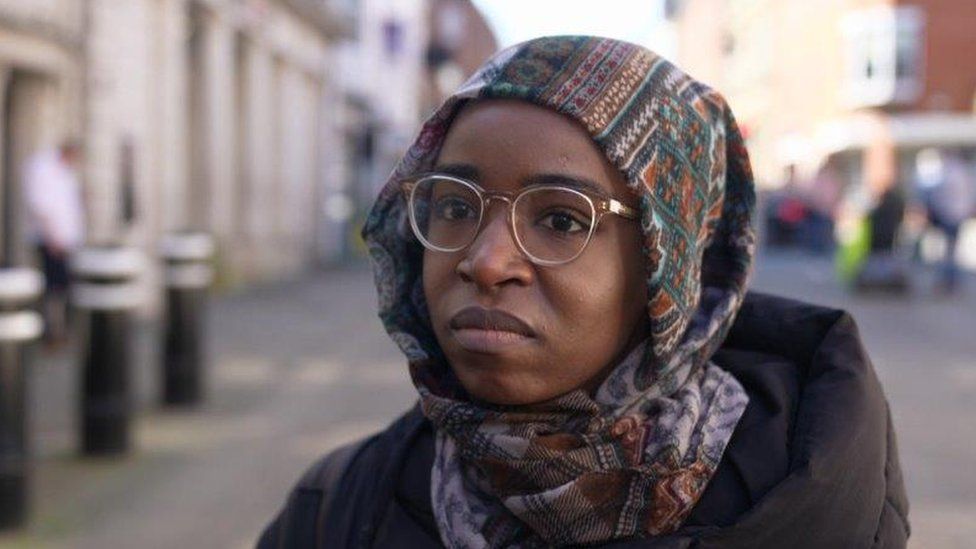 Rabiat is in her third year of junior training, working in a hospital in the south east of England.
She is planning on striking this week, saying it is as much about safety as it is pay.
"It's quite a common thing that junior doctors are left alone with wards of patients to look after, with their seniors having gone down to A&E or an acute assessment area, for example.
"We feel really left out and unsupported. Not because our seniors don't want to support us, but because we are all stretched to our limits.
"I really hope that the strikes will make the government realise that this is really having a big impact on junior doctors – and the whole of the NHS – and more actually needs to be done.
"We don't feel as though we are being listened to."

Matthew Taylor, chief executive of the NHS Confederation, which represents service providers, said it was "depressing that there seems to be no movement at all from the two sides of this dispute" and called for the conciliation service Acas to oversee talks.
He told the BBC the strike's impact will be "enormous", adding: "Those services are stretched and there's no question there will be a risk to patient safety, there will be a risk to patient dignity because we're unable to provide the kind of care we want."
Miriam Deakin, director of policy and strategy at NHS Providers, which represents hospital trusts, told the BBC that health leaders were "deeply worried" about the impact on patient care and safety.
She told BBC Radio 4's World At One there would be "extreme pressure on critical life-preserving services", and called for both sides to "step back from the brink".
The BMA has accused the government of refusing to negotiate, and union leaders have said they are ready to cancel the strike if an improved pay offer is made, signalling it could accept a smaller rise.
The organisation's co-chair, Dr Vivek Trevedi, told the BBC striking doctors would return to work in the event of a major incident, but said the government had not formally requested an agreed list of circumstances in which the action would be paused.
The Department of Health and Social Care (DHSC) declined to comment on the call for Acas to intervene, but said it was working with NHS England to put in place contingency plans to protect patient safety.
Additional reporting by Sean Seddon.