Fierce clashes have been reported across Sudan as fighting between rival armed factions continues to spread.
The escalation came on the second day of clashes between the army and Rapid Support Forces (RSF) paramilitaries which have now left at least 59 dead.
The Sudanese army said it had taken hold of RSF bases in Port Sudan, Kasala, Kadaref, Demazin and Kosti.
The RSF claimed to occupy sites in Omdurman and Darfur, as well as Merowe Airport in the north.
But later accounts indicated that the army had regained control of the airport, with the military saying they were dealing with "small pockets of rebels".
Witnesses in Sudan told Reuters news agency that the army appeared to be gaining the upper hand in the country's power struggle after blasting RSF bases with air strikes.
Earlier, the two sides observed a temporary humanitarian ceasefire to allow the wounded to be evacuated.
It followed complaints from doctors' unions that it was difficult for medics and sick people to get to and from hospitals while the fighting was raging.
The brief pause in the fighting came as a chorus of international voices called for a permanent end to the violence.
Leading Arab states and the US have also urged a resumption of talks aimed at restoring a civilian government, while the African Union has announced that it is sending its top diplomat, Moussa Faki Mahamat, to try to negotiate a ceasefire.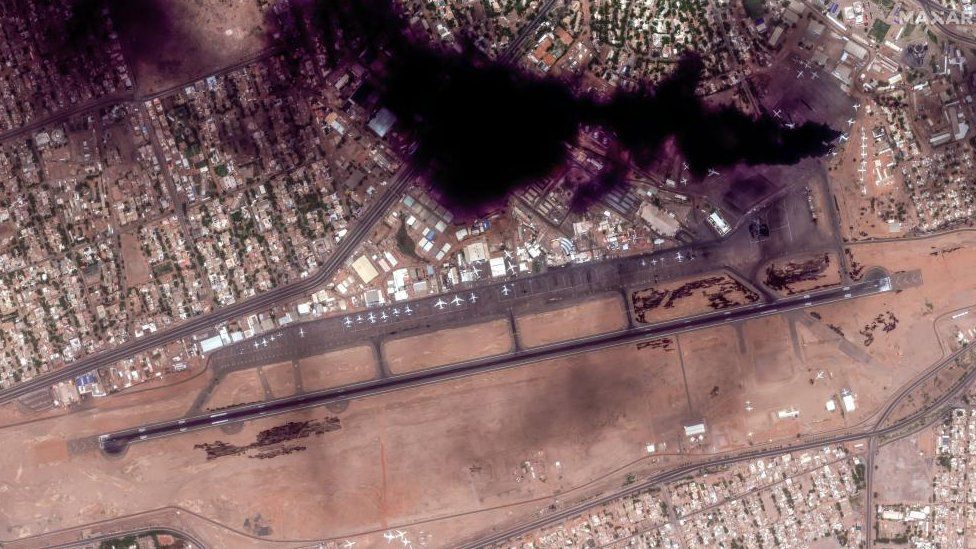 Egypt and South Sudan also offered to mediate between the warring factions, according to a statement by the Egyptian presidency.
For its part, the UN World Food Programme has suspended its operations in Sudan after three of its workers were killed on Saturday.
The RSF, led by Gen Mohamed Hamdan Dagalo, has claimed to control key sites in the capital, Khartoum.
However, that assertion was rejected by Sudan's leader, Gen Abdel Fattah al-Burhan, who heads the country's governing Sovereign Council.
Sudan state television is reported to have stopped transmissions, but it was not immediately clear what caused the break in programming.
Sudan has been run by a council of generals since a coup overthrew the country's long-standing authoritarian president, Omar al-Bashir, in 2019.
The violence broke out on Saturday after days of tensions over the roadmap for the country's transition to civilian rule.
One of the main sticking points is over the plans to incorporate the 100,000-strong RSF into the army and who would then lead the new force.