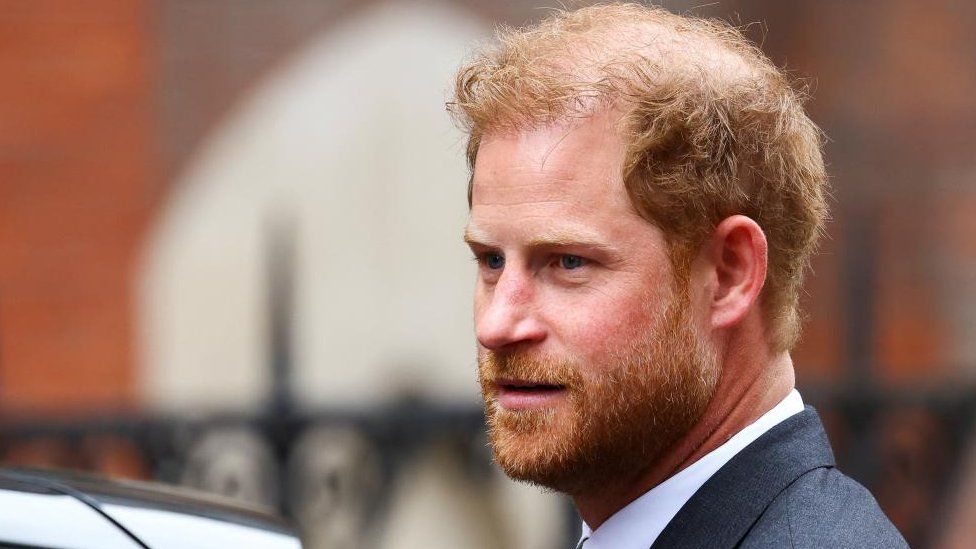 The publisher of the Mirror has apologised to Prince Harry for unlawful information gathering, at the start of a trial over alleged phone hacking.
Mirror Group Newspapers (MGN) said it would never be repeated.
Lawyers representing Harry told the court he was subjected to the "most intrusive methods of obtaining personal information".
Harry is one of several high profile figures bringing claims against MGN.
Lawyers argue that executives at the company knew about widespread phone hacking but failed to act.
In a written submission, MGN – which also publishes the Sunday Mirror and Sunday People – said it "unreservedly apologises" for one instance of unlawful information gathering against Harry and said that the legal challenge brought by the prince "warrants compensation".
A private investigator was instructed by an MGN journalist at The People to unlawfully gather information about Harry's activities at the Chinawhite nightclub on one night in February 2004, Andrew Green KC said.
However, the subsequent article in The People is not one of the claims being brought by the prince, the barrister added.
MGN also denies allegations of voicemail interception in the cases being examined, including Harry's.
The publisher also claims some of the cases have been brought beyond a legal time limit.
A previous hearing was told Harry's case focuses on 148 articles published between 1996 and 2010.
Barrister David Sherborne, representing the duke, told the court: "We all remember the images of him walking behind his mother's coffin.
"From that moment on, as a schoolboy and from his career in the army and as a young adult he was subjected, it was clear, to the most intrusive methods of obtaining his personal information."
The estate of the late singer George Michael and actor Ricky Tomlinson have also brought claims against MGN, with "test cases" – including Harry's – selected to go to trial from the wider group of claimants.
The other "representative" cases set for trial are that of former Coronation Street actress Nikki Sanderson, comedian Paul Whitehouse's ex-wife Fiona Wightman and actor Michael Turner – who played Kevin Webster in Coronation Street and goes by his stage name Michael Le Vell. All are expected to give evidence during the six to seven week trial.
Prince Harry is expected to give evidence in June – the first time a senior royal will be a witness in court in modern times.
The hearing is focusing on what senior executives at the MGN knew about widespread phone hacking – including former editor of the Daily Mirror Piers Morgan.
Mr Sherborne told the court that unlawful information gathering was both habitual and widespread at three papers from as early as 1991 to 2011.
He described "a flood of illegality", adding that "this flood was being authorised and approved of" by senior executives.
In written arguments, Mr Sherborne said it was "inconceivable" that Mr Morgan and other editors did not know about MGN journalists instructing private investigators to obtain information.
"The systemic and widespread use of PIs [private investigators] by MGN journalists to unlawfully obtain private information was authorised at senior levels," Mr Sherborne said.
Mr Morgan has denied any knowledge of phone hacking or illegal activity at the Daily Mirror when he was editor.
MGN has previously settled a number of claims against it in relation to stories obtained through unlawful means.
It was also involved in a 2015 trial, the only to take place during the long-running litigation, which saw claims brought by ex-footballer Paul Gascoigne, actress Sadie Frost, and Coronation Street actress Shobna Gulati.
Last month, lawyers for the group said that all the witnesses on their side would give evidence in person, paving the way for Prince Harry to take the stand.
He is party to actions linked to alleged phone hacking against two other companies – the publisher of the Daily Mail, and the publisher of the Sun, both of which deny wrongdoing.