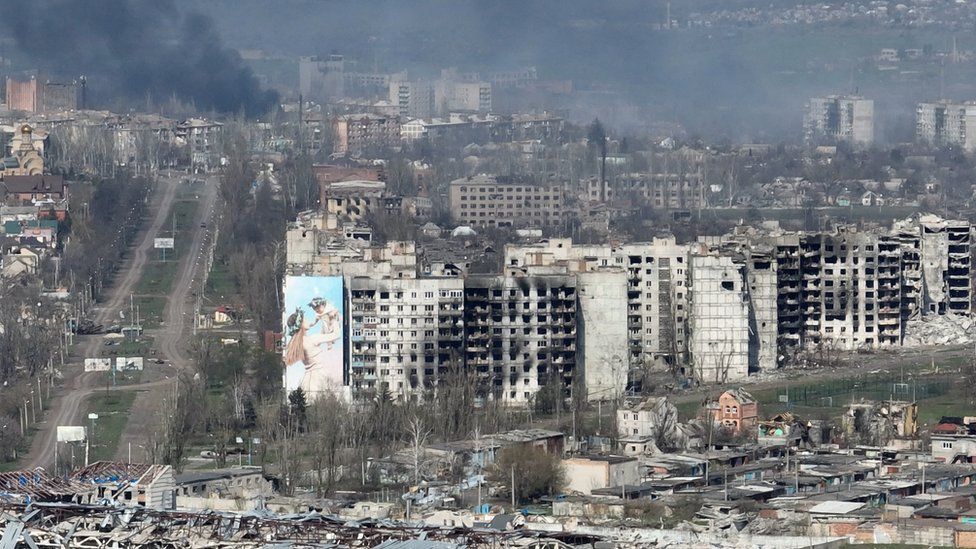 Russia's defence ministry has denied reports by pro-Russian sources that Ukrainian soldiers have made advances on the front line in east Ukraine.
Yevgeny Prigozhin, head of the Wagner mercenary group fighting on the Russian side, accused regular Russian troops of abandoning positions around Bakhmut.
Russian military bloggers reported Ukrainian advances or troop movements in several areas on Thursday.
Ukraine's president said earlier it was too early to start a counteroffensive.
"But we'd lose a lot of people. I think that's unacceptable. So we need to wait. We still need a bit more time."
The expected attack could be decisive in the war, redrawing frontlines that, for months, have remained unchanged. It will also be a crucial test for Ukraine, eager to prove that the weapons and equipment it has received from the West can result in significant battlefield gains.
In a statement, Russia's defence ministry said: "The individual declarations on Telegram about a 'breakthrough' on several points on the frontline do not correspond to reality."
"The general situation in the special military operation zone is under control," it added.
According to Mr Prigozhin, the situation "on the flanks" at Bakhmut, the ruined city at the centre of bloody fighting for months, was "developing in line with the worst of the predicted scenarios".
"The territories that we have been taking for many months at the cost of the blood and lives of our brothers-in-arms, covering dozens or hundreds of metres a day, are now being abandoned, practically without a fight, by those who should be holding our flanks," he said.
Pro-Kremlin Russian war correspondent Sasha Kots claimed that Kyiv's much-anticipated counteroffensive had begun.
Ukrainian tanks were on the Kharkiv ring road heading towards the border with Russia, he said, quoting "trusted" sources. His claims could not be independently verified.
"There are low loaders in the columns carrying Western [tank] models among others," Kots added.
"In other words," he said, "Kiev [Kyiv] has decided to aggravate the situation along the northern front in parallel with the start of offensive actions on the flanks of Artyomovsk [Bakhmut]."
Another Russian war correspondent, Alexander Simonov, wrote on Telegram that Ukrainian forces had broken through near the village of Bohdanivka, close to Bakhmut, taking "several square kilometres" of ground.
Ukrainian military analyst Oleksandr Musivenko said Kyiv recognised that the anticipated counteroffensive might not necessarily defeat Russia "in all occupied areas".
He told Ukrainian NV radio there was every possibility the war could continue into next year.
"It all depends on how the battles develop. We can't guarantee how the counteroffensive will develop," he said.
Western officials estimate between 20,000 and 30,000 Russian troops have been killed or wounded at Bakhmut, while Ukraine's military has also paid a heavy price.
Russia's defence ministry also said it had stopped several Ukrainian attacks throughout Thursday and said an ongoing battle near Malynivka, in eastern Donetsk, involved both air and artillery forces.