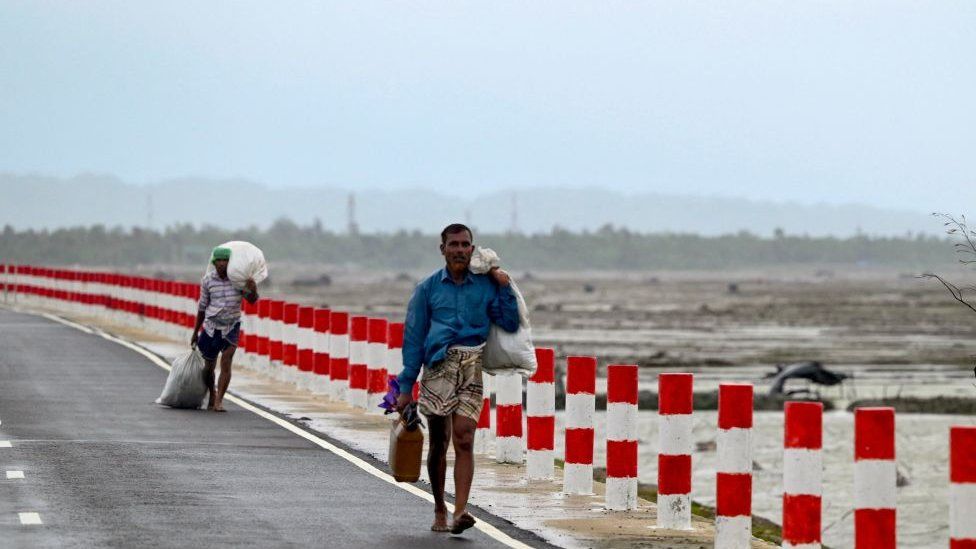 A powerful cyclone is hitting the coastlines of Bangladesh and Myanmar after intensifying into the equivalent of a category-five storm.
Cyclone Mocha is bringing heavy rain and winds of up to 195kph (120mph), which could see dangerous flooding on land around the Bay of Bengal.
Storm surges of up to four metres could swamp villages in low lying areas
There are fears it may hit the world's largest refugee camp, Cox's Bazar, where nearly one million people live.
Forecasters warned Cyclone Mocha could be the most powerful storm seen in Bangladesh in nearly two decades.
Around 500,000 people have been evacuated to safer areas.
Many shelters set up in schools and monasteries in Cox's Bazar are now reportedly full and overcrowded. Police in the area spent much of Saturday warning people to take cover and avoid the beach area. The government also issued an official landslide warning linked to a the predicted very rainfall forecast for Sunday,
The Bangladeshi meteorological department office said the maximum sustained wind speed within around 75km (45 miles) of the centre of the cyclone was around 195 kilometres (120 miles) per hour with gusts and squalls of 215 kilometres per hour.
A telecom tower in the city of Sittwe, in Myanmar, was knocked down by the high winds as the cyclone approached. Videos shared on social media also showed roofs being blown off houses and billboards flying off buildings in Yangon amid teeming rain. In Bangladesh too, gale force winds started to blow, accompanied by heavy rains.
Dr MM Malik, a meteorologist at the government storm warning centre in Dhaka, told the BBC that the cyclone has not yet hit the coastline and is expected to do so at 15:00 (09:00 GMT). He said its diameter is 520km, which means it will take some time to cross.
In preparation nearby airports were shut, fishermen ordered to suspend their work and 1,500 shelters were set up as people from vulnerable areas were moved to safer spots.
Cyclone Mocha was predicted to bring a deluge of rain, which can trigger landslides – a serious danger for those who reside in hillside camps, where landslips are a regular phenomenon.
Particular concerns have been expressed for the many Rohingya refugees living in makeshift homes in the the camps of Cox's Bazaar and people on the western coast of Myanmar.
"For a cyclone to hit an area where there is already such deep humanitarian need is a nightmare scenario, impacting hundreds of thousands of vulnerable people whose coping capacity has been severely eroded by successive crises," UN Humanitarian Coordinator A.I. Ramanathan Balakrishnan said.