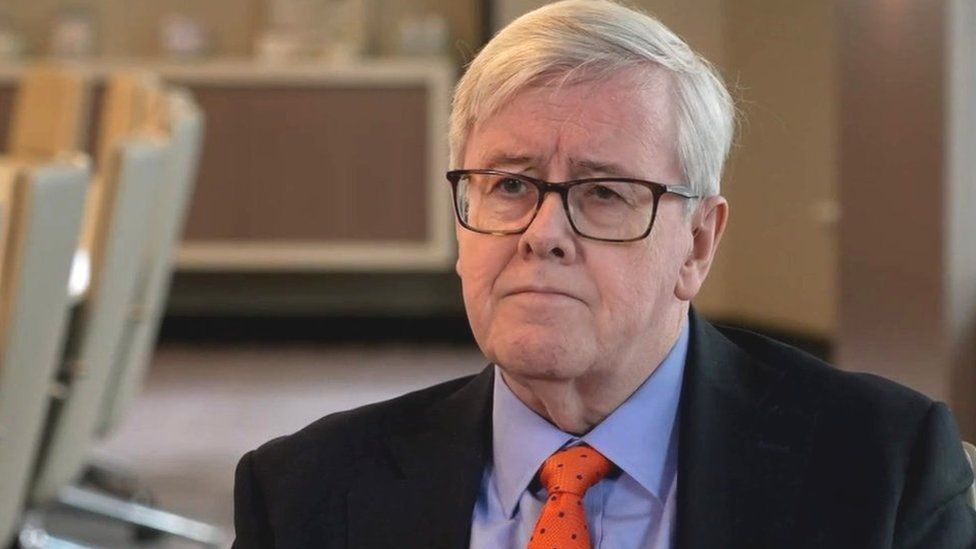 John Allan is stepping down as chairman of Tesco following allegations over his conduct.
Mr Allan, who is also a former president of the CBI business lobby group, has strongly denied three of four claims made against him.
However, Byron Grote, who will temporarily replace Mr Allan as chair, said: "These allegations risk becoming a distraction to Tesco."
Tesco said it had made "no findings of wrongdoing".
The chairman will leave Tesco in June after eight years in the role.
Mr Allan said: "It is with regret that I am having to prematurely stand down from my position as chair of Tesco following the anonymous and unsubstantiated allegations made against me, as reported by the Guardian."
A report in the Guardian had claimed that Mr Allan had touched a Tesco employee at the supermarket giant's annual shareholder meeting last year.
It also alleged that Mr Allan "grabbed" an employee at a CBI event in 2019. He has previously said these claims are "simply untrue".
It is also claimed that he made a comment about a CBI staff member's dress and bottom in 2021. Mr Allan said he does not recall this incident.
He has, however, admitted to making a comment to a female CBI worker in late 2019 about a dress suiting her figure.
Mr Allan said he was "mortified after making the comment in 2019" and immediately apologised.
Following claims he inappropriately touched a Tesco staff member, the supermarket group said it began an "extensive review of the allegation".
The retailer said it had asked colleagues "to come forward if they had concerns regarding any conduct issues and specifically at the Tesco 2022 annual general meeting (AGM)".
It also reviewed video of the event as well as its internal complaints records.
The company said: "This review has not identified any evidence or complaints in relation to John at the Tesco 2022 AGM or at all in his tenure as Tesco chair."
Mr Allan said: "These allegations are utterly baseless, as the internal procedures undertaken by Tesco prove.
"There is no evidence of any wrongdoing at that time or at any stage of my chairmanship at Tesco and I remain determined to prove my innocence."