Three people have died after a fire broke out at a Perth hotel.
Emergency services including 21 ambulance crews, 60 firefighters and nine fire trucks were called to the New County Hotel on County Place at about 05:10.
Hotel guests and two people from neighbouring flats were evacuated and police set up a cordon, urging members of the public to avoid the area.
Eleven people were treated at the scene by the Scottish Ambulance Service.
The fire was extinguished at about 06:30 and the bodies were discovered in a subsequent search.
Just before midday, police began removing them from blue tents close to the hotel into a private ambulance.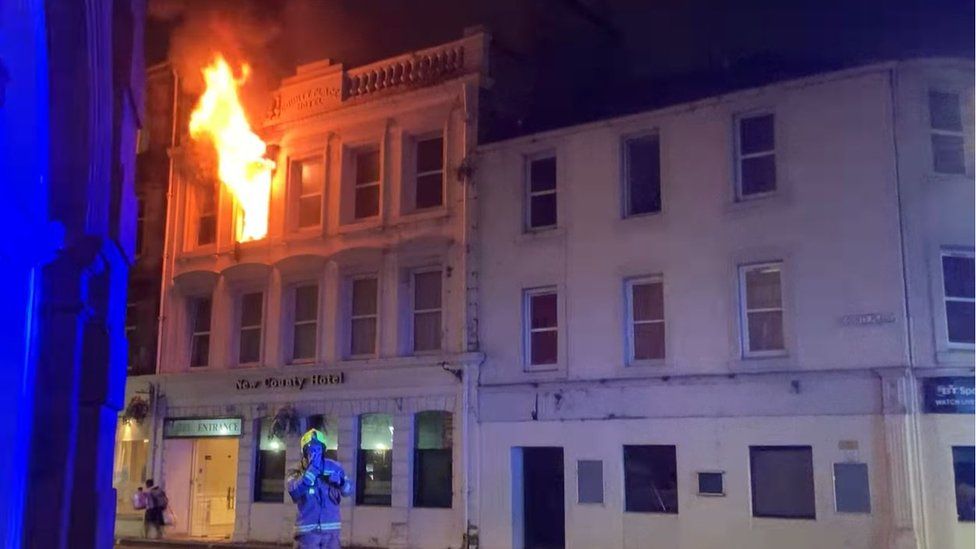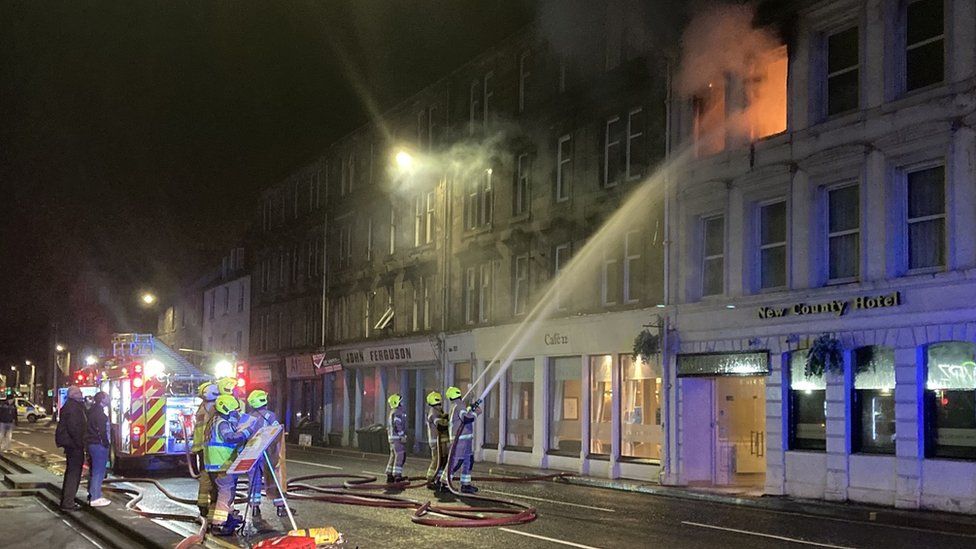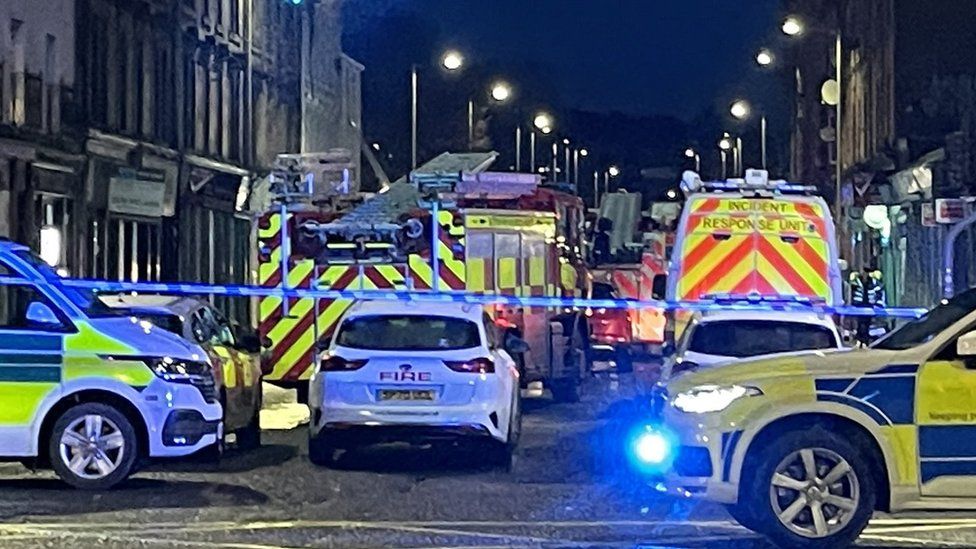 Residents of the city centre street spoke of a sense of shock that such a tragedy could have happened on the second day of the new year.
"We were wakened at 05:00 when the alarms went off and the lights were flashing in my room," one resident told BBC Scotland.
"Obviously as we were watching it unfold, police incident units were arriving. The fire brigade and 21 ambulances were outside.
"It was pretty horrendous to watch. It was frightening. When I saw the private ambulance I knew it only meant one thing. Then I realised it was major."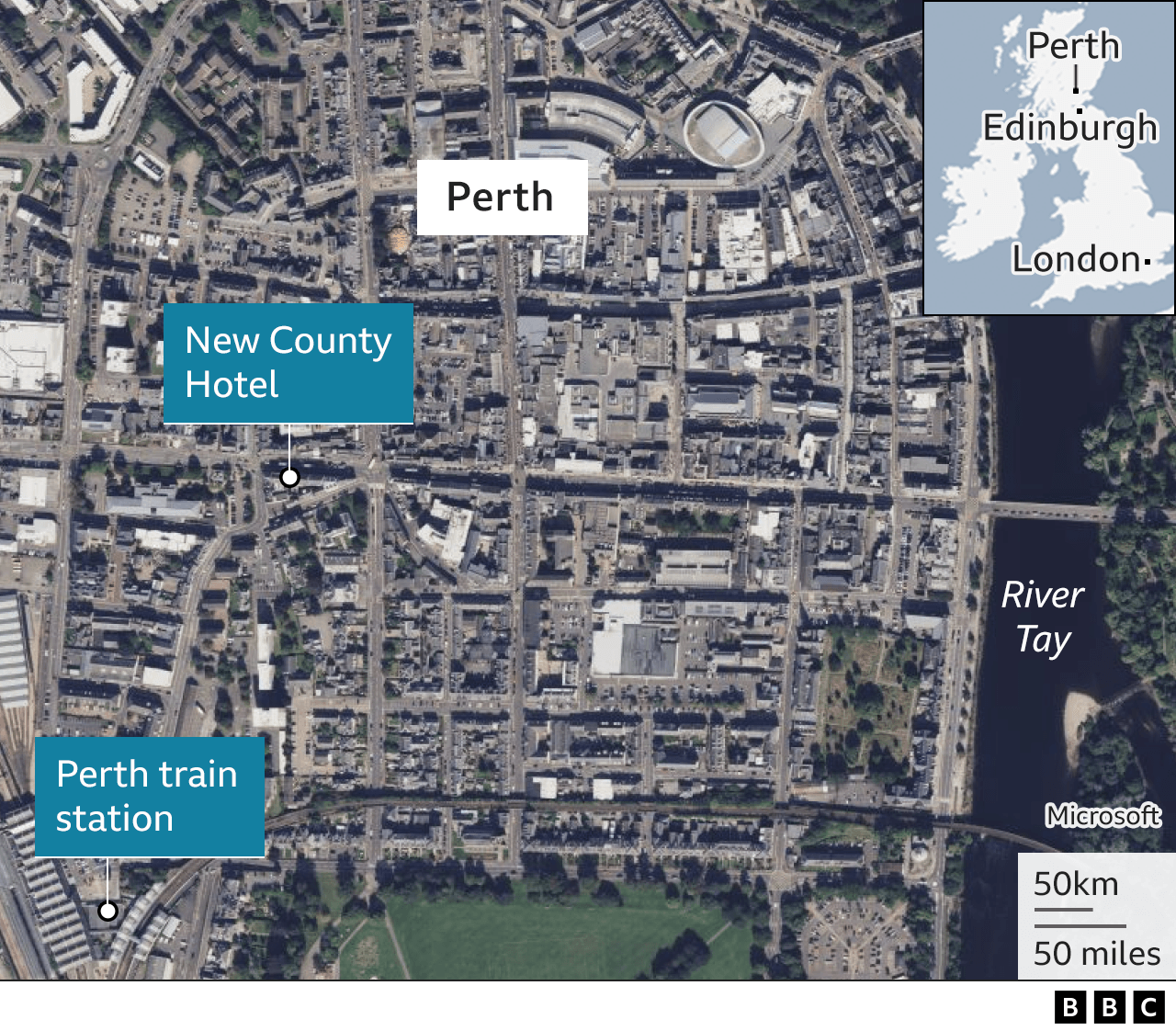 The Scottish Fire and Rescue Service said a dog also died in the fatal blaze.
Jason Sharp, the area's senior fire officer, said firefighters had worked hard to rescue a number of casualties from the building before transferring them into the care of paramedics.
Police Scotland said officers were conducting a joint investigation with the fire service.
Ch Supt Phil Davison added: "Our thoughts are very much with the families and loved ones of those who have died at what is a very difficult time for everyone."
Deputy First Minister John Swinney, who is the local MSP, paid tribute to the work of the emergency services.
"The news of the major fire at the New County Hotel in Perth and the loss of life that has been associated with that has been an absolutely tragic start to 2023 in the city of Perth," he said.
"I extend my deepest sympathies to everybody who has been involved in this tragedy and affected by this tragedy.
"There has been a huge effort by the emergency services to try to avoid the loss of life and address the very serious fire that has emerged, and a whole host of support work has been put in place to assist those who have been affected, and I'm grateful to everybody for their efforts in these very sad circumstances."
First Minster Nicola Sturgeon described it as a "sad and shocking incident".
In a post on Twitter, she added: "My deepest condolences are with the bereaved and my thoughts with all those involved.
"I am also hugely grateful to the firefighters who responded and to our other emergency services."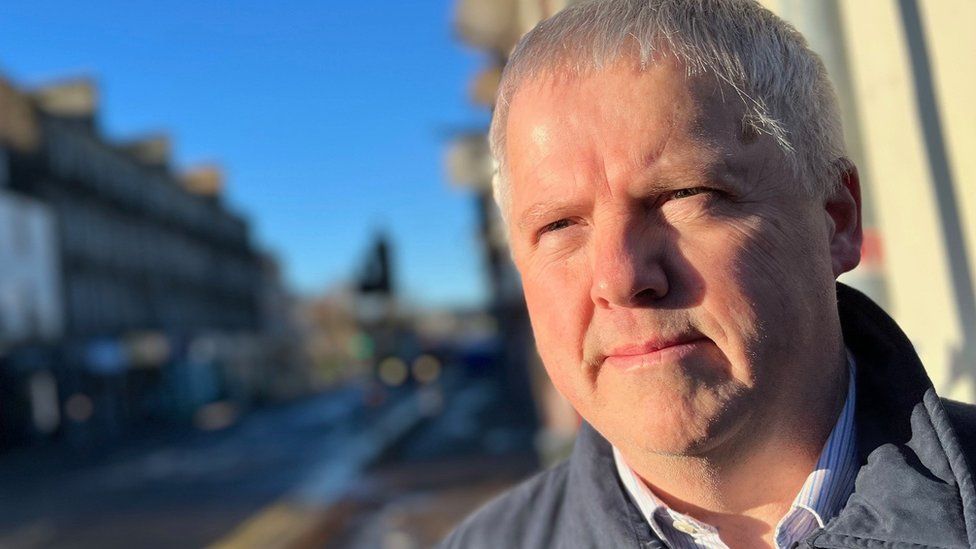 Councillor Eric Drysdale, who is deputy leader of Perth and Kinross Council told BBC Scotland News: "The loss of three people in a dreadful fire is truly shocking and my heart goes out to the family and friends of the deceased."
He added that council staff were supporting neighbouring residents, hotel staff and guests – who were being looked after in another city centre hotel.
Although the road closure had caused disruption for people and businesses, Mr Drysdale said it was essential for emergency services to preserve the scene.
He added: "There have been three deaths and the investigation has to take its course. I'm sorry to people and indeed businesses on the street that have been affected. I'm sure everything is being done to restore access as soon as possible."