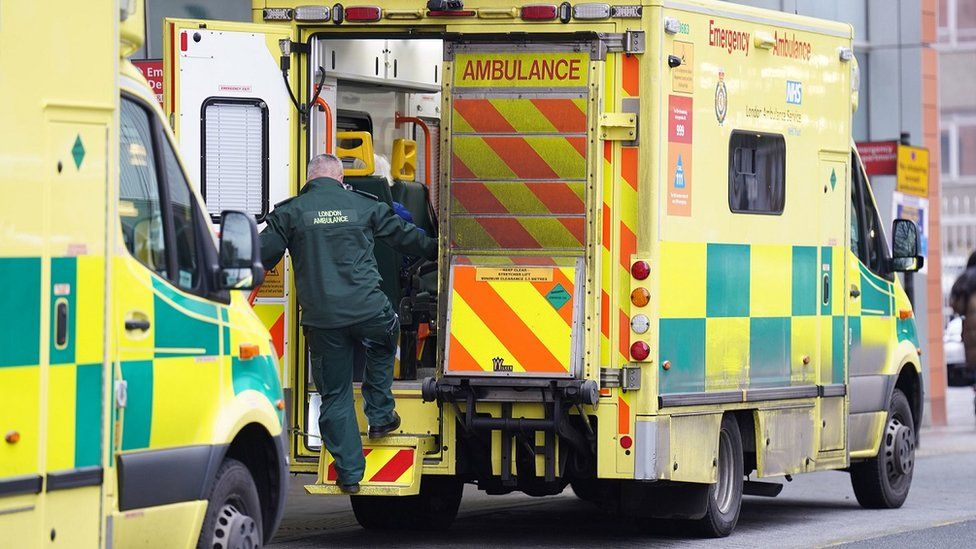 The impact of Wednesday's ambulance strike in England and Wales is likely to be worse than that of the one before Christmas, NHS managers are warning.
Thousands of paramedics and support staff will walk out for the second time this winter, in the dispute over pay.
NHS Providers said this strike would be harder to cope with, as the government raised fears over the lack of a national deal on emergency cover.
But union leaders said life-and-limb cover would be provided.
Under trade-union laws life-preserving care must continue.
But there is no formal agreement of what that involves and so it has been left to local services to agree their own arrangements with the unions involved, the GMB and Unison.
Your device may not support this visualisation
The highest-category calls, for immediately life-threatening emergencies such as cardiac arrests, will be covered – but not every emergency in the next category down, which includes heart attacks and strokes, will be provided for.
Government sources involved in contingency planning said the lack of agreement over emergency calls was a concern.
They said this could be covered by the minimum-service legislation ministers are considering introducing.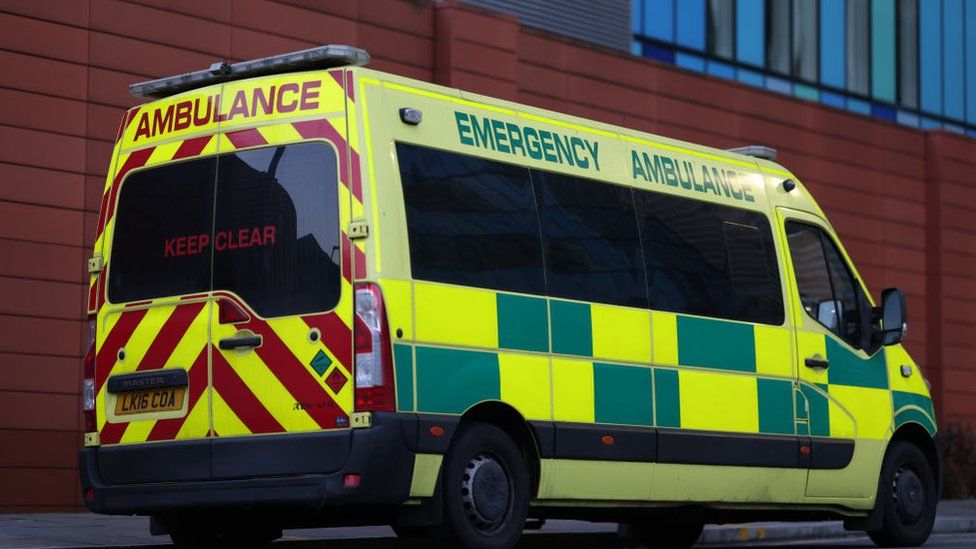 But union leaders said detailed plans were in place to ensure lives were not put at risk, including exemptions for some union members expected to work during the walkout.
Services will also bring in other NHS staff, alongside the military, to provide support. London Ambulance Service has confirmed it aims to get to all heart attacks and strokes.
Unison general secretary Christina McAnea said: "Last time, staff didn't hesitate to leave picket lines when someone's life was in danger.
"After a decade of refusing to bring in minimum staffing levels, it's ironic that the government is only prepared to do so during a strike.
"Every other day of the year, ambulance crews are stuck queuing for hours outside A&E departments and hospital staff are rushed off their feet. But the government isn't interested in minimum staffing levels then."
Miriam Deakin, of NHS Providers, said her members were worried because Unison was telling call handlers and ambulance dispatchers, who remained in work during the previous strike, to walk out also.
"With more staff expected to strike this time, the NHS is in an even more precarious position," she said.
"Since the last strikes, delays transferring patients from ambulances to hospitals have got worse, as pressure across the whole of the NHS increases.
"Trust leaders are working hard to minimise the impact on patients and to support staff during the industrial action – but they are braced for another day of significant disruption and knock-on effects."

I worry we're killing people – 999 call centre worker
Alongside paramedics, 999 call centre workers will also going on strike. One ambulance dispatcher, who wishes to remain anonymous, says for them there is no other option.
"The job is crushingly depressing, stressful and embarrassing," the dispatcher says. "I feel so destroyed. The feeling of saving lives has been taken over by how many can we not kill."
They say the most frustrating issue is the number of crews stuck outside hospital waiting to hand patients over to accident-and-emergency staff.
"I know going in that I will have to dispatch ambulance crews to hospitals to take over from other ambulance crews who have been outside for 12 hours," the dispatcher says.
"It just means we don't have those crews available to respond to calls and it exacerbates our shortness of resources by 10-fold, 100-fold.
"I never thought I'd leave the NHS – but I'd take a job at Aldi. I'd take a job cleaning. The thought of going in and having to manage those calls just fills me with absolute dread."

Some of the walkouts will start from 00:01 but the duration and scale of the disruption will vary across different parts of England and Wales.
Only the East of England Ambulance Service will remain unaffected, as neither union obtained a strike mandate in the ballot there.
But Unison, the biggest union in the ambulance service, has a mandate for walkouts in only half of the 10 regional services in England.
Between them, the two unions represent about two-thirds of ambulance staff.
Life-threatening emergencies
During the last walkout, on 21 December, the service saw a lower number of calls than normal.
NHS medical director for secondary care Dr Vin Diwakar said: "The message from the NHS to patients is clear – if you need emergency care, please come forward.
"This means continuing to call 999 for life-threatening emergencies as well as using 111 online for other health needs, where you will receive clinical advice on the best next steps to take."
The walkout comes after ambulance staff along with other NHS workers were offered a pay rise averaging 4.75%. All were guaranteed an increase of at least £1,400 a year – more than 7% for the lowest paid.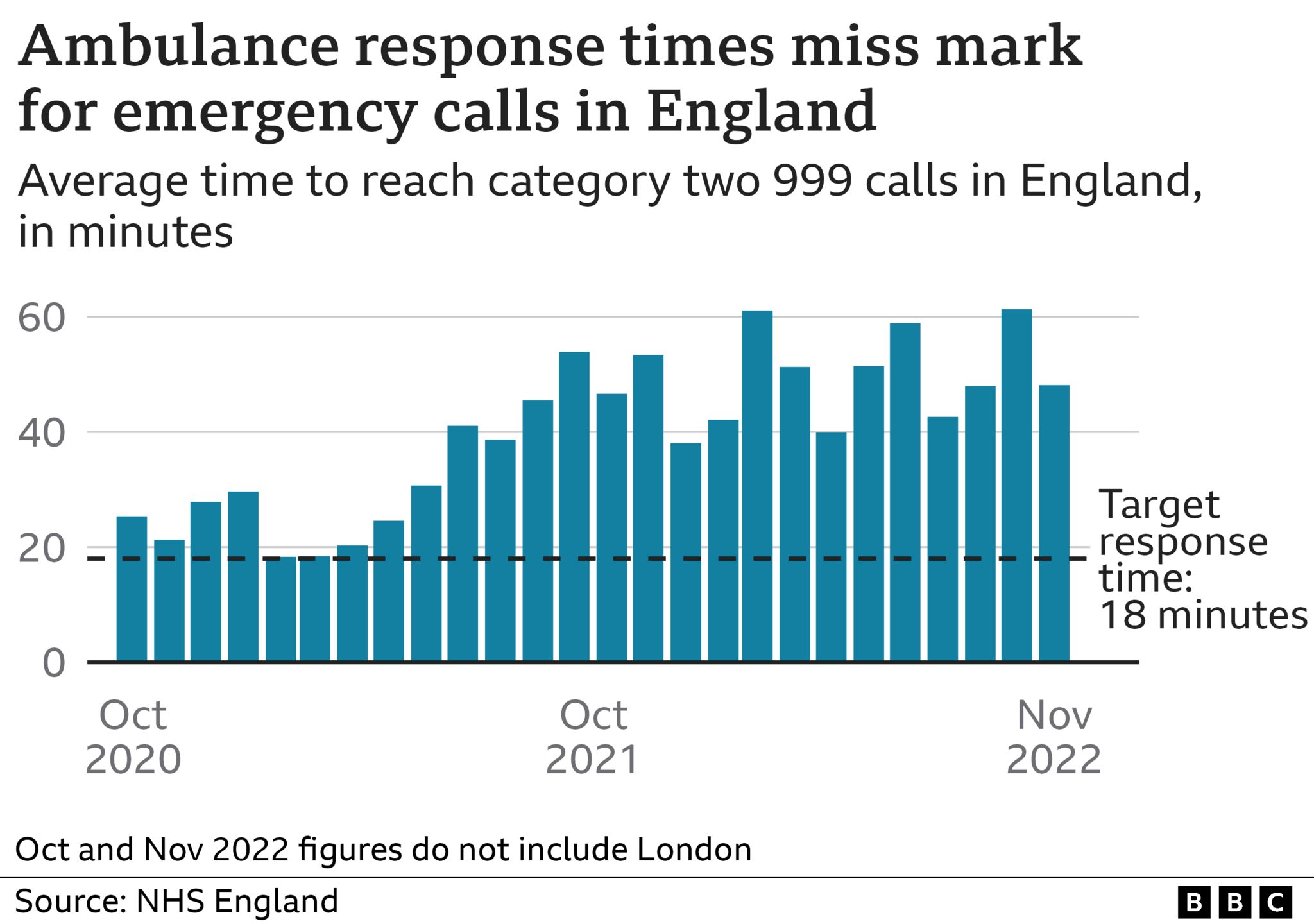 Unions wanted an above-inflation pay rise, saying low pay was contributing to high vacancy rates and the problems the ambulance service was facing responding to emergency calls.
It is taking two to three times longer than it should to answer emergency calls such as for heart attacks and strokes.
NHS unions met with Health Secretary Steve Barclay on Monday – but no agreement on pay was reached.
Ambulance staff in Northern Ireland have also been on strike, while in Scotland the unions have a mandate for action but no dates have been set.
Other NHS unions have also started striking or are planning to. Royal College of Nursing members will walk out on Wednesday and Thursday next week.