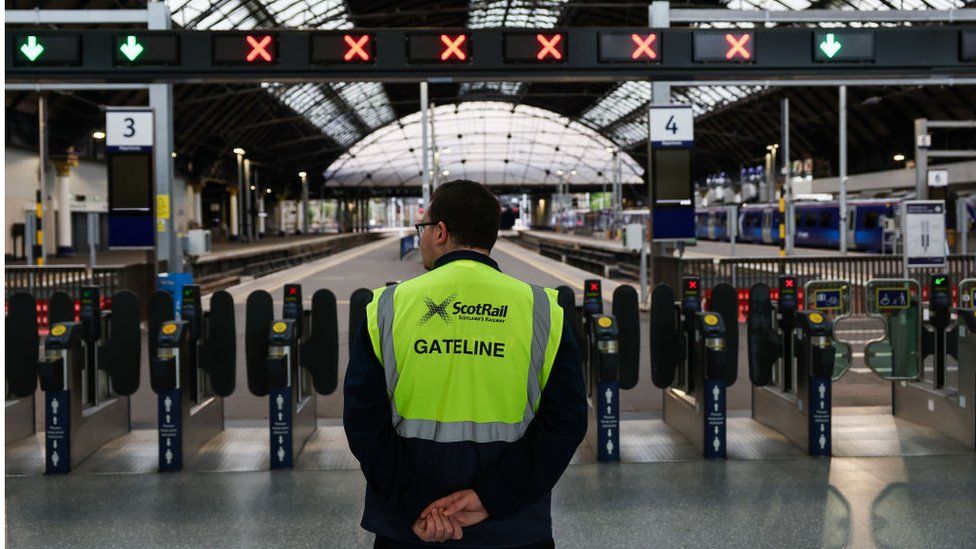 Rail strikes have cost the UK more than settling the disputes months ago would have, rail minister Huw Merriman has said.
The strikes have cost the UK more than £1bn, he conceded to a committee of MPs.
However, he said accepting the rail unions pay demands would have set a precedent for other public sector pay disputes.
He also said the future of train operator Transpennine was under review.
When quizzed by the Transport Select Committee, Mr Merriman said the rail strikes cost rail organisations £25m per day on week days, and £15m per day on weekends.
He cited a report that found the strikes had cost the wider UK economy £700m from June to Christmas.
This has added up to a more than £1bn hit to the UK, he conceded to Labour MP Ben Bradshaw.
"If you look at it [through] that particular lens, then absolutely, it's actually ended up costing more than would have been the case if it was just settled," Mr Merriman said.
However, Mr Merriman added that if the government had settled with rail workers last year, it would have set a precedent for other public sector pay disputes.
"We have to look at what teachers are being given, and what nurses are being given as well," he said.
The UK railway system, which is heavily subsidised by the government, is a patchwork of public and private sector organisations.
Although the train operating companies are mainly private sector, it was the taxpayer who was largely funding these pay settlements, Mr Merriman said.
The UK has been hit by waves of strikes as discontented workers in a number of sectors take action over pay and conditions.
Teachers and nurses are among the public sector workers who have taken strike action, with more strikes to come.
Mr Merriman added that to be able to make rail pay deals viable, unions needed to agree to "modernise" working practices, which have been a sticking point in negotiations.
"It's the reforms that will actually pay for these pay deals," he said.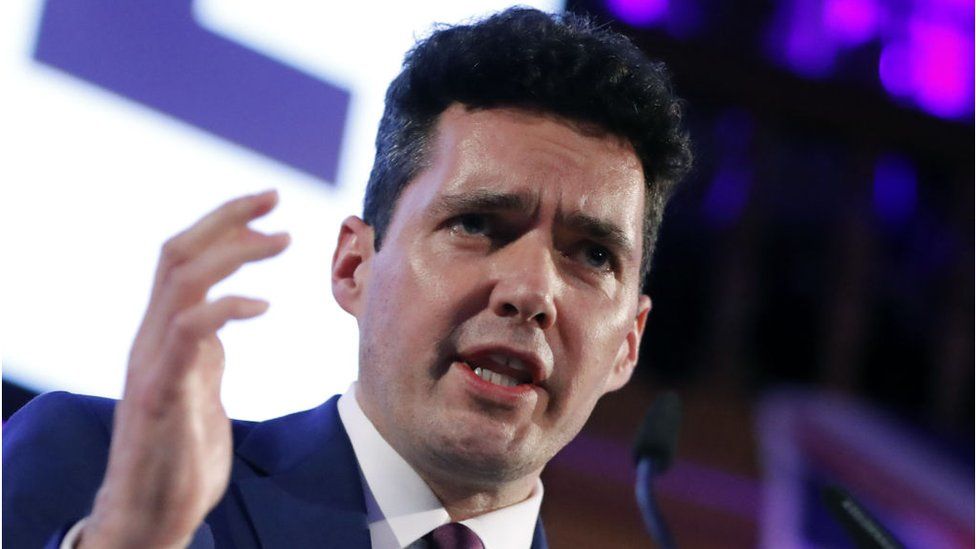 He said that railway use has not bounced back after the pandemic, and inflation is running higher than a few years ago, making a pay deal that is acceptable to the unions "harder to deliver".
Rail unions say any pay offer should reflect the rising cost of living, which is currently above 10%.
The RMT union, which represents rail workers, said Mr Merriman's statements amounted to an admission that "prolonging the rail dispute was part of a deliberate strategy that was dictated by the government's concern to keep down the pay of rail workers, nurses, ambulance workers and teachers".
"The wider economy and the business interests who relied on pre-Christmas trade were just collateral damage in that policy," said RMT general secretary Mick Lynch.
Mr Lynch also said the government had intervened just before Christmas to "torpedo" the talks between the unions and train firms – a charge which Mr Merriman denied to the committee.
Mr Merriman also said train operator Transpennine Express' contract is under review.
Transpennine, which operates across the North of England and into Scotland, has been cancelling trains daily for months.
The company blames high sickness rates and a backlog of driver training due to the pandemic for cancellations.
Mr Merriman said that when the Transpennine Express contract comes to end in May, he is "already looking at what needs to be done… with regards to that contract".
He said he had weekly data on Transpennine and another troubled operator, Avanti West Coast, and was monitoring what they were doing to turn things around.
The government recently gave Avanti six months to the end of March, to urgently improve.
A spokesperson for TransPennine Express said on Thursday: "We are committed to the communities we serve and want to assure our customers that we are doing all we can to deliver a train service they can rely on."
Transpennine "continues to work flat-out to deliver higher levels of service delivery and to tackle the issues that are being experienced by customers," the spokesperson added.