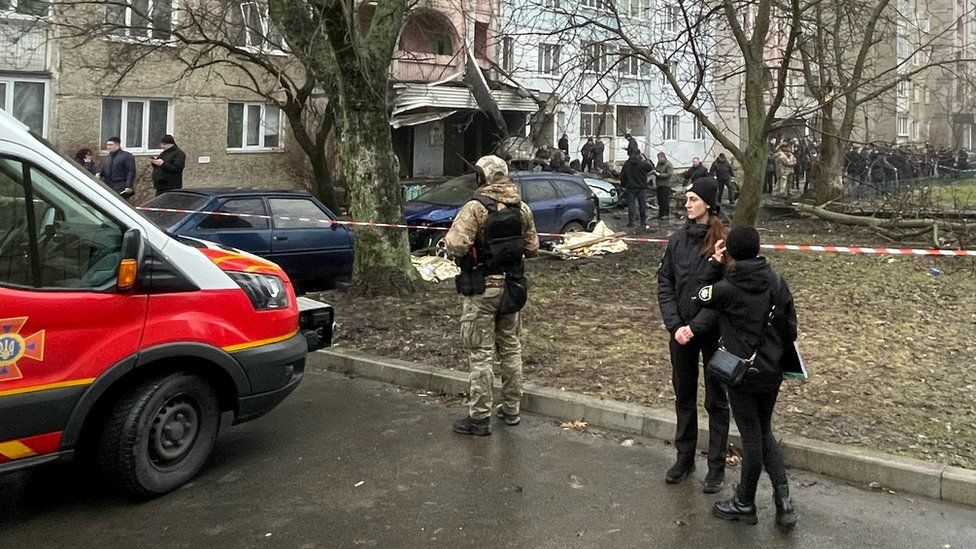 Eighteen people have been killed, including Ukraine's interior affairs minister, after a helicopter crashed beside a nursery in an eastern suburb of the capital Kyiv.
Three children were among the dead and 15 more are being treated in hospital.
The minister, Denys Monastyrsky, was with eight others in the helicopter.
His first deputy minister and the state secretary also died, officials said, when the helicopter came down in the suburb of Brovary.
The 42-year-old interior minister was a prominent member of President Volodymy Zelensky's cabinet and played a key role in updating the public on casualties caused by Russian missile strikes since Ukraine was invaded in February 2022.
National police chief Ihor Klymenko wrote on Facebook that the helicopter belonged to Ukraine's state emergency service.
Monastyrsky is the highest profile Ukrainian casualty since Russia's war began, although there is no indication that the crash was anything more than an accident.
The deputy head of Ukraine's presidential office, Kyrylo Tymoshenko, said the minister had been en route to a war "hot spot" when his helicopter went down.
The head of Kyiv's regional military administration, Oleksiy Kuleba, said the tragedy in Brovary had left 29 hurt as well as 18 dead.
After the crash a fire broke out close to the kindergarten and children and staff were moved from the building. Wreckage from the helicopter was visible outside a burning building.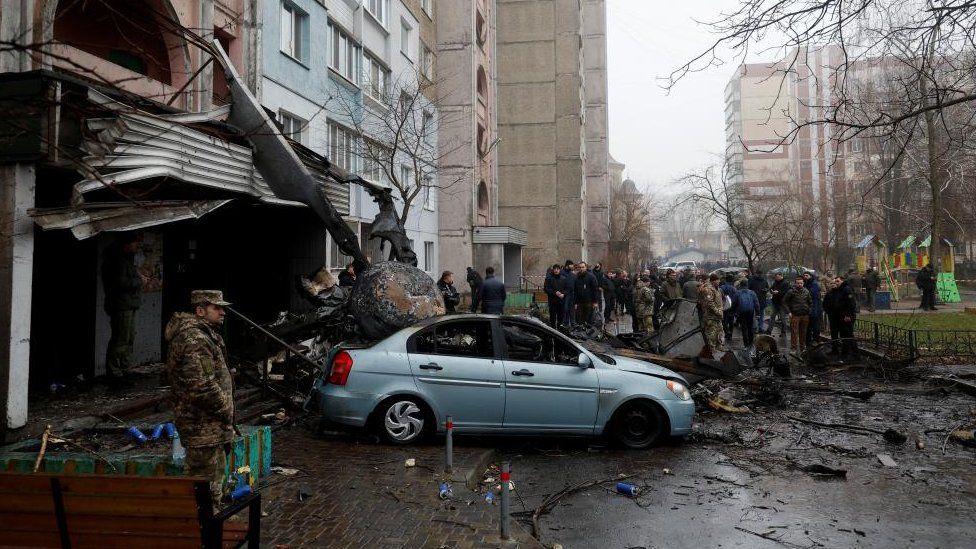 It was dark and foggy at the time of the crash and initial reports suggest the helicopter hit the nursery before crashing close to a residential building.
Two other senior figures from the interior ministry were killed alongside Mr Monastyrsky.
Yevhen Yenin was first deputy minister while Yurii Lubkovich was state secretary whose task was to organise the work of the ministry. Before he moved to the interior ministry, Mr Yenin played an important role in representing Ukraine's government abroad.
Interior ministry adviser Anton Herashchenko said all three men were friends and statesmen who had worked to make Ukraine stronger.
"We will always remember you. Your families will be cared for," he said on Facebook.