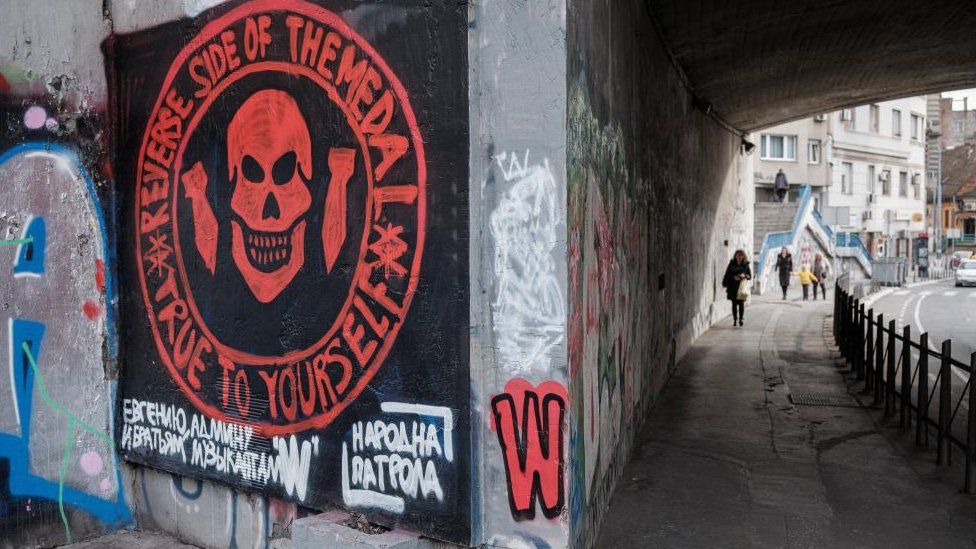 A Russian news video claiming to show Serbian volunteers training to fight alongside Russian troops in Ukraine has prompted outrage in Serbia, exposing its complex relationship with Moscow.
Russia's Wagner mercenary group made the Serbian-language videos to encourage recruitment for the war.
Serbia's president, Aleksandar Vucic, reacted angrily on national TV.
"Why do you, from Wagner, call anyone from Serbia when you know that it is against our rules?" he said.
Critics frequently accuse Serbia of prioritising its long-standing friendship with Russia over its ambition to join the EU. But what has emerged in recent days in Belgrade shows that the picture is not so black and white.
Hinting at less-than-rosy relations with Moscow, President Vucic said that not only was Serbia "neutral" regarding the war in Ukraine, but that he had not spoken to Russian President Vladimir Putin for "many months".
It is illegal for Serbians to take part in conflicts abroad.
The number of Serbian recruits involved does not appear be significant. Some did fight alongside Russian forces in Ukraine in 2014, but not with any sort of official endorsement.
In fact, Serbian courts convicted more than two dozen people for taking part in "fighting on foreign battlefronts".
On Thursday, a Belgrade-based lawyer and anti-war groups filed criminal complaints against the Russian ambassador as well as the head of Serbia's state security and information agency (BIA) for allegedly recruiting Serbians for the Wagner group.
In Belgrade, where provocative murals are numbingly common, the Wagner death's head emblem appeared on a city-centre wall last week. It was signed by the People's Patrols, an extreme right-wing organisation which has previously staged sparsely attended pro-Russia rallies.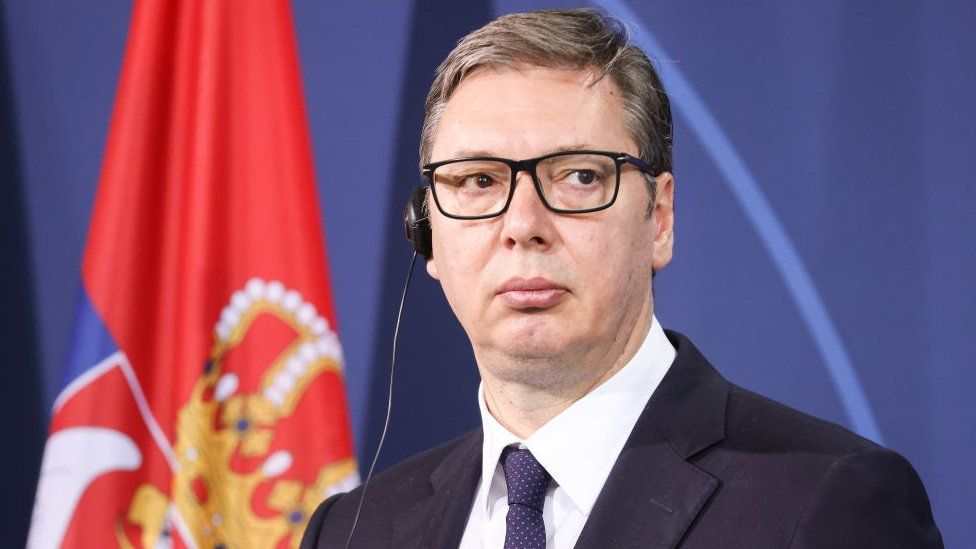 None of the mainstream political parties have even hinted at support for the invasion of Ukraine.
Indeed, Serbia has consistently voted in favour of resolutions at the United Nations condemning Russia's aggression.
President Vucic this week made Belgrade's position crystal clear: "For us, Crimea is Ukraine, Donbas is Ukraine, and it will remain so."
That stance has not been enough to impress the European Parliament, because Serbia has repeatedly refused to impose sanctions on Russia.
For the second time, MEPs have passed a resolution calling for the suspension of membership negotiations until Serbia agrees to sanctions.
For as long as the EU showed little enthusiasm for expanding the bloc to include the countries of the Western Balkans, it made sense for Serbia to maintain friendly ties with Moscow.
It reminded Brussels that Belgrade had other options. Cheap gas supplies, Gazprom's majority ownership of Serbia's oil company NIS and Russia's refusal to recognise Kosovo's independence were practical reasons to stay on good terms.
But the invasion of Ukraine has shifted perceptions. Belgrade was not impressed when President Putin referred to Kosovo's unilateral declaration of independence as justification for recognising the independence of areas of occupied eastern Ukraine.
Meanwhile, Brussels belatedly realised that its reticence towards the Western Balkans was leaving room for Moscow to meddle. Accession talks for Albania and North Macedonia were swiftly unblocked – and Bosnia received candidate status.
So if Serbia's president has been waiting for a moment to pivot decisively to the West, it might just have arrived.
He has been warning of "very difficult" conversations with EU and US special envoys – and says he will address Serbians over the weekend to tell them "what is required and expected from Serbia regarding Kosovo and sanctions against Russia".
Mr Vucic has made similar remarks before – without ever committing to a major policy change. But this week he once again reiterated that Serbia's trajectory was towards the West.
"I know that EU is our path," he told Bloomberg News. "There are no other paths."