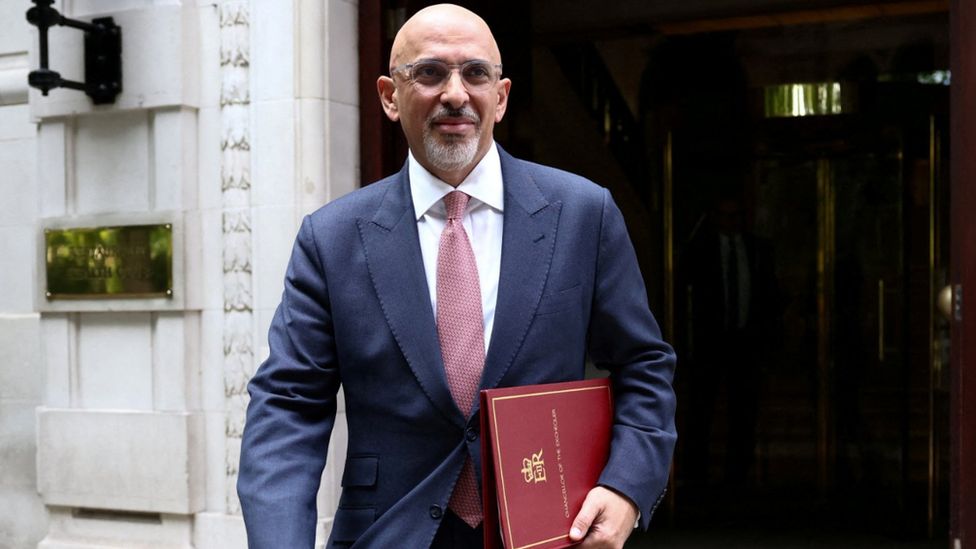 Tory Party Chairman Nadhim Zahawi says an error in his tax affairs was accepted by HMRC as having been "careless and not deliberate".
In a statement, he said he wanted to address "confusion about my finances" after claims he tried to avoid tax and had to pay it back.
Prime Minister Rishi Sunak is satisfied with Mr Zahawi's account, the BBC has been told.
Labour said there was a whole list of questions that still needed answering.
The party has called on Mr Zahawi to publish all correspondence with HMRC "so we can get the full picture".
According to the Guardian, Mr Zahawi had to pay back tax he owed with a 30% penalty and the total amounts to £4.8m.
The BBC has been unable to verify that figure, but when the paper asked about the penalty, Mr Zahawi's spokesperson did not deny one had been paid.
Mr Zahawi's statement does not make clear whether he paid a penalty or not as part of his settlement, nor does it say how much he paid to HMRC.
He said when he was being appointed chancellor, questions were being raised about his tax affairs and he discussed it with the Cabinet Office at the time.
The exact timing of when the matter was settled with HMRC remains unclear.
In the statement issued on Saturday afternoon, Mr Zahawi said: "As a senior politician I know that scrutiny and propriety are important parts of public life. Twenty-two years ago I co-founded a company called YouGov. I'm incredibly proud of what we achieved. It is an amazing business that has employed thousands of people and provides a world-beating service.
"When we set it up, I didn't have the money or the expertise to go it alone. So I asked my father to help. In the process, he took founder shares in the business in exchange for some capital and his invaluable guidance.
"Twenty one years later, when I was being appointed chancellor of the exchequer, questions were being raised about my tax affairs. I discussed this with the Cabinet Office at the time.
"Following discussions with HMRC, they agreed that my father was entitled to founder shares in YouGov, though they disagreed about the exact allocation. They concluded that this was a 'careless and not deliberate' error.
"So that I could focus on my life as a public servant, I chose to settle the matter and pay what they said was due, which was the right thing to do."
The questions facing Mr Zahawi include whether he tried to avoid paying tax by using an offshore company called Balshore Investments to hold shares in YouGov, the polling company he co-founded in 2000 – something he has always denied.
Balshore Investments is registered offshore in Gibraltar.
According to HMRC, tax avoidance involves bending the rules of the tax system to try to gain a tax advantage that Parliament never intended. It is legal and includes things that some people would consider to be normal tax planning. Tax avoidance is different from tax evasion, which is illegal.
Penalties can be applied by HMRC if tax is not paid in the correct amount at the right time.
In his statement, Mr Zahawi continues: "Additionally, HMRC agreed with my accountants that I have never set up an offshore structure, including Balshore Investments, and that I am not the beneficiary of Balshore Investments.
"This matter was resolved prior to my appointments as chancellor of the duchy of Lancaster and subsequently chairman of the party I love so much. When I was appointed by the prime minister, all my tax affairs were up to date."
Labour listed some of the questions still facing Mr Zahawi – including how much he agreed to pay HMRC and whether he paid a fine.
"This carefully worded statement blows a hole in Nadhim Zahawi's previous accounts of this murky affair," said Labour Party chairwoman Anneliese Dodds, who called on Rishi Sunak to sack him.
"He must now publish all correspondence with HMRC so we can get the full picture.
"In the middle of the biggest cost-of-living crisis in a generation, the public will rightly be astonished that anyone could claim that failing to pay millions of pounds worth of tax is a simple matter of 'carelessness'.
"Nadhim Zahawi still needs to explain when he became aware of the investigation, and if he was chancellor and in charge of our tax system at the time."
Meanwhile the Liberal Democrats claimed Mr Zahawi was trying to brush it under the carpet.
No 10 said they have nothing to add to Mr Zahawi's statement.
BBC News has been told Mr Sunak is satisfied with Mr Zahawi's account and has confidence in him as chairman of the Conservative Party.
HMRC previously said it would not comment on the affairs of individual taxpayers.
Mr Zahawi's tax affairs began to make headlines last summer, when he ran for the Tory leadership.
In a personal statement issued to reporters at the time, Mr Zahawi said news stories suggesting he had been investigated by agencies including HMRC were "inaccurate, unfair and are clearly smears".
"It's very sad that such smears should be circulated and sadder still that they have been published," the July 2022 statement read.
And of the reported investigations, the statement said: "Let me be absolutely clear. I am not aware of this. I have not been told that this is the case. I've always declared my financial interests and paid my taxes in the UK."
Nadhim Zahawi was announced as chancellor on 5 July 2022, hours after the resignation of Rishi Sunak from Boris Johnson's government.
He was previously education secretary and before that, coronavirus vaccines minister. He was made minister for equalities, minister for intergovernmental relations, and chancellor of the duchy of Lancaster under Liz Truss.
Mr Sunak appointed him as Conservative Party chairman and minister without portfolio, attending cabinet, on 25 October.
Mr Zahawi has been the Conservative MP for Stratford-on-Avon since 2010.