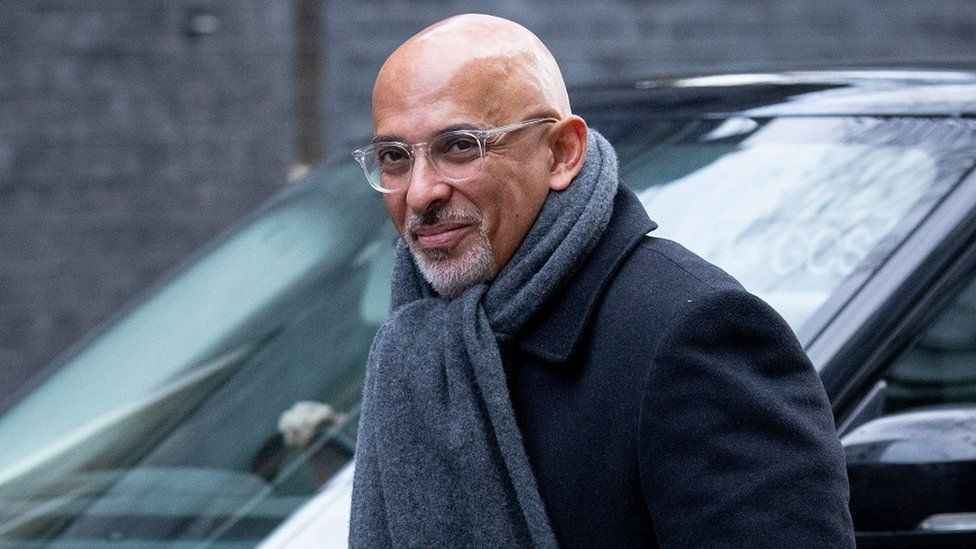 Nadhim Zahawi has been sacked from government after an inquiry by Rishi Sunak's ethics adviser criticised how he handled his tax affairs.
The prime minister said an inquiry showed there had been "serious breach of the ministerial code".
He had asked Sir Laurie Magnus to investigate after it emerged Mr Zahawi paid a penalty to HMRC while he was chancellor, over previously unpaid tax.
Sir Laurie concluded the MP had failed to be open about his finances.
In a letter to Mr Zahawi, Mr Sunak wrote: "As a result, I have informed you of my decision to remove you from your position in His Majesty's Government."
In response, Mr Zahawi thanked the prime minister and said he took pride in his achievements in government – highlighting the vaccine rollout and the Queen's funeral – but did not offer an apology or mention his tax affairs.
He promised to support the prime minister "from the backbenches in the coming years".
Setting out his findings to the prime minister, Sir Laurie said His Majesty's Revenue and Customs (HMRC) first started having interactions with Mr Zahawi in April 2021.
He says Mr Zahawi told him he thought he was "merely being asked certain queries" and this impression persisted until he got a letter from HMRC on 15 July 2022.
When Mr Zahawi became chancellor on 5 July 2022, he completed a declaration of interests form which contained no reference to an HMRC investigation into his taxes.
He only updated the form after getting a letter from HMRC on 15 July 2022.
Sir Laurie said Mr Zahawi had failed to meet the requirement of the ministerial code to declare any conflict of interests.
Mr Zahawi reached agreement with HMRC in August 2022 for failing to take "reasonable care".
The total amount paid to the taxman was in the region of about £5m, including a penalty, the BBC has been told.
Sir Laurie said Mr Zahawi should have updated his declaration of interests after the settlement, as well as when new governments were formed under Liz Truss in September 2022 and then Mr Sunak in October 2022.
Taken together these "omissions" constitute a "serious failure to meet the standards set out in the ministerial code, he said.
As part of his investigation Sir Laurie also examined Mr Zahawi's statement on 10 July 2022 when he described news stories saying he was being investigated by HMRC as "smears".
Mr Zahawi did not correct the record until 21 January 2023, with another public statement saying he had reached a settlement with HMRC following an investigation.
Sir Laurie said: "I consider that this delay in correcting an untrue public statement is inconsistent with the requirement for openness."
He concluded that Mr Zahawi had shown "insufficient regard for the general principles of the ministerial code and the requirements in particular under the seven Principles of Public Life, to be honest, open and an exemplary leader through his own behaviour".
He also praised Mr Zahawi's "willingness to assist with my inquiry" and said he appreciated the pressures of being a minister.
However, he added: "These factors, however, cannot mitigate my overall judgement that Mr Zahawi's conduct as a minister has fallen below the high standards that, as prime minister, you rightly expect from those who serve in your government."



Nadhim Zahawi's tax affairs have been a headache for the government for the past 10 days.
Rishi Sunak has argued that due process is important. But he's faced accusations he was weak for not acting earlier to get rid of Mr Zahawi.
The PM got the report from his ethics adviser early this morning. He spoke to Mr Zahawi to tell him he was being sacked, then it was confirmed publicly.
The report from Sir Laurie Magnus left little room for any other conclusion than Mr Zahawi's departure.
He highlights a number of times Mr Zahawi should have declared more about his tax affairs – and didn't.
Hence the conclusion that there was a serious failure to follow the ministerial rulebook.


In his letter to Mr Zahawi, Mr Sunak said the MP could be "extremely proud of your wide-ranging achievements in government over the last five years".
He specifically cited Mr Zahawi's work overseeing the Covid vaccine, saying it was "critical to ensuring our country came through this crisis and saved many lives".
But, speaking to the Sunday with Laura Kuenssberg programme, Labour's shadow education secretary Bridget Phillipson, said Mr Zahawi should have been sacked "a long time ago" but the prime minister was "too weak to act".
"The reason this keeps happening is we have a government whose only principle is party first, country second."
The SNP's Kirsty Blackman said: "Sunak still has questions to answer over this whole affair about what he knew about the settlement and what advice he received about Zahawi's tax on his appointment.
"The UK government is riddled with sleaze and scandal and the only way Scotland can escape is by becoming an independent country."
Liberal Democrat Deputy Leader Daisy Cooper said Mr Zahawi should "do the right thing" and resign as an MP.
Levelling up Secretary Michael Gove told Sunday with Laura Kuenssberg that it was important the facts were "investigated fully and properly" and the situation had required "cool forensic analysis".
Asked whether he should ever have been appointed, Mr Gove said his "understanding" was that there was "no information that was brought to the attention of the prime minister, either Rishi or indeed Liz Truss which would have led them to believe at the time it was inappropriate to have Nadhim on the team".