At least 32 people have been killed and 150 injured in a bombing at a mosque in the Pakistani city of Peshawar.
A section of the building was destroyed and officials say people are buried under the rubble.
Most of those who died were part of the police force, and it is believed they were the target of the attack.
Early reports said a bomber sitting in the front row had blown himself up, but this has not been confirmed and no group has admitted the bombing.
Muhammad Ijaz Khan, Peshawar capital city police officer, told local media that between 300 and 400 police officials were present in the area at the time of the blast.
Prime Minister Shehbaz Sharif has strongly condemned it. In a statement, Mr Sharif said those behind the incident "have nothing to do with Islam".
He added: "The entire nation is standing united against the menace of terrorism."
The blast took place during afternoon prayers in the north-western city, around 13:30 (08:30 GMT), near the country's border with Afghanistan.
A video circulating social media and verified by the BBC shows that half of a wall has caved in. The mosque is covered in bricks and debris as people clamber over the rubble to escape.
A rescue operation is continuing inside the mosque and "more bodies are being taken out," Peshawar city Deputy Commissioner Shafiullah Khan said.
"Currently our priority is to save people buried under the debris," Mr Khan added.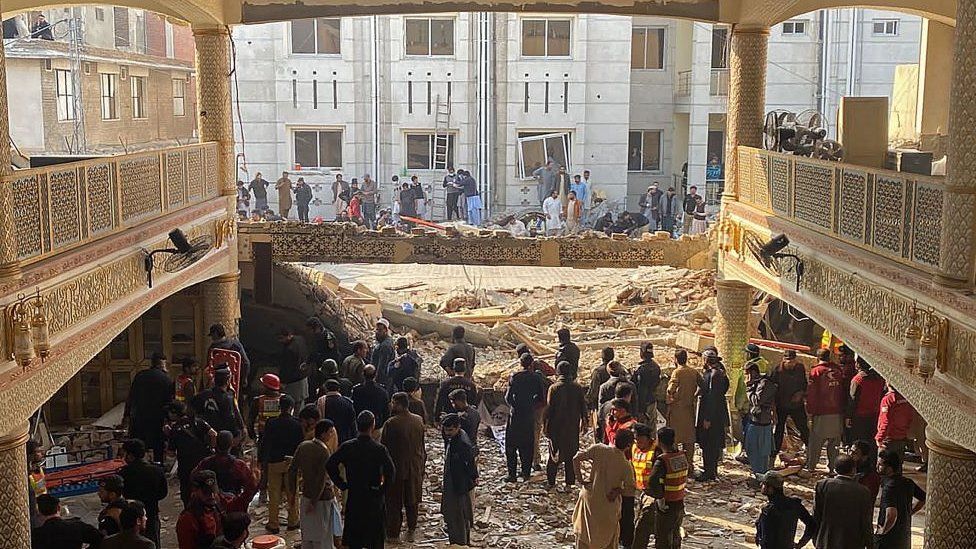 Mohammad Asim, a spokesman for the Lady Reading Hospital, said that some of those injured were in a critical condition.
"It's an emergency situation," Mr Asim added.
Lady Reading Hospital in Peshawar declared an emergency, and they told the BBC they were still receiving those injured during the explosion – and are calling for blood donations.
Pakistan Taliban are among groups that have carried out attacks in the past. They ended a ceasefire in November, and violence has been on the rise since.
In the capital, Islamabad Police issued a security high-alert and said security at all entry and exit points to the city had been increased.