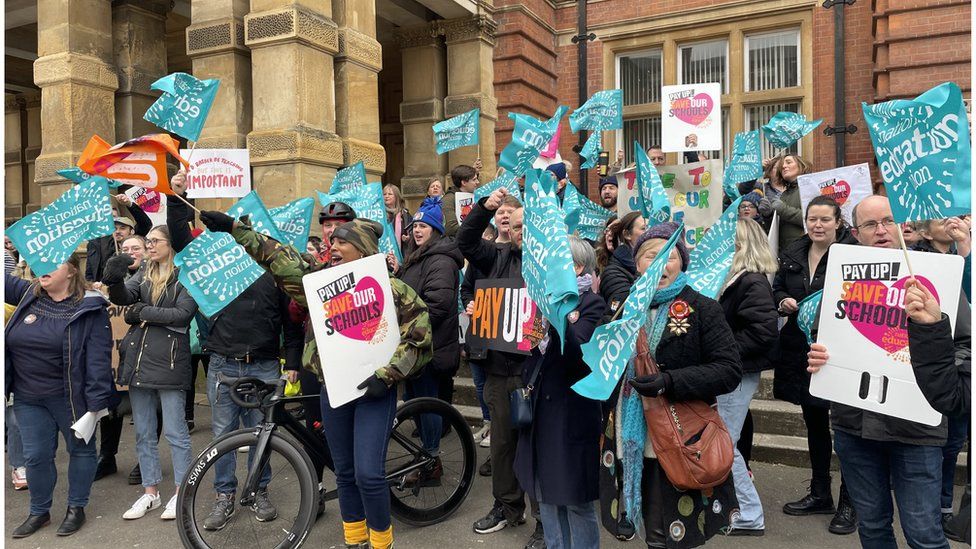 More than half of schools in England either restricted attendance or closed during teacher strikes on Wednesday, government data suggested.
Teachers in England and Wales were among thousands of workers taking action during what was said to be the biggest strike day for a decade.
Most were taking action over pay not keeping pace with inflation.
Department for Education estimates on school closures released on the day were based on attendance data from 77% (16,400) of state-funded primary and secondary schools in England.
43.9% of the schools were fully open
42.8% were open but restricting attendance
8.9% were fully closed
Education Secretary Gillian Keegan said she was grateful to head teachers for how they had worked to keep schools open.
"Conversations with unions are ongoing and I will be continuing discussions around pay, workload, recruitment and retention, and more."
Schools Minister Nick Gibb said the government was taking negotiations "very seriously" and wanted a "well-rewarded profession".
National Education Union joint general-secretaries, Mary Bousted and Kevin Courtney, said: "One day's disruption through strike action is dwarfed by the long-term damage caused by government policy on education funding, on workload, and on pay."
Even in schools that were fully open children may have experienced disruption as some staff members may have been absent.
In Wales, striking teachers were joined by support staff, while members of the National Association of Head Teachers took action short of a strike.
Teachers were also striking in two parts of Scotland – Clackmannanshire and Aberdeen – as part of rolling industrial action.
Most state school teachers in England and Wales had a 5% pay rise in 2022. Unions say this amounts to a pay cut because inflation is over 10%. In Scotland, teachers rejected a 5% increase.
Primary school teacher Justine Valentine went on strike for the first time, taking part in a rally in Leamington Spa.
"I felt it was my only option," she said.
"I'm really really sorry for the children in my class, I would rather be with them."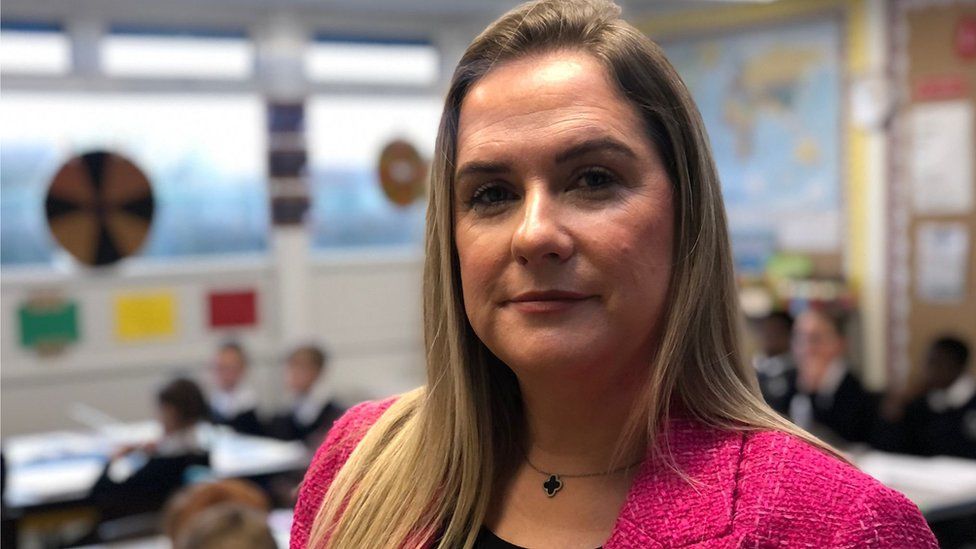 Maria Richardson, head teacher of Our Lady Queen of Peace primary school in Liverpool, sent three classes home because there were not enough staff to teach them.
"We'll ensure that the children do catch up," she said. "Those children will be given extra tuition."
A secondary-school teacher in Cambridgeshire, who asked not to be named, said she understood why her colleagues were striking but she could not afford to lose the pay.
"Morally, it just doesn't sit right with me," she said.
"The kids have suffered so much through Covid and I just feel like striking and them missing another four days of school is not going to help anybody. They're already so far behind."
Wednesday was the first of seven national and regional NEU strike dates.
Schools in England will each see four days of strike action, three national days and one affecting their region.
Teachers have already been on a national strike in Scotland and action is continuing on a rolling basis. Most teachers in Northern Ireland will walk out for half a day on 21 February.
Other groups of workers to strike on Wednesday included:
Civil servants across 124 government departments
Rail workers at 15 different companies
Some London bus drivers
Lecturers, librarians and other university workers
Further strikes by ambulance workers in several English regions and by staff at the Environment Agency were also announced on Wednesday.
Additional reporting by Michael Sheils McNamee, Elaine Dunkley and Kate McGough.


Please include a contact number if you are willing to speak to a BBC News journalist. You can also make contact in the following ways:
If you cannot see the form, visit the mobile version of the BBC News website to submit your question or comment or email haveyoursay@bbc.co.uk. Please include your name, age and location.