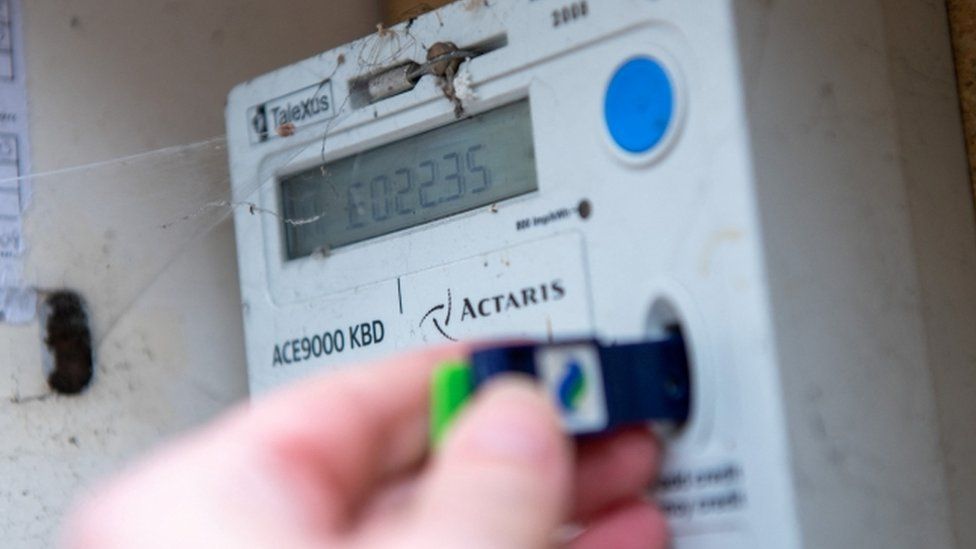 Magistrates courts in England and Wales have been ordered to stop authorising warrants for energy firms to forcibly install prepayment meters with immediate effect.
One of the country's most senior judges said the cases must be halted in light of the growing concern.
The order comes days after it emerged that courts have been waving through applications to install these meters.
Regulator Ofgem has askedall companies to suspend forcible installations.
Monday's order from Lord Justice Edis, the judge who oversees the workings of all courts, now makes both a practical impossibility.
In a statement issued to magistrates, Lord Justice Edis said all magistrates had to "act proportionately and with regard to the human rights of the people affected, [in] particular any people with vulnerability".
"However, it has now come to light that Ofgem has become sufficiently concerned at the operation of suppliers as to ask all energy companies to suspend forced installation of prepayment meters," he said.
"In light of that, applications for warrants of entry for the purpose of installing a prepayment meter should, with immediate effect, cease to be listed and no further such applications are to be determined until further notice."
Lord Justice Edis said that while energy firms could still make a case for a warrant to be heard, they would have to first satisfy a court "in detail as to the integrity of their procedures, in particular relating to the vulnerability of occupiers".
He has not put a limit on how long the moratorium will last for, but said that its lifting would depend on investigations by Ofgem and the government.
Last week, the Times newspaper found that debt agents for British Gas had broken into vulnerable people's homes to fit meters.
Chris O'Shea, chief executive of British Gas's parent company Centrica, said he was "horrified" at the findings, and the firm said it would suspend forcefully installing prepayment meters until at least after the winter.
Business Secretary Grant Shapps said on Sunday that Ofgem had allowed itself to have "the wool pulled over their eyes" over prepayment meters being force-fitted, taking companies "at face value" instead of listening to customers.
He has given energy firms until Tuesday to report back on what action they will take, potentially including compensation, in response to complaints from any customers who have had prepayment meters wrongfully installed.