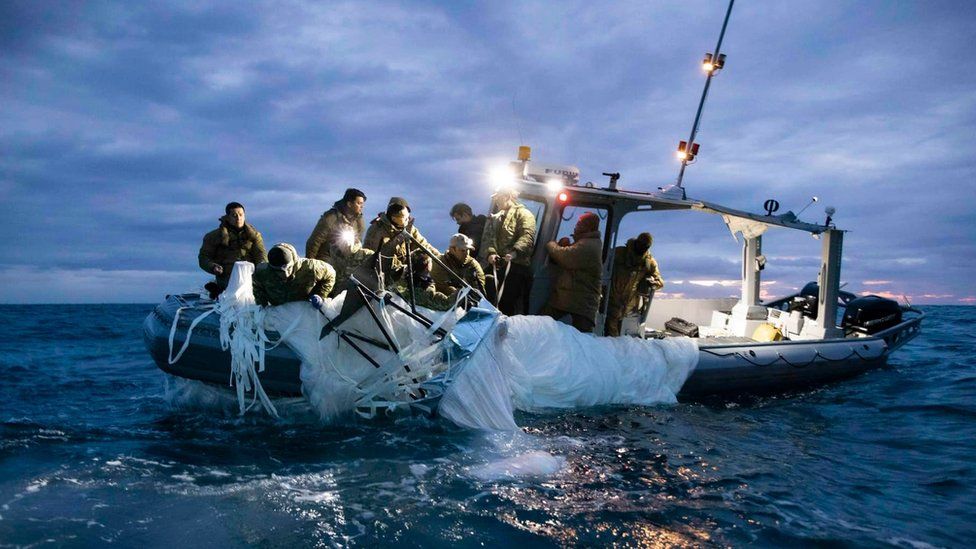 The US Navy has released photos of a suspected Chinese surveillance balloon that was shot out of the sky on Saturday.
The US Fleet Forces Command posted several photos on its Facebook page showing large debris of the balloon being hauled into a boat.
The post said the sailors retrieving the debris on Sunday were part of the Navy's specialist explosives team.
The device will now be examined to see whether it was indeed spy equipment.
US officials have described the balloon as being about 200 ft (60m) tall, with the payload portion comparable in size to regional airliners and weighing hundreds – or potentially thousands – of pounds.
China has repeatedly insisted that the "airship is for civilian use and entered the US due to force majeure – it was completely an accident".
On Tuesday, US officials said the Pentagon sought to arrange a phone call between Secretary of Defense Lloyd Austin and his Chinese counterpart after the balloon was shot down, but was rebuffed by China.
"Lines between our militaries are particularly important in moments like this," defence press secretary Brigadier General Patrick Ryder said in a statement. "Unfortunately, the PRC has declined our request."
The discovery of the balloon set off a diplomatic crisis, with US Secretary of State Antony Blinken immediately calling off a weekend trip to China – the first such high level US-China meeting there in years – over the "irresponsible act".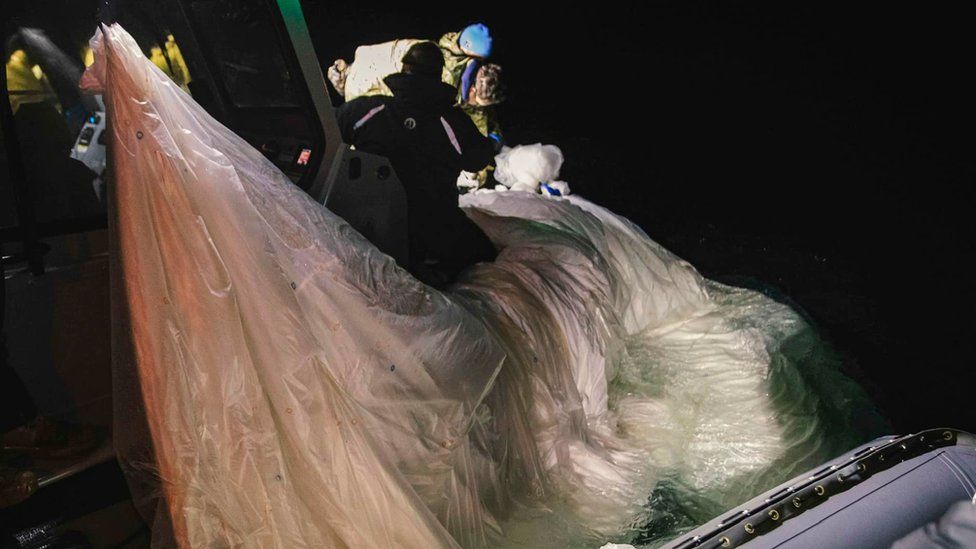 The balloon was retrieved off the coast of Myrtle Beach, South Carolina, a day after being shot down by a fighter jet.
The navy said the debris was spread over seven miles (11km) of the Atlantic Ocean, and two naval ships – including one with a heavy crane for recovery – were sent to the area. However, the photos reveal the piles of balloon material were able to be pulled aboard by hand.
The US military has also deployed unmanned underwater vehicles as part of the search effort.
Experts say that the wreckage of the balloon could provide the US with valuable insight into Chinese aerial surveillance technology and techniques, allowing them to better understand what the balloon was capable of and how it transmitted information.
Efforts to recover the balloon's equipment, however, have been complicated by the need to ensure that US personnel are kept safe from potentially dangerous materials, such as explosives or battery components.
US defence officials first announced they were tracking the strange object on Thursday, and waited until it was safely over water before shooting it down.
Colombia's Air Force says an identified object – believed to be a balloon – was detected on 3 February in the country's airspace at above 55,000ft.
It says it followed the object until it left the airspace, adding that it did not represent a threat to national security.