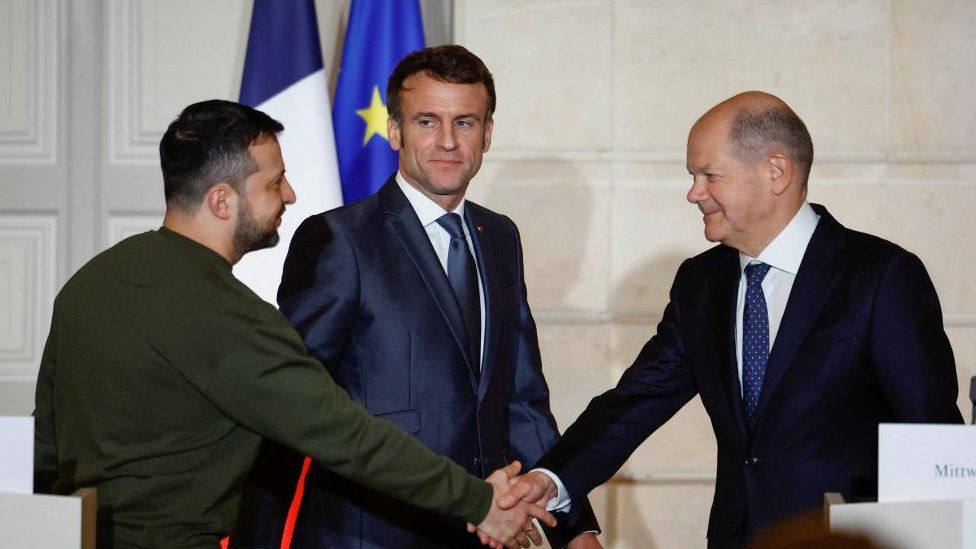 Ukraine's leader has taken his request for fighter jets to France and Germany after meeting UK officials.
President Volodymyr Zelensky met the two countries' leaders in Paris on Wednesday evening, where they pledged ongoing support to Ukraine.
France's Emmanuel Macron and Germany's Olaf Scholz restated their belief that Russia must not win the war.
Mr Zelensky will make more requests for jets when he meets European Union leaders in Brussels on Thursday.
He believes the fighter jets and long-range missiles are important in addition to the Leopard 2 tanks Western nations have recently committed to supplying.
Speaking at a joint news conference on Wednesday evening with Mr Macron and Mr Scholz, Mr Zelensky said France and Germany had potential to be "game-changers" in the battle against Russia by providing Ukraine with battle tanks, modern fighter planes and long-range missiles.
He said the supply of the jets had been discussed, and warned there was "very little time" to provide the weaponry.
Mr Macron said Ukraine could count on France's support and that the country was "determined to help Ukraine to victory and the re-establishment of its legitimate rights".
Mr Scholz also said: "The position is unchanged: Russia must not win this war."
Whether that means the two nations may commit to supplying fighter jets is unclear for now.
Both the French president and German chancellor have at times faced criticism for being too slow to support Ukraine.
Mr Zelensky has previously expressed frustration with Mr Macron, who continued to hold phone calls with Russian President Vladimir Putin after the invasion.
But the Ukrainian president told French newspaper Le Figaro he believed Mr Macron had changed. He said his commitment to support Ukraine to victory and the fact he "opened the door" to tank deliveries last month showed this.
Mr Zelensky's Thursday visit to Brussels comes after he addressed the UK Parliament on Wednesday.
There, he also urged London to supply fighter jets to support Ukraine's war efforts.
"Freedom will win – we know Russia will lose," he told a crowd of MPs and peers in Westminster Hall, adding the UK was with his country on a march to "the most important victory of our lifetime".
Downing Street said Defence Secretary Ben Wallace was investigating what aircraft the UK could potentially offer, but emphasised this was "a long-term solution" and that training pilots could take years.
Russia has warned there would be a "response" from Moscow if anyone did provide Ukraine with aircraft.