One October night, a week before she was due to face trial for criticising Russia's invasion of Ukraine, Russian journalist Marina Ovsyannikova took her young daughter and fled for the border.
She was wearing an electronic bracelet, and was meant to be under house arrest.
"My lawyer said 'flee, flee – they're going to put you in prison'," she said at a press conference in Paris on Friday.
She left Moscow at the start of one weekend last year, when she judged that police would be less active, and changed vehicle seven times before approaching the border on foot.
"Our [last] vehicle got stuck in the mud," she told me, "and we had no mobile phone coverage – we tried to find our way by the stars. It was a very dangerous and stressful escape."
They wandered for hours near the border, she said, hiding from border patrols, before successfully making it across.
Part of that success is down to the organisation Reporters Sans Frontières (Reporters Without Borders). Its director, Christophe Deloire, explained how they helped her escape.
"I wrote my first text message to Marina the day after she went on TV with that sign," he told me. "I sent her a message saying: Do you need help? We are here for you."
Last September, Ms Ovsyannikova sent a message to the organisation through an intermediary, asking for their help to leave.
"We said, OK," explained Mr Deloire. "[But] she's in Moscow under house arrest, her neighbours and family are Putinists – they could call the police and say she left – and she had an electronic bracelet. So there were many reasons [why] it was an incredibly difficult thing to escape. But she made it."
Now settled in Paris, Ms Ovsyannikova, 44, says she is still "of course, afraid for her life", but believes that Russian President Vladimir Putin is risking his leadership over the war in Ukraine.
"The elite understands everything perfectly," she explained.
"The people are living in this bubble of propaganda, but the ruling elite – those who have lost their planes, their yachts, their finances – they understand everything. As soon as a Ukrainian victory gets closer, I believe, the ruling establishment will present Putin with a big bill."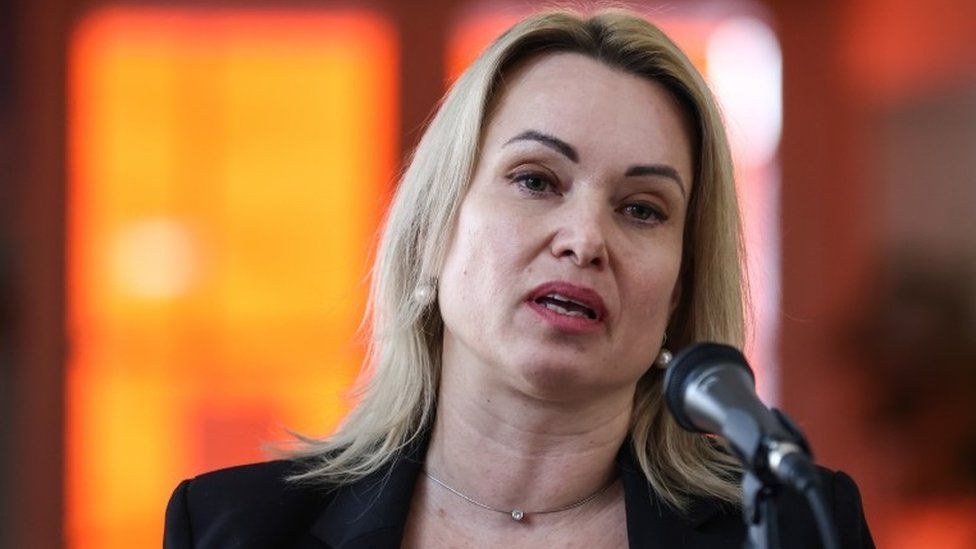 Ms Ovsyannikova grabbed headlines around the world last March, when she burst into a live news broadcast at the state-run Channel One TV station where she worked at the time, with a sign reading "no war, stop the war; don't believe the propaganda; they're lying to you here".
She said she was "immediately isolated by the FSB [Russia's security service]", and her bosses interrogated.
As she collected her belongings from the office, she told me that "I saw in my co-workers' eyes a totally compassionate expression.
"They were looking at me with wild eyes, they were saying goodbye. They thought they would never see me again."
Ms Ovsyannikova left Russia for Germany soon afterwards, but returned later that year – to fight for custody of her children, she says.
Further protests, including a demonstration near the Kremlin in July, saw her facing charges under a new Russian law, banning "deliberately false information" about Russia's armed forces.
The law made it illegal to call the war an "invasion," with Russian state-controlled news organisations instead told to describe it as a "special military operation".
Despite being targeted by the Russian regime, many Ukrainian journalists and Russian dissidents have expressed mistrust of Ms Ovsyannikova, pointing to her earlier career as a mouthpiece for the Russian state.
Her visit to Ukraine last summer to cover the war for Germany's Die Welt newspaper outraged many Ukrainians, who demanded her immediate sacking.