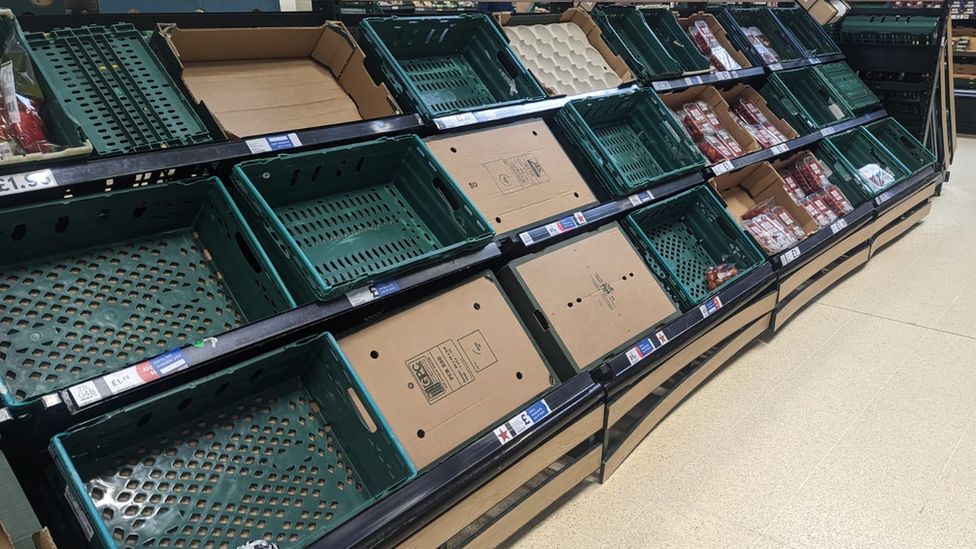 Tesco is the latest supermarket to introduce limits on sales of certain fruit and vegetables due to shortages of fresh produce.
It follows similar moves by Aldi, Asda and Morrisons, with other supermarkets also said to be facing problems after extreme weather hit harvests abroad.
Tesco is putting limits of three per customer on sales of tomatoes, peppers and cucumbers.
However, Sainsbury's, Lidl, Waitrose and M&S have not announced any limits.
Pictures of empty shelves at various supermarkets have been circulating on social media in recent days.
The shortages are largely the result of extreme weather in Spain and north Africa which has affected harvests.
A significant proportion of the fruit and vegetables consumed by the UK at this time of year come from those regions.
The British Retail Consortium, which represents supermarkets, says the shortages are expected to last "a few weeks" until the UK growing season gets under way and shops find alternative sources of produce.
Tesco, Britain's largest grocer, said it was introducing limits as a precautionary measure to ensure customers could get the produce they needed.
It said the limits applied both to loose fruit and vegetables and to produce sold in packs.
Aldi, which is putting limits of three per customer on sales of peppers, cucumbers and tomatoes
Asda, which has restricted sales of lettuce, salad bags, broccoli, cauliflowers and raspberry punnets to three per customer, along with tomatoes, peppers and cucumbers.
And Morrisons, which has put limits of two on sales of cucumbers, tomatoes, lettuce and peppers.
Crop yields in southern Spain have been hit by unusually cold weather, while in Morocco they have been affected by floods. Storms there have also led to ferries being delayed or cancelled transporting goods.
The UK also gets some produce at this time of year from domestic growers and the Netherlands. But farmers in both countries have cut back on their use of greenhouses to grow winter crops due to higher electricity prices.
It follows a period of extreme weather in the UK that has also hit domestic crop yields.
A spell of heatwaves in June 2022 led to the fourth warmest UK summer on record as temperatures broke 40C for the first time. And in December the country was hit by a series of sharp and prolonged frosts.
Tim O'Malley, managing director of Nationwide Produce, one of the UK's largest fresh food producers, said British carrots, parsnips, cabbages and cauliflower had been affected by the poor weather.
He said on Tuesday that there may be price rises as a result of the shortages in the coming weeks.
Olive oil is another product which has been hit by extreme weather, with summer heatwaves in Spain affecting yields. As a result prices in UK supermarkets have surged in recent months.
Anecdotal evidence suggests the UK has been bearing the brunt of the shortages, but problems have also been reported in Ireland where Tesco says stock levels there are affected.
Industry sources suggested the UK may be suffering because of lower domestic production and a more complex supply chain, but said Brexit was unlikely to be a factor.
The main impact of new border rules for fruit and vegetable imports will not be known until January 2024. Imports from Morocco, which is outside the EU, are already subject to border checks.
The government said it understood "public concerns" around the supply of fresh vegetables, but added the UK has a "highly resilient food supply chain and is well equipped to deal with disruption".
Asked if Brexit was having an impact on the shortages, a spokesperson said: "We remain in close contact with suppliers, who are clear that current issues relating to the availability of certain fruits and vegetables were predominately caused by poor weather in Spain and North Africa where they are produced."

Are you seeing food shortages? Get in touch.