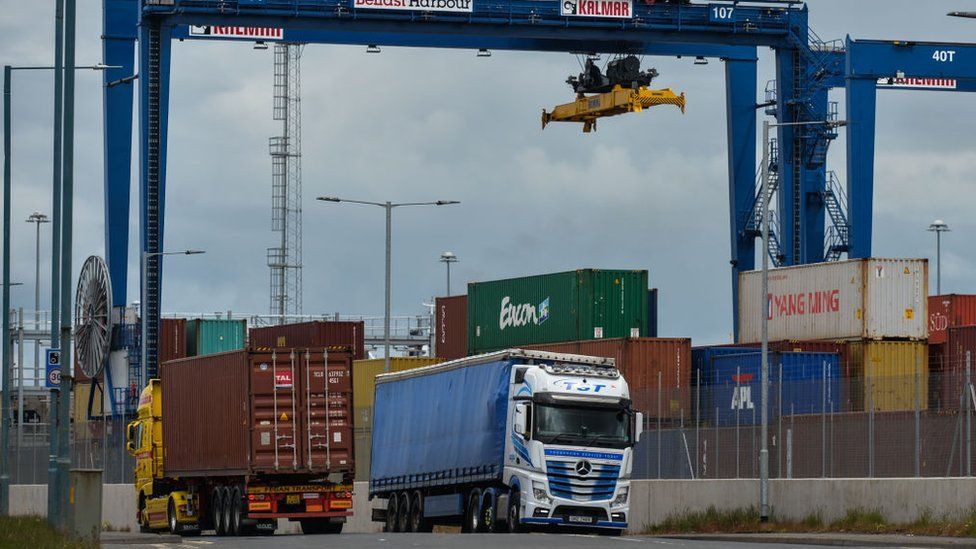 Rishi Sunak is to hold face-to-face talks with the European Commission president as he tries to secure a new Brexit deal for Northern Ireland.
The PM and Ursula von der Leyen said they would discuss the "range of complex challenges" around the Northern Ireland Protocol on Monday.
The UK wants to change the protocol, which sees some goods checked when entering from the rest of the UK.
Dominic Raab earlier said Britain and the EU were "on the cusp" of a deal.
Mr Sunak and Ms von der Leyen said they had agreed to continue their work "towards shared, practical solutions".
A deal has been expected for days, with recent talks focusing on its presentation and delivery.
Deputy Prime Minister Dominic Raab earlier told the BBC the UK was close to securing the deal with the European Union.
Speaking on Sunday with Laura Kuenssberg, Mr Raab said: "We're on the cusp, we've made great progress, we're not there yet, but it would be a really important deal…
"I think it would mark a paradigm shift first and foremost for the communities in Northern Ireland, but I think it would be a significant achievement."
The protocol, signed by Boris Johnson in 2020, meant Northern Ireland continued to follow some EU laws so that goods can flow freely over the border to the Irish Republic without checks.
Under the terms of the protocol, Northern Ireland continued to follow some EU laws to get around the need for checks at the UK's border with the Republic of Ireland.
Currently, goods are checked at ports in Northern Ireland on arrival from England, Scotland or Wales. They can then be moved to the Republic of Ireland once those checks are complete.
The new plan would see the goods split into two different lanes. Those destined for Northern Ireland only would go into the green lane and would not be checked while those destined for the Irish Republic and the EU would go into the red lane and checks would be carried out.