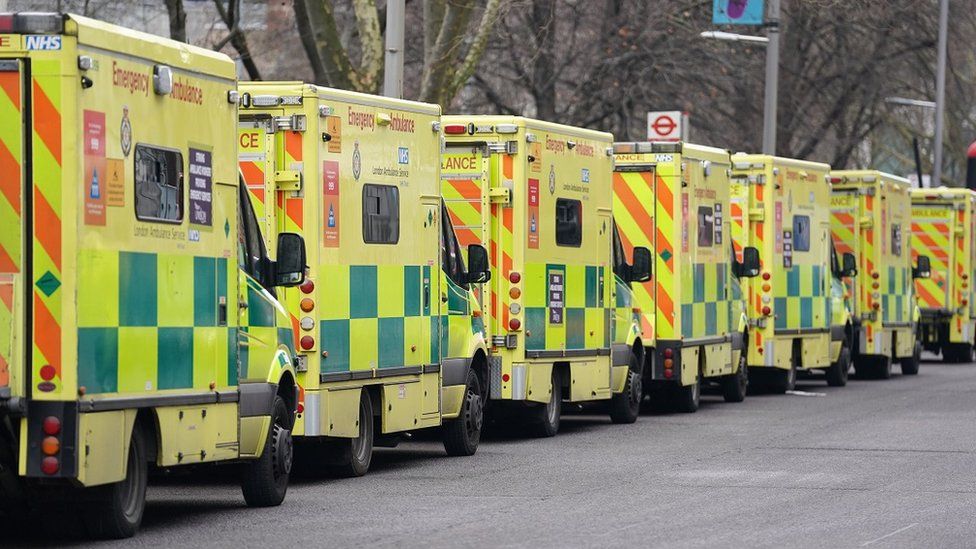 Ambulance strikes due to take place in England on Monday and Wednesday have been called off.
The Unite union suspended the industrial action to enter pay talks with the government, it said.
It followed the Unison and GMB unions earlier suspending walkouts after what they called a "huge shift" in the government's position.
Unite is the smallest of the three ambulance unions, representing about 3,000 workers.
Tens of thousands of staff had been expected to walk out across large parts of England. Unite members at ambulance trusts in the West Midlands, North West, South East and East Midlands had planned to strike on Monday. Staff in Yorkshire had planned to join them on Wednesday.
Unite head of operations Gail Cartmail said: "Following further assurances from the government over the weekend Unite has in good faith agreed to pause the strike action."
These assurances related to "a confirmation that any deal will include new money, rather than placing further pressure on NHS budgets", the union said, as well as an "indication that discussions about 'efficiencies' and 'productivity savings' will not result in attacks on the conditions of NHS staff".
If the government did not meet those assurances, "strike action will resume", Ms Cartmail said.
The union is expected to hold talks with the government this week.
A Department of Health and Social Care spokesperson said: "We're pleased that unions representing the majority of ambulance workers, nurses, physiotherapists, porters, cleaners and other non-medical staff have agreed to pause strikes and enter a process of intensive talks.
"We want to find a fair and reasonable settlement that recognises the vital role of NHS workers, the wider economic pressures facing the UK and the prime minister's priority to halve inflation."
On Friday the GMB union said the government had given it assurances of extra cash "above existing budgets".
Last month, thousands of nurses in England suspended a series of strikes after Health Secretary Steve Barclay said he would meet the Royal College of Nursing for "intensive talks" over pay.