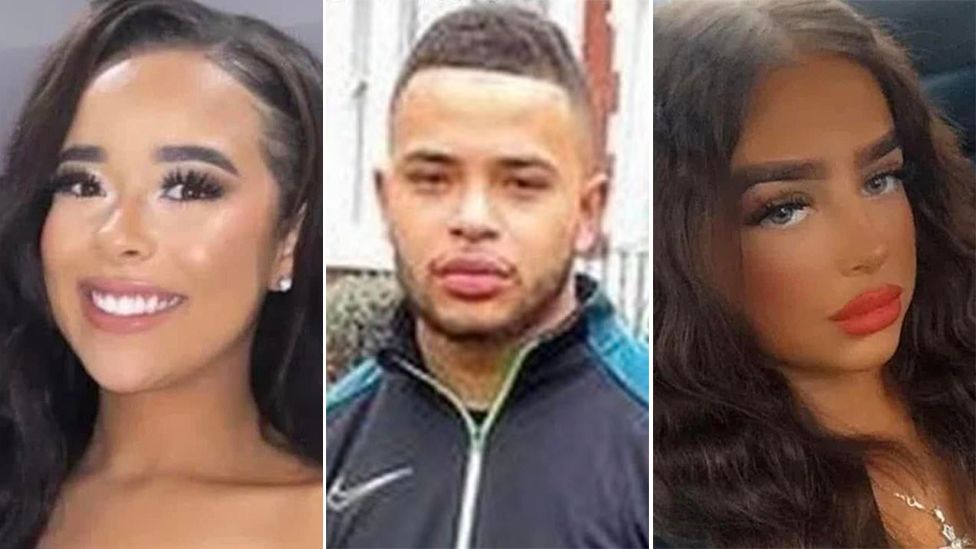 Tributes have been paid to three people who were found dead in a crashed car days after they went missing.
Eve Smith, 21, Darcy Ross, 21 and Rafel Jeanne, 24, were found in a vehicle which had come off a major road in Cardiff.
Sophie Russon, 20, and Shane Loughlin, 32, were taken to hospital where they remain in a critical condition.
All five had been on a night out in Newport when the car is believed to have veered off the A48 into trees.
South Wales Police said specialist officers are trying to "piece together" what happened.
Family and friends had made repeated appeals to find the missing group over the course of the weekend.
The mother of one of the women said she had been told to stop contacting police for updates.
Speaking at the scene, a friend of the three women said she believed the police "could have done a lot more".
Tamzin Samuels, 20, said: "They only posted the appeal an hour before the girls were found. We found them before the police found them – we rang the police."
She added: "They were really popular girls, the life of the party, and it was really out of character for them to do what they did, which is why we knew something was wrong."
The women, from Newport, had gone to The Muffler club in the Maesglas area of the city late on Friday.
They then travelled 36 miles (58km) to Trecco Bay, a caravan park in the seaside resort of Porthcawl, Bridgend county, with the two men, both from Cardiff.
A Snapchat photo shared by Ms Ross' sister showed her and Mr Jeanne together on the night they went missing.
The group was last seen in Llanedeyrn, Cardiff, in the early hours of Saturday, but it is not yet clear when the crash happened.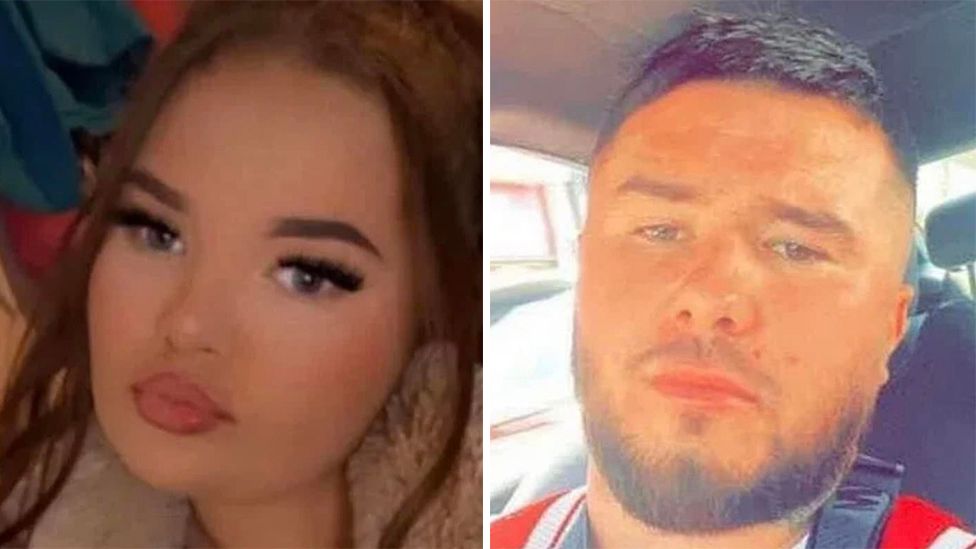 Tributes have been paid on social media with family members confirming their loved ones had died.
One of Miss Smith's relatives wrote: "I will not comment on anyone other than Eve Smith to confirm that she has been confirmed as deceased.
"Thank you for your support and shares and I won't be answering messages please allow us some time as a family to digest this terrible news."
A friend of Miss Ross and Miss Smith wrote: "I don't really have the words right now."
Talking about Miss Ross, the friend said: "You were one of a kind, I'm going to miss trying to 'life coach' you as you would've said. You were a real ray of sunshine especially on my bad days."
Describing Miss Smith, she added: "Eve Smith you were truly a beautiful young girl", saying her heart was "made of gold".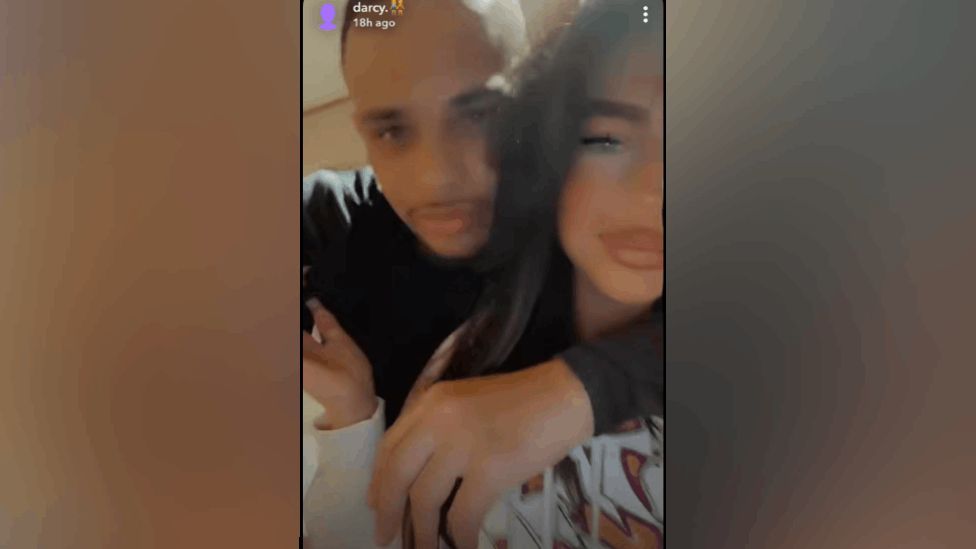 A friend of Mr Loughlin said: "I'm so proud of us all pulling together out there searching for our dear friends last night.
"It's heartbreaking what's happened to Rafel Jeanne and those two girls. My body is still shaking and I can't stop being sick, the thought of them all there all of that time.
"Many times I have driven past, it just makes me so sad."
He described how "helpless" Mr Loughlin must have felt "trapped inside", adding: "Wish Sophie a speedy recovery and I send all my love and strength to all the families involved."
BBC journalist Adam Hale said no obvious signs of a crash were visible, even in daylight, to drivers using the slip road to approach the busy roundabout over the weekend.
"I was one of the potentially thousands of motorists who will have passed the scene of the accident over the weekend who could be forgiven for not noticing anything out of the ordinary," he said.
"There are a lot of trees that line that particular stretch of road that could easily obscure a car that had left the road.
"In terms of things you'd expect to see in the aftermath of a road accident – tyre marks on the road, parts of a car strewn across the way – none were clearly visible to myself or friends or family who live in the area and also travelled past the site across Saturday and Sunday."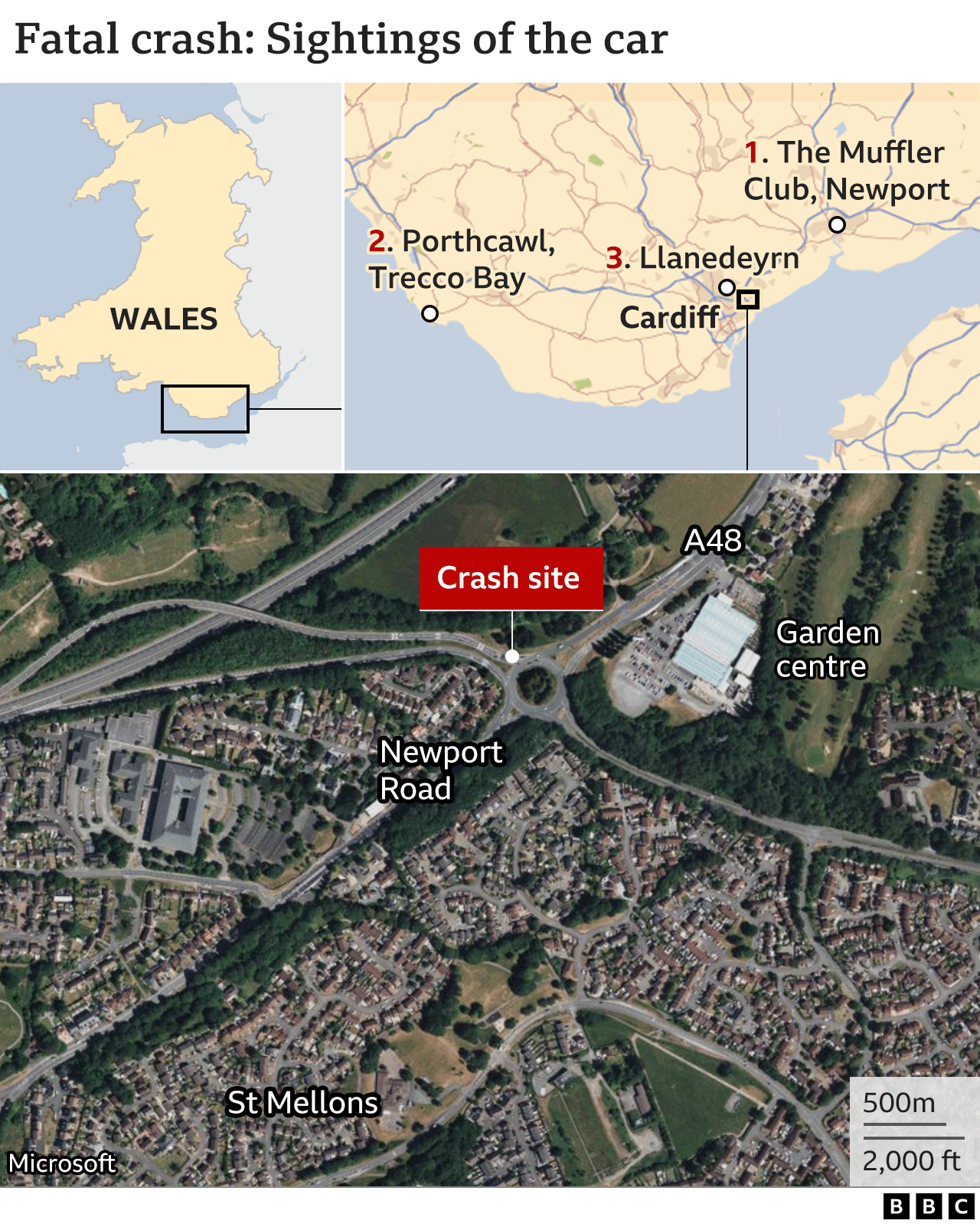 Dominic Shields, 58, lives 200 metres (656ft) from the site of the crash and said his running route goes through the area.
"I was going to run there on Sunday but decided to got to Cardiff fields instead," he said.
"It really makes you think, 'if I just made a different choice?'
"I drove down the slip road four times on Saturday and Sunday and it just brings home how often you are on autopilot.
"If I had my wits about me I could have seen something and got help to to them sooner."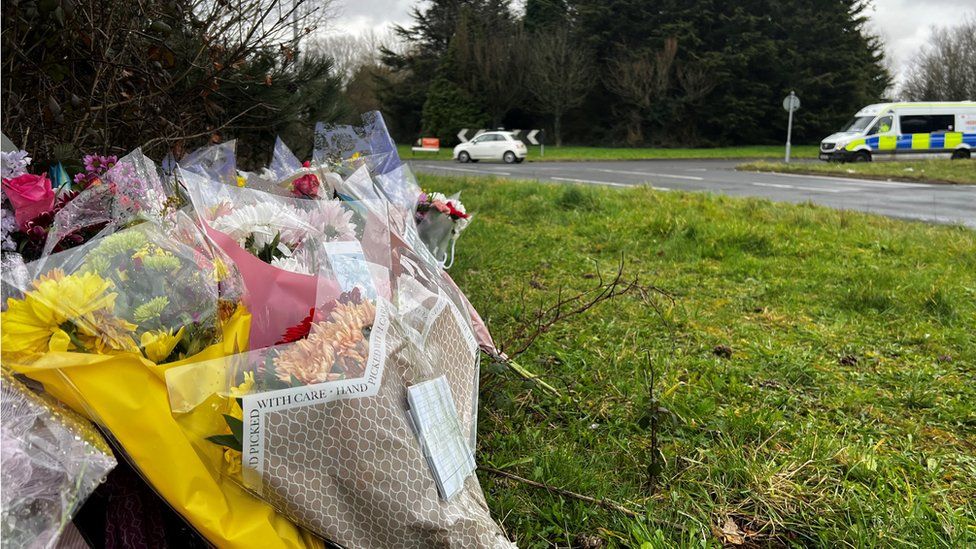 A number of floral tributes have been left at the scene of the collision.
One said: "Fly high. You're in a better place now. This was a last thing we expected. I know you're still partying up there."
Newport West MP Ruth Jones urged people to avoid speculating about the collision on social media.
Ms West told BBC Radio Wales's Drive: "I know people have taken to social media to express their condolences, but rumours and things are circulating and sometimes it's quite tricky to actually establish the facts.
"I think people need to be careful because there are families who are grieving tonight."
South Wales Police's Assistant Chief Constable Jason Davies said: "Our thoughts are with the families of all those affected by this tragic incident.
"Specialist officers are carrying out an investigation to piece together what has happened.
"Family liaison officers are supporting the families involved at what must be a hugely difficult time for them.
"To ensure independent oversight, South Wales Police has referred the matter to the Independent Office for Police Conduct, as is usual in these circumstances."
Gwent Police confirmed South Wales Police was investigating the crash.
A Gwent Police spokeswoman said: "Three of those who were reported missing have been found deceased, two have been taken to hospital with serious injuries.
"Specialist officers are supporting the families of those involved and enquiries are ongoing.
"The case has been referred to the IOPC in line with normal procedures."
The IOPC said: "We will carry out an assessment in due course to determine what further action may be required from us."