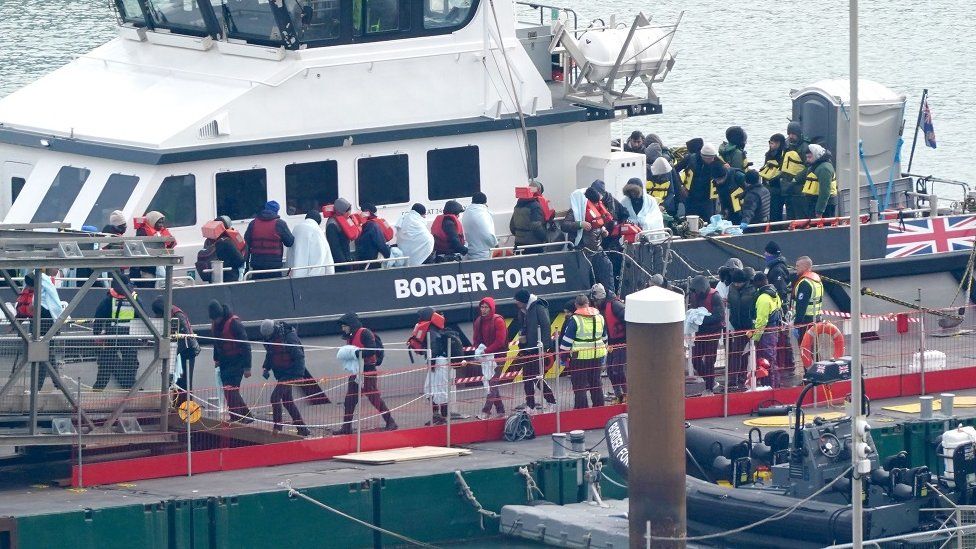 The government's proposed asylum law is "very concerning" and would block even those with a compelling claim, the United Nations refugee agency has said.
The UNHCR's representative to the UK, Vicky Tennant, told the BBC the measure would break international law and was not needed to stop Channel crossings.
Prime Minister Rishi Sunak has said he is "up for the fight" to bring in the law and overcome any legal challenges.
Labour has said the plans risk "making the chaos worse".
On Tuesday, the government outlined a new law which would effectively ban anyone who arrives via an illegal route from claiming asylum in the UK.
Anyone found to have entered the country illegally will also be blocked from returning or claiming British citizenship in future.
The measure is part of attempts to address an increase in the number of people arriving in the UK via Channel crossings each year, which rose from around 300 in 2018 to more than 45,000 in 2022.
Asked for her reaction to the plans on the BBC's Newsnight, Ms Tennant said: "We're very concerned. This is effectively closing off access to asylum in the UK for people arriving irregularly.
"We believe it's a clear breach of the Refugee Convention, and remember even people with very compelling claims will simply not have the opportunity to put these forward."
The Refugee Convention, first agreed in 1951, is a multilateral treaty that sets out who qualifies as a refugee and the obligations of signatory states to protect them.
Ms Tennant said that the UK has a "longstanding humanitarian tradition" and that issues with migration could be addressed with proper controls and a better-administered system.
"Get the asylum system working," she said. "Get fair, efficient, faster asylum processing happening.
"If people aren't entitled to asylum send them back to their own countries and if they are then allow them to integrate and move that process on much more quickly."
Also speaking to Newsnight, Conservative MP Richard Graham said the government's policy should be judged on whether it is implemented with "determination, compassion, and proportion".
He added that there were "interesting indications that actually in Strasbourg [where the European Court of Human Rights (ECHR) is based] our case is being listened to" – although he did not give details.
Home Secretary Suella Braverman has written to all Conservative MPs saying there is "more than a 50% chance" that the legislation is not compatible with the ECHR, and the legislation is widely expected to face legal challenges.


What will the new law mean?
People removed from the UK will be blocked from returning or seeking British citizenship in future
Migrants will not get bail or be able to seek judicial review for the first 28 days of detention
There will be a cap on the number of refugees the UK will settle through "safe and legal routes" – set annually by Parliament
A duty on the home secretary to detain those arriving in the UK illegally and remove them to Rwanda or a "safe" third country – this will take legal precedence over someone's right to claim asylum
Under-18s, those medically unfit to fly, or those at risk of serious harm in the country they are being removed to will be able to delay removal
Any other asylum claims will be heard remotely after removal


Speaking at a Downing Street news conference, Mr Sunak said he believed it would not be necessary for the UK to leave the ECHR in order to enact the policy and the government was "meeting our international obligations".
"I understand there will be debate about the toughness of these measures," he said. "All I can say is we have tried it every other way and it has not worked.
"My policy is very simple: it is this country and your government who should decide who comes here, not criminal gangs."
He added that he believed the policy would "quite quickly" have a deterrent effect on those trying to come to the UK by illegal routes.
Speaking in the Commons, Labour's shadow home secretary Yvette Cooper accused the government of having "allowed criminal gangs to take hold along the Channel" and failing to deliver convictions of people smugglers.
"If the government were serious, they would be working internationally to get a proper new agreement in place with France and Europe, including return agreements, properly controlled and managed legal routes such as family reunion, and reform of resettlement," she said.
"This bill is not a solution. It is a con that risks making the chaos worse."