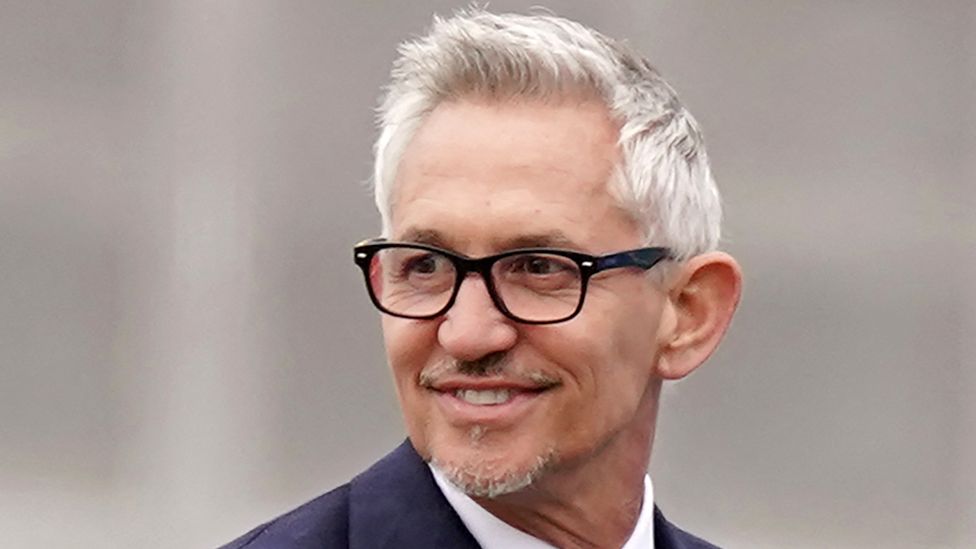 Gary Lineker has said he will try to keep speaking up for people with "no voice", after criticism of his tweets on the government's asylum policy.
The Match of the Day host had said the language setting out the plan was "not dissimilar to that used by Germany in the 30s".
Home Secretary Suella Braverman said she was disappointed by the remarks.
The BBC said it was having a "frank conversation" with Lineker about the BBC's need to remain impartial.
Opposition MPs and humanitarian organisations have strongly criticised the proposals to detain and swiftly remove adults regardless of their asylum claim – but the PM and home secretary have defended the plan, saying stopping the crossings is a priority for the British people.
The presenter described it on Twitter as an "immeasurably cruel policy directed at the most vulnerable people in language not dissimilar to that used by Germany in the 30s".
His remarks were criticised widely by Conservative MPs and ministers, including Ms Braverman and Downing Street.
The furore surrounding Lineker's latest remarks puts pressure on the BBC, with director general Tim Davie having made impartiality a cornerstone of his leadership.
Responding to some of the criticism on Wednesday, Lineker tweeted: "Great to see the freedom of speech champions out in force this morning demanding silence from those with whom they disagree."
He followed up shortly after with: "I have never known such love and support in my life than I'm getting this morning (England World Cup goals aside, possibly). I want to thank each and every one of you. It means a lot.
"I'll continue to try and speak up for those poor souls that have no voice."
Earlier, Ms Braverman told BBC One's Breakfast she was "disappointed, obviously" in his comments.
"I think it's unhelpful to compare our measures, which are lawful, proportionate and – indeed – compassionate, to 1930s Germany.
"I also think that we are on the side of the British people here."
Downing Street later said Lineker's criticism of the new asylum policy was "not acceptable".
The prime minister's press secretary told reporters: "It's obviously disappointing to see someone whose salary is funded by hard-working British (licence fee) payers using that kind of rhetoric and seemingly dismissing their legitimate concerns that they have about small boats crossings and illegal migration."
But beyond that, they added, "it's up to the BBC" and they would not comment further.
A spokesman for Labour leader Sir Keir Starmer said comparisons with Germany in the 1930s "aren't always the best way to make" an argument.
Lineker, who has presented Match of the Day since 1999, is the BBC's highest paid star, having earned about £1.35m in 2020-21.
He has in the past been vocal about migrants' rights and has taken refugees into his home. He has also been critical of successive Conservative governments over issues including Brexit.
In October, the BBC's complaints unit found Lineker had broken impartiality rules in a tweet asking whether the Conservative Party planned to "hand back their donations from Russian donors".
The comment came after the then Foreign Secretary Liz Truss urged Premier League teams to boycott the Champions League final in Russia over the invasion of Ukraine.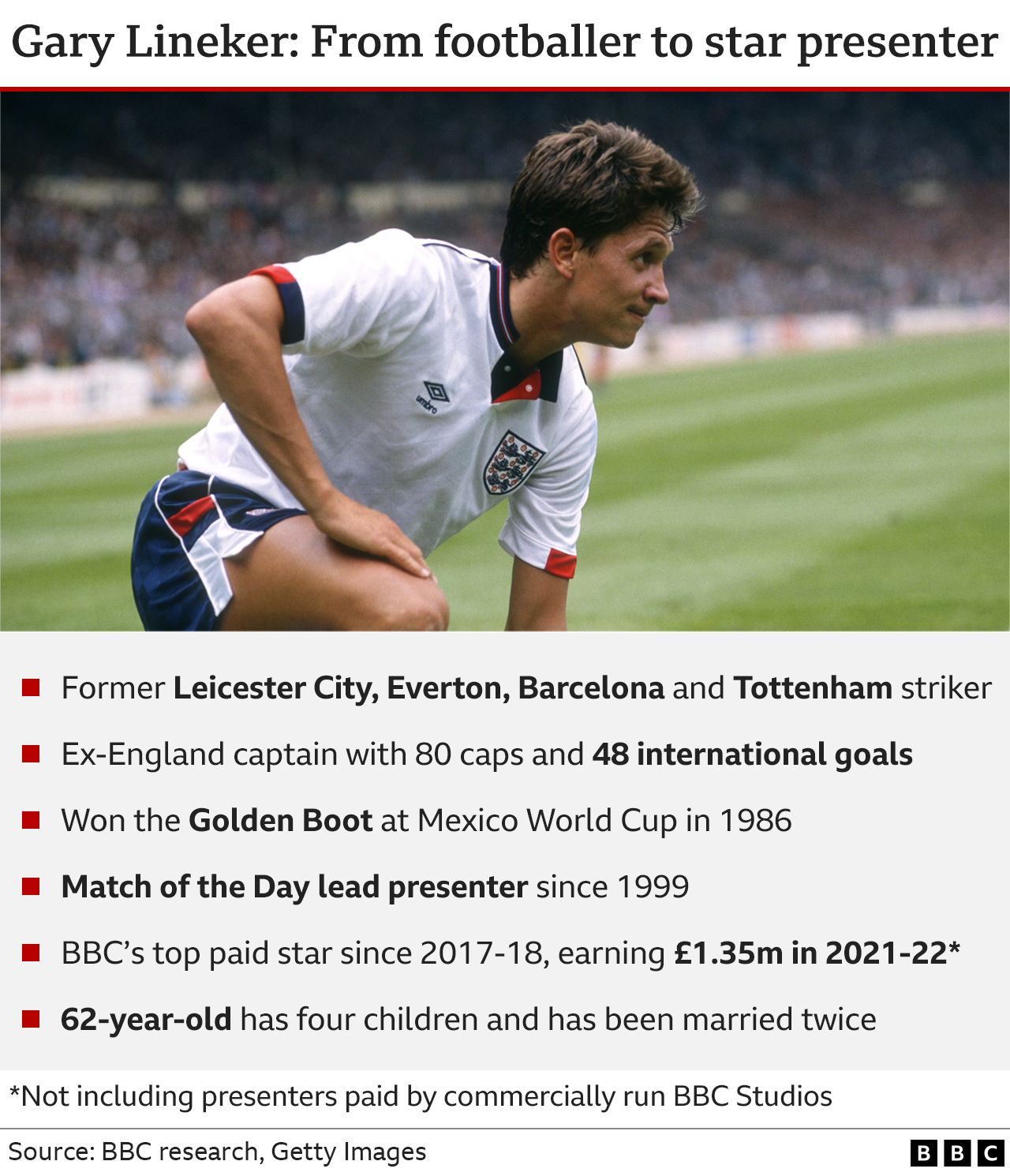 He issued new social media guidelines and said he was willing to "take people off Twitter" – a comment which Lineker responded to at the time by saying "I think only Twitter can take people off Twitter".
The presenter's frequent outspoken online posts have been viewed by some as a test of the BBC's ability to balance its impartiality duty with its ability to attract top talent in the era of social media.
Earlier on Wednesday, when asked about how many "strikes" the presenter has had over social media posts, Mr Davie said he wasn't going to speak specifically about individuals.
He added: "I think the BBC absolutely puts the highest value on impartiality and that's clearly important to us."
In a series of tweets on Wednesday, Lineker indicated he had no intention of retracting his comment or steering clear of politics outside of his work for the BBC.
Richard Sambrook, the BBC's former director of global news, said the controversy highlighted the need for the broadcaster to clarify how impartiality rules apply to its sport staff and freelancers.
He told Radio 4's PM programme similar cases would "corrode trust" in the BBC unless the position was made clearer.
A committee of MPs said last month Mr Sharp had committed "significant errors of judgement" by not disclosing his involvement in the then-prime minister's financial affairs while seeking the senior BBC post. Mr Sharp insists he got the job on merit.
The broadcaster's editorial guidelines state the organisation is "committed to achieving due impartiality in all its output" and that "public comments, for example on social media, of staff [or] presenters… can affect perceptions of the BBC's impartiality".
A spokesperson for the corporation said: "The BBC has social media guidance, which is published.
"Individuals who work for us are aware of their responsibilities relating to social media.
"We have appropriate internal processes in place if required.
"We would expect Gary to be spoken to and reminded of his responsibilities."
The corporation has also responded to previous criticism of Lineker by highlighting that he is not involved in its news or political output and is a freelance broadcaster, not a member of staff.