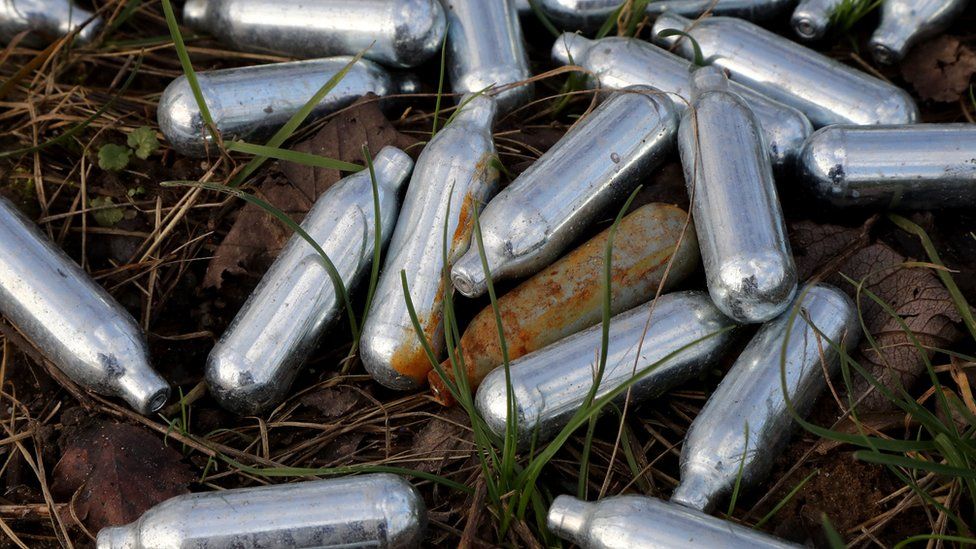 Possessing laughing gas is to be made a criminal offence for the first time, the government has announced.
There will also be tighter controls on retailers to prevent the supply of nitrous oxide for misuse.
It goes against recommendations from the Advisory Council on the Misuse of Drugs (ACMD) which recently advised against new laws to ban nitrous oxide.
Nitrous oxide, sold in metal canisters, is known as NOS and is one of the most-used drug by UK 16 to 24-year-olds.
The details are expected to be released on Monday. The BBC understands the ban would be issued under the Misuse of Drugs Act 1971, which regulates drugs based on their perceived harm and potential for misuse.
It is already illegal to produce or supply the gas for its psychoactive effects under the Psychoactive Substances Act 2016. The law makes production, supply and importation of nitrous oxide for human consumption illegal, but not possession.
A government spokesperson said: "We are concerned about the rise in health and social harms of nitrous oxide and how widely available it is to the public, particularly to young people. Therefore, we are banning nitrous oxide.
"We are for the first time making possession of nitrous oxide an offence; preventing supply for misuse by putting tighter controls on retailers; and giving greater powers to law enforcement to take action against those who are in breach."
Speaking on the BBC's Sunday with Laura Kuenssberg programme, Michael Gove said: "We are doing this because if you walk through any urban park you will see these little silver cannister which are the evidence of people regarding public spaces as arenas for drug taking.
"It is unacceptable. People should feel those spaces are being looked after in a way which means they are safe for children."
The levelling up secretary said the drug has an "intoxicating and potentially damaging effect on young brains and young nervous systems".
Several drugs charities have criticised the announcement, claiming criminalising possession could lead to the drug becoming more dangerous.
Steve Rolles, senior policy analyst at the Transform Drug Policy Foundation, said: "The idea that this is a deterrent effect is ridiculous it just criminalises users and will hand control of the product to criminal gangs.
"This is just political theatre – if you need any proof you just need to see that they have ignored their own advisers. This is a particularly ugly example of performative politics."
Jane Slater, campaign manager for drug charity Anyone's Child, said: "Criminalising possession of nitrous oxide will only give more young people criminal records, make using it more dangerous, fuel organised crime activity, and cause further harm to our families and communities."
Earlier this year the Home Office asked the ACMD to provide advice on whether to make possession of nitrous oxide a crime.
The report recommended the substance should not be controlled under the Misuse of Drugs Act – which allows the use of life sentences for those supplying or producing some drugs.
The ACMD stated the Psychoactive Substances Act – which limits prison sentences to a maximum of seven years – "remains appropriate legislation".
It said sanctions for the offences would be disproportionate with the level of harm associated with nitrous oxide, as well as creating "significant burdens" for legitimate uses of the substance.
The review also found "no substantive evidence of links between nitrous oxide and anti-social behaviour" aside from littering.
Alexandre Piot, director of research at the Conservative Drug Policy Reform Group, said it was "shocking that the government feels it knows better than its own independent body of experts set up by law".
"The more they don't listen to them, the more drug policy will continue to fail," he said.
Nitrous oxide is regularly used as an anaesthetic in medicine and dentistry, and as a gas for making whipped cream in cooking.
Labour backed the plans to ban the sale of nitrous oxide. Shadow culture secretary Lucy Powell said its use "causes a huge amount of littering disruption and anti-social behaviour".
She added: "We do need to tackle at source these kind of behaviours that are blights on our community."
It comes as the government unveils a new strategy to crack down on anti-social behaviour.
Public drug use, fly-tipping and low-level crimes such as graffiti are to be targeted with a strategy of "hotspot" policing and "short and sharp" punishments.
People who vandalise public spaces will have to repair the damage they cause within 48 hours of being given an order.
A pilot, covering 10 areas, aims to show the public such acts are "quickly and visibly" punished.
Ms Powell said the plans "amount to nothing".
Labour have also accused the government of cutting neighbourhood policing, leading to fewer offenders being punished.
"We've heard it all before from this government and I think we have to judge them by their record," Ms Powell added.