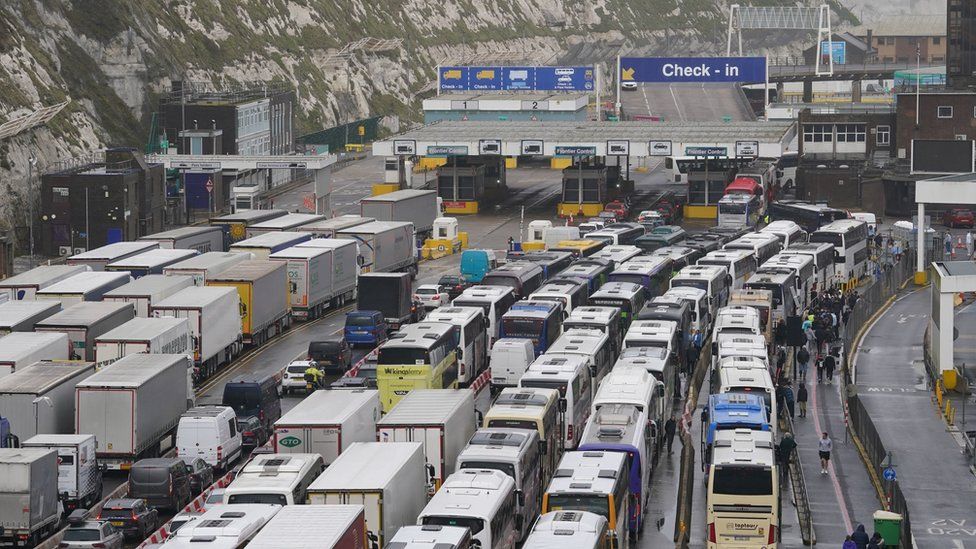 A critical incident has been declared at Dover as coach passengers face delays of several hours at the start of the Easter getaway due to bad weather and long processing times in France.
P&O Ferries and DFDS Seaways also reported delays to their ferries crossing the English Channel.
Strong winds are adding to the problem, ferry operator DFDS Seaways said.
But the Port said "processing for freight and tourist traffic in cars is normal for peak periods".
However, freight traffic is being queued on the edge of the town, the Port authorities said.
It also added that the Port, ferry operators and other partners "are working hard to resolve the current issue".
As well as the situation at Dover, there are fears of disrupted Easter getaways due to strikes affecting London's Heathrow Airport.
Passengers in Dover have complained that they spent Fridaystranded at the Port, with one parent tweeting that they and their children, who arrived via coach at midday, were still waiting for a place on a ferry at 21:00 BST.
P&O Ferries tweeted at 21:00 that it was providing refreshments to passengers waiting in the buffer zone at the entrance of the port.
DFDS UK also tweeted that services to France were running with severe delays, and that passengers would be transferred to "the first available departure".
A spokesperson for P&O said the queues were "a result of bad weather causing delays to sailings, combined with high volumes of traffic, and particularly coach groups".
"We apologise for the wait times and have put on an extra sailing this evening to help clear the backlog," it added.