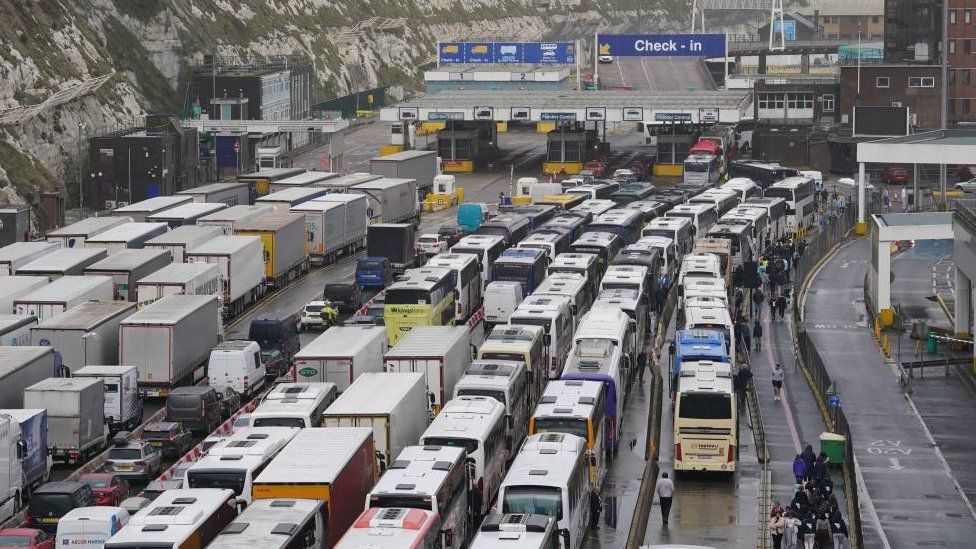 Additional sailings will be put on overnight by ferry operators at the Port of Dover, as it works through the Easter traffic backlog.
Delays were first reported on Friday night, and some passengers waited 14 hours to board their ferry to France.
Strong winds, a large volume of coaches and slower processing times at border control were cited as reasons.
Doug Bannister, the port's chief executive, said his team anticipate the backlog will be cleared overnight.
P&O Ferries and DFDS Seaways initially reported disruption to their ferry services late on Friday.
Coach passengers were particularly badly hit, with many having to wait at the port all through the night on Friday.
Throughout Saturday, many passengers shared their ordeals with the BBC, with some calling the situation "carnage".
The management for the port apologised for the "prolonged delays" and said the backlog was being cleared.
On Saturday evening, Mr Bannister said: "My ops team is anticipating that we will get through all the backlog, including all the people that wanted to travel today, overnight."The ferry operators are laying on additional sailings overnight to try and accomplish that, so hopefully by about midday tomorrow we'll be back to normal operations."
In a statement to the BBC, the Port of Dover said both P&O and DFDS are adding additional sailings tonight.
Ferries usually have a longer gap between sailings at night, but they are now "basically just running back and forth to clear as much as they can", the port's communications team explained.
The port also said long border processing times were partly to blame for delays, while some ferry companies said bad weather had disrupted travel.
Cars can be boarded much quicker than a coachload of separate passengers and the port said that ferry companies had received 15% more coach bookings for the Easter period than the port had initially anticipated when it began planning four months ago.
Responding to the claims of lengthy delays in checks at the border control point, the regional prefecture in northern France said that there were "no difficulties that we know of", but that lots of coaches had arrived to travel at around the same time.
All border checkpoints were operational and border police had changed some car checkpoints into slots for coaches, it added.
Many coaches stick in Dover were carrying schoolchildren from different parts of the UK who were travelling to Europe on school trips.
Ms Bryant said the pupils had since crossed the Channel but were now waiting for an additional driver in Reims, as their current driver had reached his driving hours' limit.
"They should be skiing right now – instead they're at Burger King," she said.
"It was supposed to be a 20-hour journey. I don't know how long it will be for a replacement [driver]."
A UK government spokesperson said it remained in close contact with ferry operators and authorities. Labour leader Sir Keir Starmer said the government needed to "get a grip" of the situation at Dover.
Simon Calder, travel correspondent at the Independent, said processing times since leaving the EU had increased sharply "and that would seem to explain the delays".
Speaking to BBC Breakfast on Saturday, he said that having an EU border at Dover meant things were "gumming up", and that each individual passport must now be inspected and stamped.
This means that coach loads of passengers must disembark to have their passports checked, adding to delays.