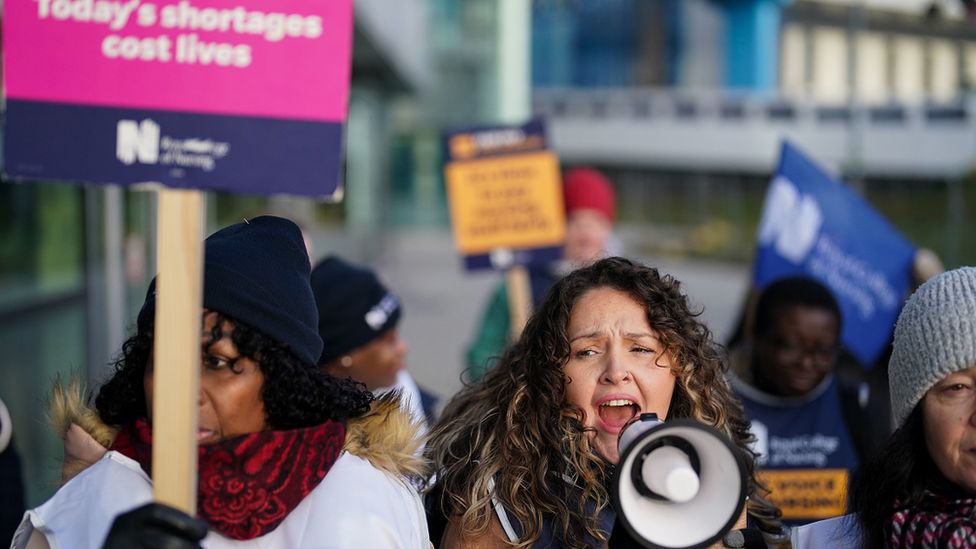 Nurses in the Royal College of Nursing union have rejected the government's pay offer in England and will now go on strike over the first May bank holiday.
The 48-hour walkout from 20:00 BST on 30 April to 20:00 on 2 May will involve NHS nurses in emergency departments, intensive care, cancer and other wards.
This will be "hugely concerning" for patients, the government says.
Members of the Unison union – which includes some nurses and ambulance crews – have accepted the pay offer.
The award on the table is a 5% pay rise for 2023-24.
And there is an extra one-off lump sum of at least £1,655 to top up the past year's salary.
Meanwhile, NHS junior doctors in England are currently staging a four-day walkout over pay, ending at 07:00 on Saturday.
For the first time, the RCN says this new strike will mean some critical care services, such as intensive care, will not be staffed on strike days – something which did not happen in previous strikes.
The government said that amounted to an escalation in strike action, "based on a vote from the minority of the nursing workforce".
The result of the RCN vote on pay was very close – 54% voted to reject the pay offer, while 46% voted to accept it.
The Unison vote, however, was overwhelmingly in favour of the deal.
'Expect a historic pay award'
Pat Cullen, RCN general secretary and chief executive, said: "What has been offered to date is simply not enough."
In the letter to Health Secretary Steve Barclay, she said the government "needs to increase what has already been offered and we will be highly critical of any move to reduce it".
Until there was a significantly improved offer, RCN nurses were forced back to the picket line, she said.
"After a historic vote to strike, our members expect a historic pay award," Ms Cullen said.
Sara Gorton from Unison, whose members voted for the pay offer, said: "Clearly health workers would have wanted more, but this was the best that could be achieved through negotiation.
"Over the past few weeks, health workers have weighed up what's on offer. They've opted for the certainty of getting the extra cash in their pockets soon."
A government spokesperson said the Unison decision "demonstrates that it is a fair and reasonable proposal that can bring this dispute to an end".
But it said it was "hugely disappointing" that the RCN had rejected the pay deal recommended by their leadership.
Hundreds of thousands of NHS staff from other unions are still voting on the same pay deal over the next two weeks.