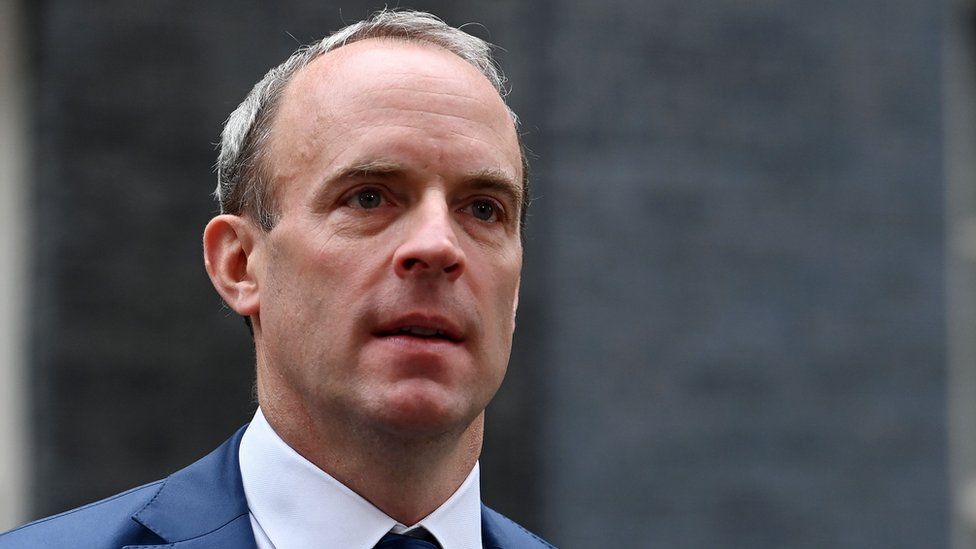 The prime minister will not announce his decision on the future of his deputy Dominic Raab today.
Rishi Sunak was handed the findings of an inquiry into bullying allegations against Mr Raab several hours ago.
He must now decide whether Mr Raab, one of his closest allies, has broken ministerial rules and must be sacked or resign.
The report was widely expected to be published today, after it was given to the prime minister at around 11:30 BST.
Senior figures had been briefed to expect a decision the same day.
Earlier, No 10 said the PM was still considering the report but wanted to publish it "as swiftly as possible".
Mr Raab, who is also justice secretary, denies bullying staff and says he always "behaved professionally".
He is facing eight formal complaints about his behaviour as a minister.
Senior lawyer Adam Tolley KC was appointed by the prime minister to investigate the allegations in November. But it will be for Mr Sunak to decide whether Mr Raab has broken ministerial rules and what action to take.
Those representing the complainants, many of whom still work in the Ministry of Justice with Mr Raab, are livid that they have been kept waiting.
The Liberal Democrats accused Mr Sunak of "dither and delay".
The party's Chief Whip Wendy Chamberlain said: "It feels like almost every week there is an issue with sleaze and scandal where Rishi Sunak is either implicated in himself or too weak to get to grips with it."
The BBC has been told Mr Raab has seen the full report but has not spoken to the prime minister.
There are conversations taking place in government circles about what will happen next if the justice secretary leaves his position.
If he resigns, or is sacked, that would trigger a reshuffle of Mr Sunak's cabinet.
Some senior figures in government are bracing for the report to be damning, and feel he might have no choice but to go.
However, the ultimate decision lies with the prime minister and a final judgement has not been made yet.
Asked whether Mr Sunak had full confidence in Mr Raab, his spokesman said he did but was "carefully considering the findings of the report before coming to a judgement".
The complaints against Mr Raab, involving at least 24 people, related to his previous periods as justice secretary and foreign secretary under Boris Johnson and his time as Brexit secretary under Theresa May.
The MP for Esher and Walton was sacked as justice secretary and deputy prime minister when Mr Johnson was succeeded by Liz Truss.
However, he was reappointed to the two roles when Mr Sunak entered Downing Street in October.
The prime minister has been under pressure to explain what he knew about the allegations before reappointing Mr Raab to the cabinet.
He has repeatedly declined to say whether he had informal warnings about Mr Raab's behaviour before bringing him back into government.