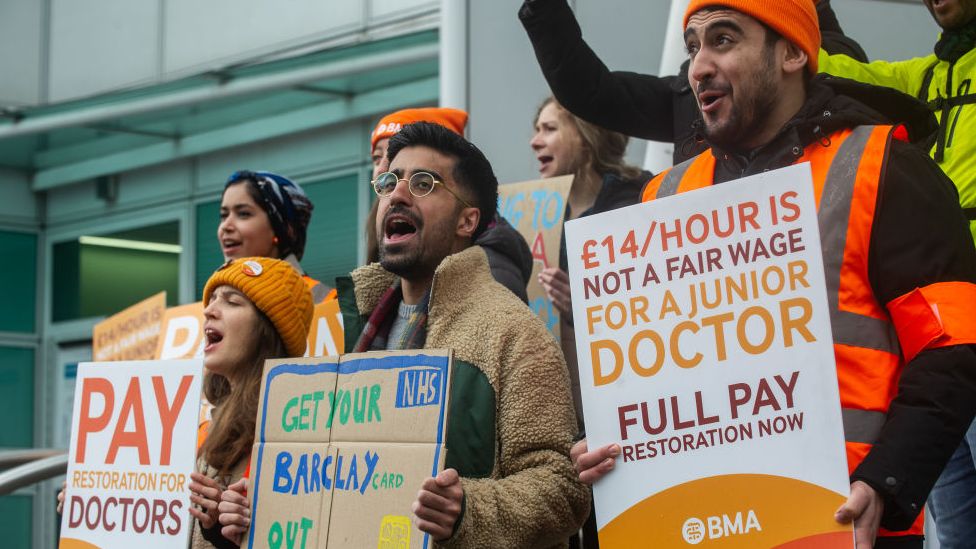 An independent organisation should be brought in to help broker a deal in the pay dispute between junior doctors and the government, medical leaders say.
Two strikes have taken place, including last week which saw nearly 200,000 cancelled appointments and operations.
The Academy of Medical Royal Colleges said a conciliation service like Acas was needed for the sake of patients.
The Department of Health said it would not involve a third party but ministers would engage constructively.
The Academy of Medical Royal Colleges, which brings together leading doctors and surgeons, helped broker a deal between junior doctors and the government in their last dispute in 2016, which was over the introduction of a new contract.
It says it now has concerns about both a lack of a solution in the current pay row and the anticipated impact on services and patients that will potentially follow any future action.
"Both parties need to rapidly engage with an independent organisation to work out how the deadlock can be broken for the sake of patients and the wider NHS," the Academy said in a statement.
The British Medical Association (BMA), which represents junior doctors, said it had already reached out to Acas and suggested the Academy's intervention would put more pressure on the government to do the same.
The BMA said it believes working with the conciliation service gives "the most realistic chance" of ending the strike.
It came after the NHS Confederation, the body representing NHS health service trusts, had suggested that Acas should be involved. Labour this week also urged the health secretary to "swallow his pride" and call in the service to "mediate an end" to the dispute.
Junior doctors – which include medical school graduates to those with many years' experience on the front line – represent 40% of the medical workforce. The are asking for a 35% pay rise – arguing their pay has been cut by 26% since 2008 once inflation is taken into account.
But the government has said the pay demand is "unreasonable in the current economic context".
It brings the total number of appointments affected by all the strikes over the past five months to more than 500,000.
Prof Dame Helen Stokes-Lampard, chair of Academy of Medical Royal Colleges, said the industrial action is having a "serious impact" on the quality of care offered by the NHS.
"We hope both sides hear this call to start to find a way forward and act on it," Prof Stokes-Lampard said.
"The longer this dispute goes on the more entrenched we all become and the harder it is to break the impasse."