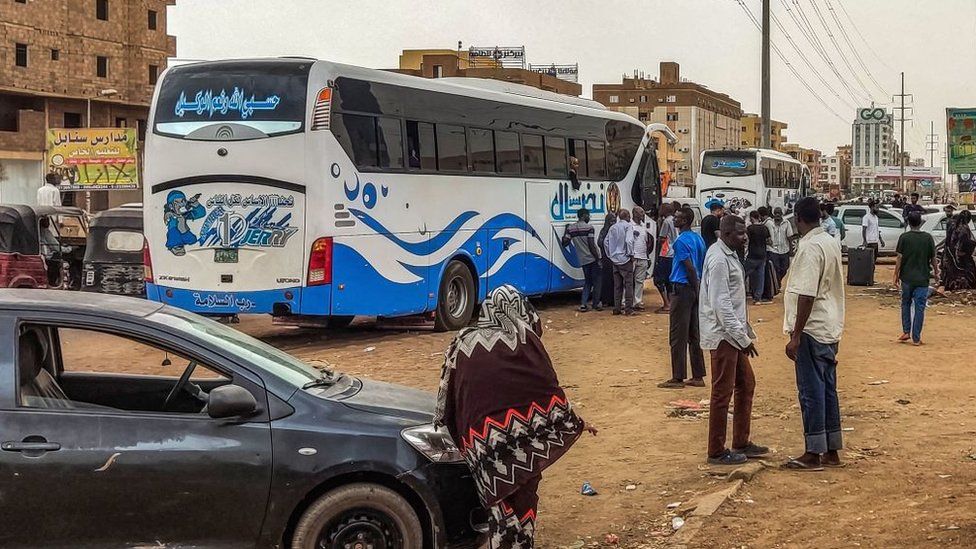 The UK is believed to have among the highest number of foreign citizens in Sudan – up to 4,000 according to Britain's international development minister. For more than a week they've been among the thousands confined to their homes, trapped by intense fighting between the Sudanese army and the Rapid Support Forces (RSF).
Hundreds of foreign nationals have already been evacuated, but the UK has faced growing criticism from many of its citizens who say they have been essentially abandoned.
While the UK Foreign Office said over the weekend that it had managed to evacuate embassy staff from the capital Khartoum, it is feared that hundreds of other citizens remain trapped.
In dozens of conversations with the BBC, those stuck on the ground have complained of poor communication from the Foreign Office's crisis centre.
A small British military reconnaissance team is in Sudan to assess evacuation options, BBC News understands.
And on Monday, Foreign Office minister Andrew Mitchell warned that movement in Khartoum "remains extremely dangerous and no evacuation option comes without grave risk to life".
He said a member of the French special forces was "gravely ill" after being shot while trying to evacuate French diplomats.
But some UK citizens say they have waited too long for help.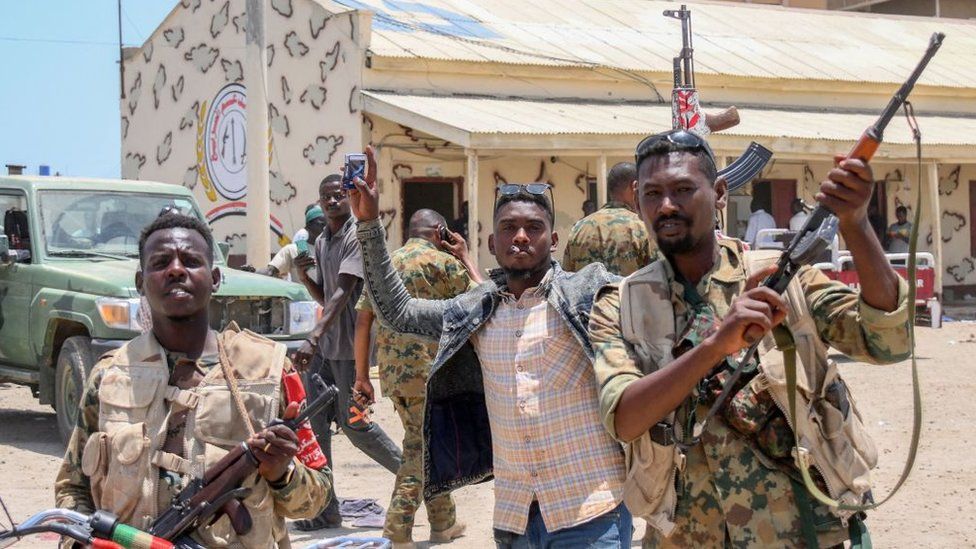 One British citizen – William – told the BBC he had received virtually no assistance from government officials since the conflict began more than a week ago.
He was forced to brave the street fighting to flee Khartoum after his situation became "intolerable".
"We've had absolutely nothing but nonsense from the government," he told the Today programme on Monday.
"Not even nonsense, we've had nothing. The last communication was that the government itself is going to do nothing, so we had to take this option."
His story mirrored that of other British citizens – who have watched on in dismay as their international counterparts have been evacuated by other governments.
"We feel abandoned," Edinburgh native Fatima Osman, who was visiting family when the violence began, told the BBC from Khartoum.
"It's very traumatising here and the situation is very bad, it's getting worse. The clashes, the fighting, and there are dead bodies everywhere. And everyone is trying to escape and flee the country, and you can see the country is really getting into a civil war."
Her husband, Amar Osman, said their experience of trying to get advice from the Foreign Office had left him infuriated.
"I filled the location form on the [Foreign Office] website and I received an email saying they've received my form," he told the Today programme as the sound of gunfire echoed nearby.
"But nothing else. It's auto reply after you submit your form and that's it."
As British nationals have tried – often in vain – to get instructions from the Foreign Office's crisis centre and the embassy in Khartoum, a host of other nations have managed to evacuate their citizens.
On Monday, India's Foreign Minister Dr Subrahmanyam Jaishankar tweeted that more than 500 Indian citizens had reached Port Sudan on the Red Sea, about 850km (528 miles) and 13 hours drive east of Khartoum. Two air force planes and a naval vessel were on standby to evacuate the group.
And long queues of United Nations vehicles and buses were seen leaving Khartoum on Sunday, also heading east towards Port Sudan and carrying "citizens from all over the world", a Sierra Leonean evacuee told AFP news agency.
One of the first nations to evacuate citizens was Saudi Arabia. On Sunday, 91 of the Kingdom's citizens and 66 nationals of 12 other "friendly countries" were flown from Port Sudan to the city of Jeddah across the Red Sea.
Stefano Rebora – president of Italian NGO Music for Peace – was evacuated on an emergency flight by the Italian embassy on Sunday.
"At 12.30am we got the call from the crisis unit [of the Italian foreign ministry]," he told the BBC. "They said they would attempt an airlift the next day and told us to go to a meeting point."
After meeting other Italian nationals at the embassy, Mr Rebora travelled in a convoy to an airfield about 20km (12 miles) away from Khartoum.
"It took us four hours to cover 20km," he recalled. "On the way we saw bodies everywhere – there's no security whatsoever so nobody dares go collect them – but there's utter destruction too."
Elizabeth Boughey, a British teacher at Khartoum American School, was evacuated by the French embassy to Djibouti, alongside 200 other people of various nationalities.
She said the group – which included a number of UK nationals – was taken to an airfield in northern Khartoum and flown out on two specially chartered military planes.
Meanwhile, satellite photos appeared to show a Hercules C-130 transport plane on the ground at Port Sudan airfield on Sunday at 08:04 local time (10:04 BST).
Reports online suggested the plane may have been either a Jordanian or a South Korean aircraft known to have been in the area at the time.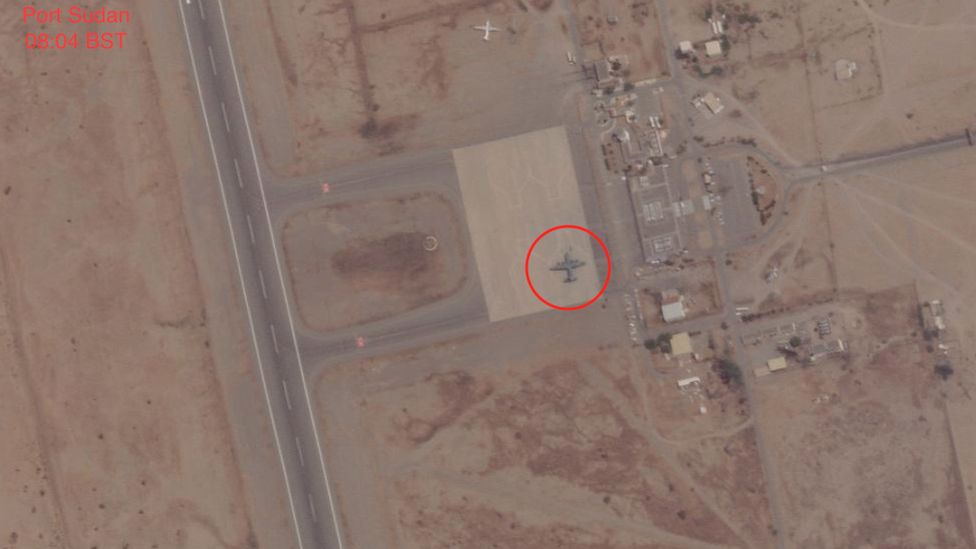 Some UK nationals have turned down alternative offers of evacuation from friends, family and other nations, as they believed they had assurances of evacuations from UK officials.
Dr Javid Abdelmoneim told the BBC that his elderly father has spent the past week trapped in his apartment in Garden City near Khartoum where he was observing the month of Ramadan.
During a conversation with Foreign Office officials, Dr Abdelmoneim's family were told his father would be placed "high on the evacuation list given that he is elderly and lives alone".
But he said Sunday's announcement that the UK embassy in Khartoum had been evacuated took the family by surprise.
"We have been dutifully waiting and said no to cousins leaving [in a convoy] to Port Sudan and Egypt. Our working assumption was Dad was going with the British embassy," Dr Abdelmoneim said.
"My sister called the crisis cell after Sunday's announcement. She asked them directly whether they were planning evacuation for British citizens and they didn't answer the question.
"All they (the FCDO) had to do is tweet out that British citizens are not being evacuated. Their communication has increased his chance of coming to harm and decreased his chance of leaving safely."
Amar Osman told the BBC that as confusion reigned and the fighting continued on Monday, he was considering taking the dangerous route out of Khartoum by road himself.
Thousands of Sudanese have already taken this perilous route out of the capital. Last week, the BBC witnessed hundreds of people boarding buses and flatbed trucks at bus stations across the city.
But that option is fraught with danger.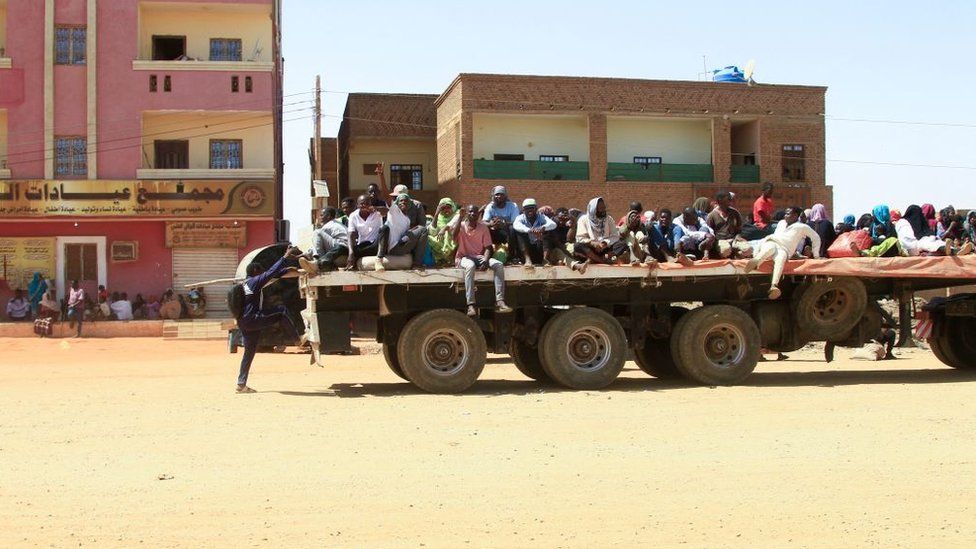 The RSF is said to have set up roadblocks on major roads around Khartoum.
Ms Boughey told the BBC her group was stopped and robbed of around $500 (£402) by RSF troops while moving around the city last Wednesday.
Nonetheless, the risk hasn't stopped people trying to leave by road.
One British woman – who asked not to be named – told the BBC that she and her relatives had rented a bus and driven to the Egyptian border after not hearing back from the British embassy in Khartoum.
"British citizens have not been given any information, the power to the mobile networks and the internet has now gone down to people won't be able to receive any information," she said.
"Meanwhile Dutch nationals, Greek nationals, Italian nationals, people we know are being flown from airstrips just outside of Khartoum to safety. That is citizens, not even embassy people.
"And because there's been such a breakdown in communication it turns out British citizens would have been able to get on those flights but they were advised to stay in by the British government."
Yousra – a London based accountant who was in Khartoum for her wedding – fled the capital by bus.
She managed to find transportation from the adjoining city of Omdurman to the northern city of Dongola, before waiting 24 hours in the searing heat to cross the Egyptian border.
Speaking to the BBC on Monday, the chair of the UK Parliament's foreign affairs committee, Alicia Kearns MP, accused the government of learning "no lessons" from the chaotic evacuation of Afghanistan in 2021.
"The reality is we have to get British nationals out," she told the Today programme.
"If however, there was to be no evacuation because it is too dangerous… then we have a moral obligation to tell British nationals as soon as possible that that is the judgement that has been made, because they then need to be able to make their own decision."
In a statement to the BBC, a government spokesperson defended the Foreign Office's efforts, and said that officials were "working alongside international partners and doing all we can to ensure the safe passage of our citizens in what remains a very challenging context".
Mr Mitchell told parliament that the situation on the ground remained "extremely grave", but promised to look at every possibility to get British nationals out of Sudan.
But the overwhelming sentiments expressed to the BBC on Monday were anger and frustration.
"We got nothing other than the government update every day which still says shelter in place, which is a joke," Ms Boughey told the BBC.
"In comparison with what we've seen other embassies doing, including some much smaller embassies, I don't know what the Brits did do except get some of their own out."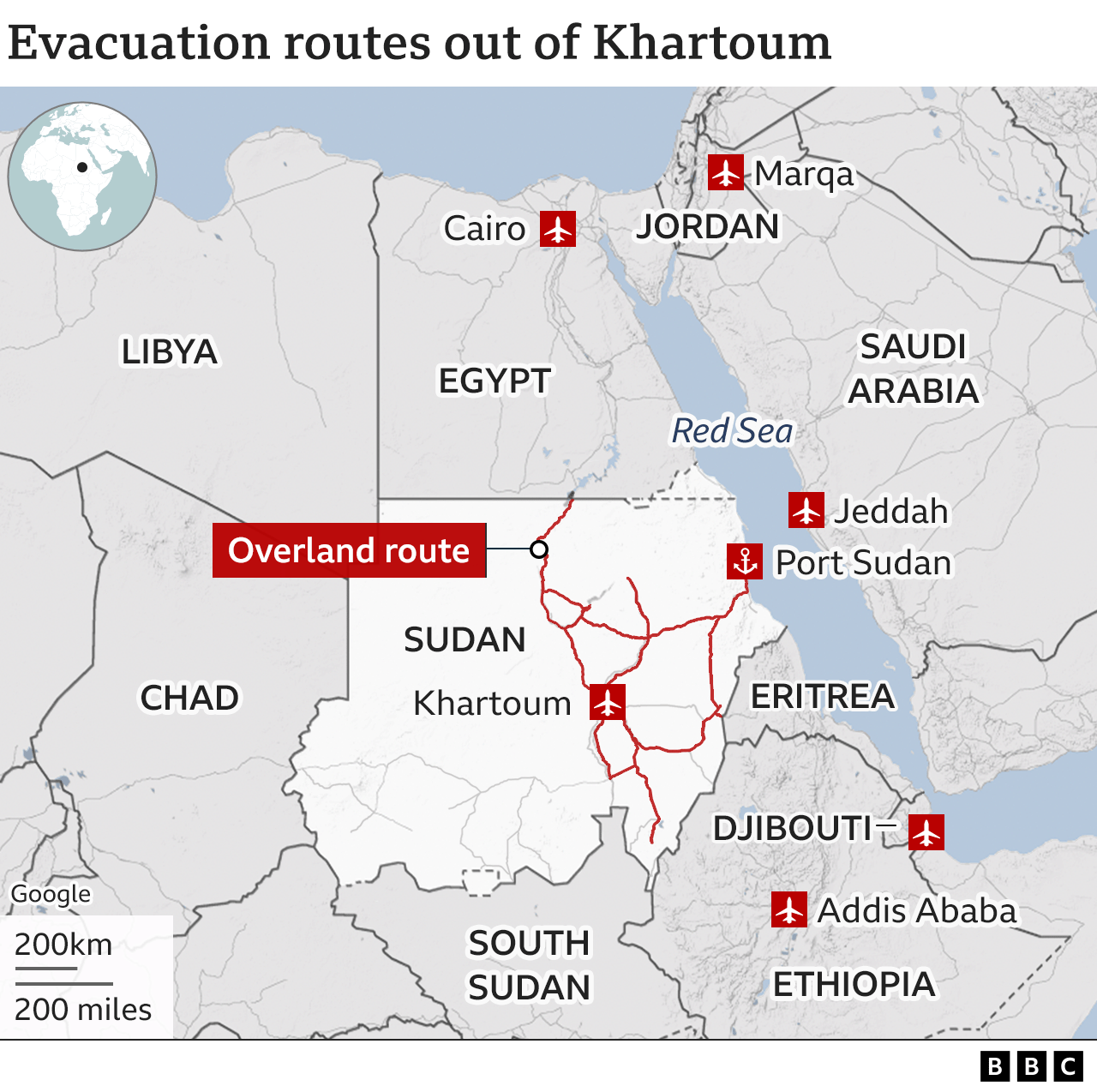 Kayleen Devlin, Laura Gozzi, Chris Bell, Olga Robinson and Natasha Booty also contributed to reporting for this story.
Graphics by Jana Tauschinski and Tural Ahmedzade.
Edited by James Stringer.