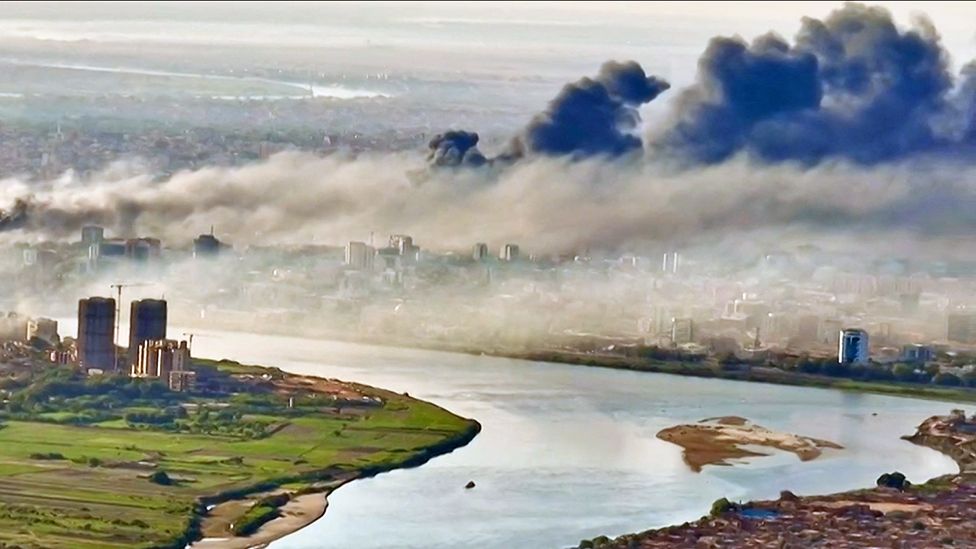 The UK is beginning a large-scale, complex evacuation of British people from Sudan, PM Rishi Sunak has said.
Families with children, the elderly and people with medical conditions will be prioritised on RAF flights leaving from an airfield near the capital Khartoum.
The government said it has started contacting British nationals in Sudan.
Rival military factions agreed to a 72-hour ceasefire from Monday night. At least 400 people have been killed in fighting since 15 April.
Ministers have come under increasing pressure to help UK citizens flee the fierce fighting.
Around 4,000 UK citizens are thought to be in Sudan and 2,000 of them have already requested help, Foreign Office minister Andrew Mitchell said on Monday.
Only British passport holders and their immediate family with existing UK entry clearance are eligible, the government has said.
The airlift from a military base north of Khartoum is likely to begin in the next few hours, a source has told the BBC.
The Foreign Office has told citizens not to make their own way to the airport unless contacted.
Foreign Secretary James Cleverly said the government was not able to escort people to the airfield and British nationals would need to "make their own way there".
He said he had made contact with the military leaders in Sudan but it was impossible to predict how long the evacuation window would remain open.
They would maintain the airhead for "as long as we can", he added, and the UK was working as quickly as possible to get people out.
Many British nationals have spent days indoors with food and drink running low and no electricity or wifi.
Several have spoken of their anger and desperation at being left behind, while other foreign nationals and embassy staff were flown out.
On Sunday, the UK airlifted diplomats and their families out of Sudan in a military operation.
The ceasefire appears to be holding so far after taking effect at midnight on Monday (22:00 GMT), but the Foreign Office has warned the ability to carry out evacuations could change at short notice.
This is the fourth suspension of fighting since violence erupted in Sudan this month, but other attempts did not hold.
Overnight, there were no reports of sounds of gunfire and the streets of Khartoum remain largely empty.
Sir Nicholas Kay, a former UK ambassador to Sudan, told BBC Radio 4's Today programme the situation in Khartoum was precarious and the security situation could change rapidly because there was no trust between the two sides in the conflict.
He said moving around Khartoum could be challenging because the bridges crossing the Blue and White Nile rivers were being controlled by armed groups.
Alicia Kearns, Conservative MP and chair of the foreign affairs select committee, said current information was that the fighting had stopped but the UK "can't be confident the ceasefire will hold".
She urged British citizens to "stay tight, stay safe, but prepare yourself to be able to move", adding: "We don't need a rush at the airport."
Ms Kearns said the Foreign Office would now be tracking people down by phone or text messages.
Asked on BBC Breakfast what help there was for others in Sudan, Ms Kearns said the government could not evacuate people who were not British nationals.
Hundreds of people have been airlifted from Sudan by other countries, including more than 1,000 people by European Union nations.
Dr Nala Hamza, whose family is trying to get out of Khartoum, said the evacuation was "good news if it came to reality".
She said her family, who live in the centre of the city, had fled their home at dawn to try to get a bus to the north of the country.
"They were hiding in a room at the back of the house away from windows because of the shooting,"she told BBC Breakfast.
Dr Hamza said at least 40 out of 55 hospitals were "not functioning at all" and the system "was already struggling before the war".
There was no safe route to get any help and doctors were exhausted, she added.
Dr Atia Abdalla Atia, the general secretary of the Sudan Doctors Union, agreed the situation was "very bad" and they were doing their best to support people.
He told BBC's Today the hospital he was working in has reached maximum capacity and patients were lying down in reception without beds.
Mo, from Reading, said he was "very scared" for his family, who had arrived in Khartoum the day before the violence broke out.
"They were in that area for the first five days, with no electricity, water running out, they were isolated," he said.
"Even getting to this airport that's being looked at to be evacuating Brits from, that in itself is going to be hard to get to."

Are you a British citizen in Sudan? Please share your experiences if it is safe to do so by emailing haveyoursay@bbc.co.uk.
Please include a contact number if you are willing to speak to a BBC journalist. You can also get in touch in the following ways:
If you are reading this page and can't see the form you will need to visit the mobile version of the BBC website to submit your question or comment or you can email us at HaveYourSay@bbc.co.uk. Please include your name, age and location with any submission.