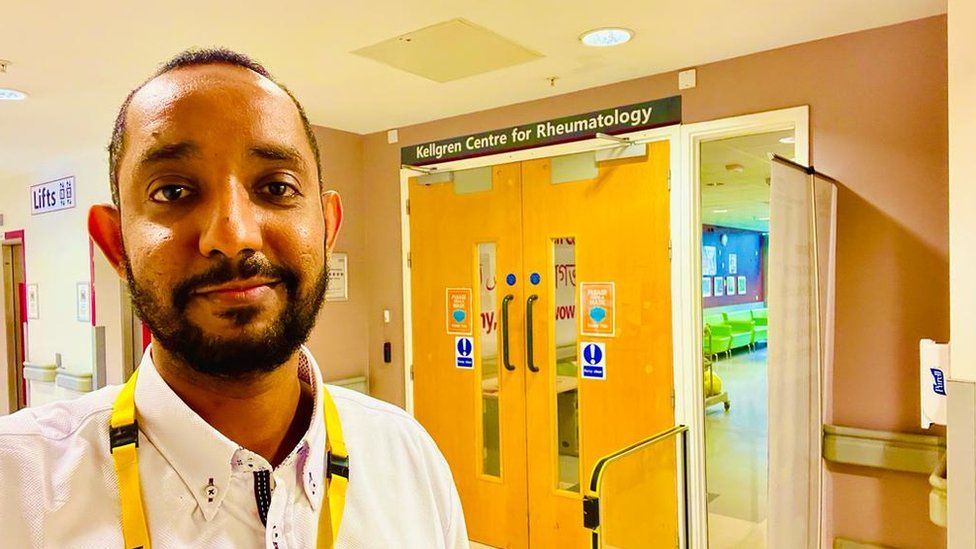 An NHS doctor trapped in Sudan after visiting family for Eid has urged the government to fly him back to the UK, saying he feels "betrayed" after being turned away from evacuation flights.
Sudanese-born Dr Abdulrahman Babiker is due back on shift as a registrar at the Manchester Royal Infirmary on Tuesday.
Despite having a UK work permit, he cannot board an evacuation flight as they only accept UK passport holders.
The Foreign Office says it is prioritising British nationals.
It added that people in Dr Babikar's situation are allowed to enter the UK but must make their own way there.
Khartoum International Airport has been shut for almost two weeks due to the fighting, while the borders of neighbouring countries are hundreds of miles away from the capital.
BBC Two's Newsnight has learned of at least 24 NHS doctors in this position.
Dr Babiker, who has worked at the Manchester hospital for more than four years, told Newsnight: "To be honest I feel totally betrayed… I worked throughout Covid and I'm so disappointed."
It is certainly not how Dr Babiker expected his perilous journey to Wadi Seidna airbase to turn out. Speaking from a relative's home in neighbouring Omdurman, he says he hoped to be helped to escape the conflict which has already claimed hundreds of lives.
"I had spoken to my MP and had emails advising me to go to the air base," he says.
For almost two weeks, rival factions within the Sudanese military have fought for control, destroying large sections of the capital Khartoum in the process and killing hundreds of civilians.
After initially telling people to make their own way out of the country, the British Foreign office eventually put on a series of rescue flights.
But after 16 hours queuing at the site north of Khartoum, Dr Babikar was told he could not board.
"They said, 'we are really sorry, this is the guidance from the Home Office'. And a soldier took me out," he said.
There are a large number of people in Sudan with ties to the UK, partially due to historical links between the two countries.
More than 2,000 British nationals in Sudan have registered with the Foreign Office under evacuation plans.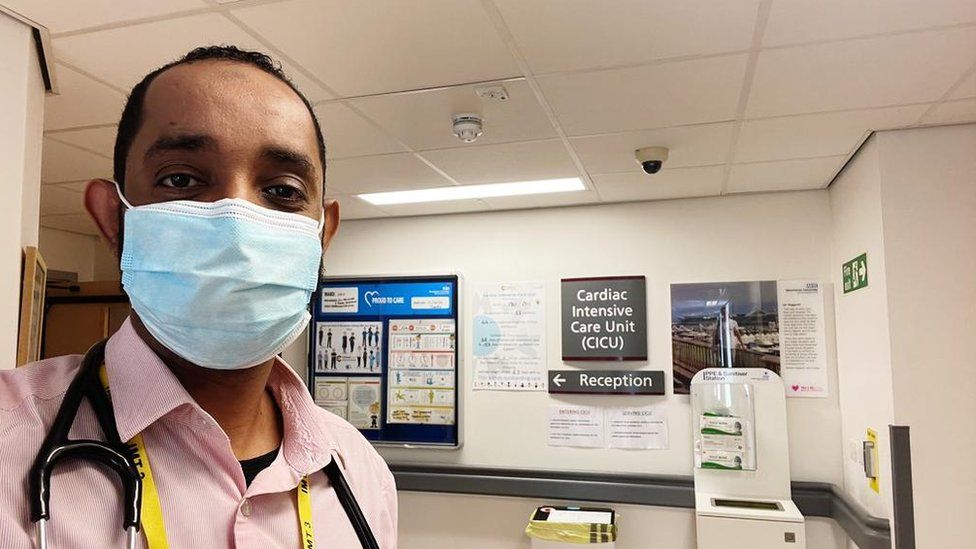 Speaking on Newsnight, Dr Nadia Baasher of the Sudanese Junior Doctor's Association said Dr Babiker was just one example of a much larger problem. She said she knew of at least 24 NHS doctors in a similar position, having been caught in Sudan while on a short trip there, many of them for the Muslim celebration of Eid.
"People are heartbroken by the whole situation," she said.
She said that some of those who had gone to the airbase had taken the decision to leave their Sudanese families behind to return to their jobs working in the NHS – and some were travelling with their young children.
"It's not safe. This is is very disappointing to see that they weren't treated with some consideration."
The operation to rescue British nationals has undoubtedly been a difficult one, with priority given to children, the sick and the elderly.
Downing Street has said eligibility requirements have been set out "very clearly" and have not changed, but there is "an element of discretion" for those working on the ground in Sudan. The Foreign Office also said other routes were available, "such as crossing the border into Egypt".
But Dr Babikar claims that discretion was not used in his case. He says he would have gladly waited in line, but says he was told to leave the airbase by soldiers.
"I'd be more than happy to wait for other people to be evacuated before me, but to not have any chance to be evacuated in this very risky situation is…. I'm really feeling disappointed."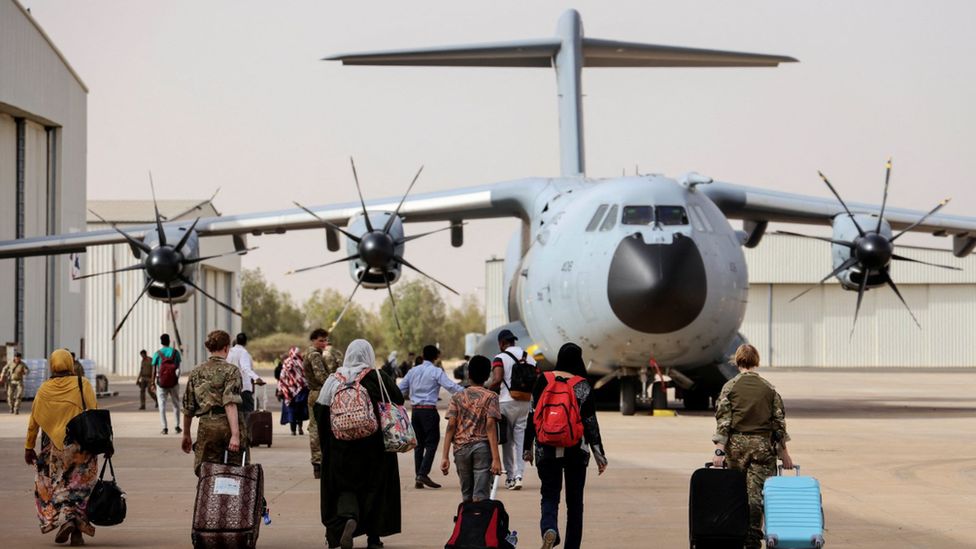 The Foreign Office said eight flights had airlifted 897 people from the east African country to Cyprus as of Thursday.
However, this is a fraction of the thousands of British nationals thought to be in Sudan and there have been growing reports of situations like Dr Babikar's.
Dr Baasher added it would hit future recruitment to an already struggling health service.
"I think this will have an impact on international medical graduates wanting to join the NHS. They make up about 40% of the workforce and it will make other nationalities think twice about whether they want to work for the NHS."
It comes as a further 72-hour ceasefire has been agreed between the rival Sudanese army and Rapid Support Forces, giving hope that further evacuation flights will be possible.
British military chiefs say they have the capacity to fly at least 500 people per day out of the Wadi Seidna airfield, north of Khartoum.
Foreign Secretary James Cleverly, who had previously warned the mission could become "impossible" tweeted on Thursday night: "I urge all British nationals wishing to leave to proceed to the airport as quickly as possible to ensure their safety."
Mr Cleverly also called for the "full implementation" of the ceasefire by the generals in conflict in Africa's third largest country.
Additional reporting by Andre Rhoden-Paul

Are you a British national who has been evacuated from Sudan? Are you still inside the country? If it is safe to do so, share your experiences by emailing haveyoursay@bbc.co.uk.
Please include a contact number if you are willing to speak to a BBC journalist. You can also get in touch in the following ways:
If you are reading this page and can't see the form you will need to visit the mobile version of the BBC website to submit your question or comment or you can email us at HaveYourSay@bbc.co.uk. Please include your name, age and location with any submission.