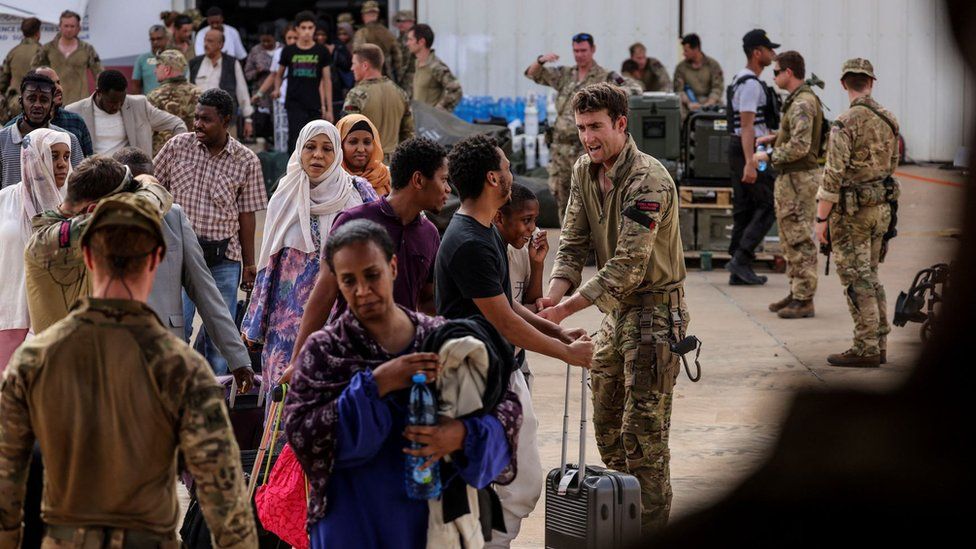 An operation to evacuate people from Sudan has been "extremely successful", a government minister has said.
A deadline for British nationals to reach an airstrip north of the country's capital Khartoum for the UK's final rescue flights has expired.
"We can't stay there forever in such dangerous circumstances," said Foreign Office minister Andrew Mitchell.
Tens of thousands of people have fled the country since fighting between rival army factions engulfed Sudan two weeks ago.
The death toll is thought to be much higher than the most recent official figure of 459, and the United Nations fears hundreds of thousands could be displaced if the conflict continues.
The government said 1,888 people have been evacuated on 21 flights as of late on Saturday, with the last flight set to depart in the coming hours.
Other countries have been frantically evacuating their citizens, while some have fled via unofficial routes by boat and bus.
The UK government, which began evacuations last Tuesday, had faced criticism for not reacting quickly enough to help its citizens after it began its airlift after other European countries had rescued hundreds.
Last weekend, special forces troops were sent to evacuate UK diplomats from Khartoum after fighting broke out around the embassy, but it wasn't until a few days later that British passport holders would be rescued.
Speaking to the BBC in Nairobi, Mr Mitchell said it was right that the evacuation flights were ending.
"I don't think there's a single Brit in Khartoum who won't know about the evacuation and the flow of people who've been coming to the airport indicate that that is correct," he told the BBC.
He said the UK government was "looking at every single option to help British citizens who are caught up in this terrible crisis".
He added that he was concerned that the situation could become "incredibly serious" unless there was a permanent ceasefire.
"The whole international system is looking at ways of stopping this fighting" he said, "which after all is two generals slugging it out for power".
A Foreign Office spokesperson said the UK's Sudan evacuation was "the largest of any western country".
Millions of people remain trapped in Khartoum, where there are shortages of food, water and fuel.
The Ministry of Defence has told the BBC flights will continue to leave Sudan until all those people who registered at the airfield before the deadline of midday local time (11:00 BST) have been evacuated.
It has now set up an office to help British nationals trying to flee the country at coastal city Port Sudan.
A British vessel, the RFA Cardigan Bay, is on its way to Sudan's east coast, the BBC has been told.
Defence secretary Ben Wallace said earlier this week it could be deployed in future evacuation or humanitarian efforts.
More than 20 NHS medics were initially told they could not board flights because they were not British nationals, despite having UK work permits.
A change of heart came after the plight of Sudanese doctor Dr Abdulrahman Babiker came to light. He was in Sudan visiting relatives for Eid when the fighting broke out.
He was initially refused a place on a British evacuation flight but after media coverage and contacting his MP, the criteria was widened and he was allowed to join. He landed in the UK on Saturday afternoon.