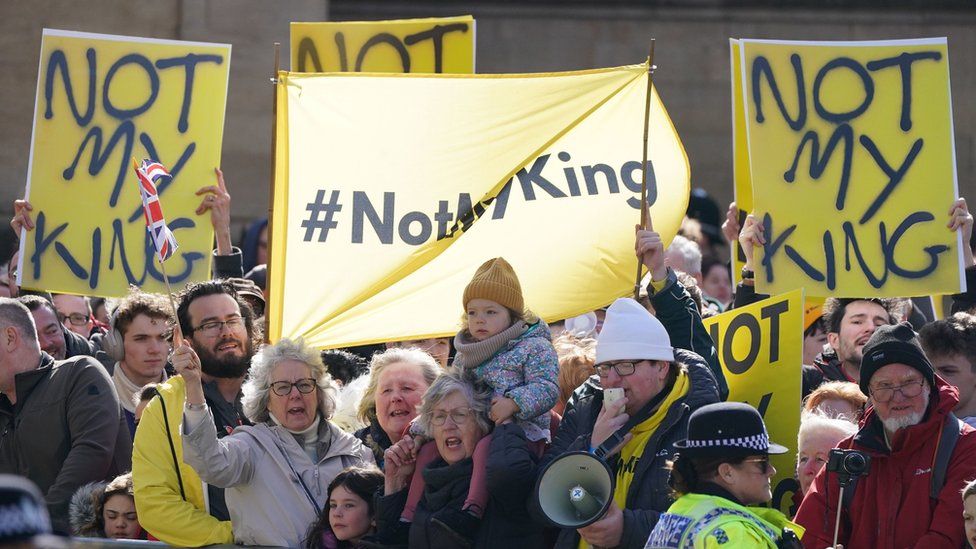 Anti-monarchy groups will be allowed to protest at the King's Coronation on Saturday, security minister Tom Tugendhat has insisted.
However they will not be permitted to "disrupt others", Mr Tugendhat said.
His comments came after protest groups received letters reminding them about changes to the law targeting "serious disruption" including attaching themselves to people or infrastructure.
The letter, sent on 28 April by the Home Office's Police Powers Unit to groups including Republic, which campaigns for abolishing the monarchy, said that upon coming into effect on Wednesday the Public Order Act would include penalties for "specific criminal offences" including locking-on and interfering with key national infrastructure and processions.
"I would be grateful if you could publicise and forward this letter to your members who are likely to be affected by these legislative changes," the letter said.
Graham Smith, CEO of Republic, described the letter as "intimidatory" and very odd".
"We've been liaising closely with the police about the protest for weeks – we've had meetings with them," he told PA news agency.
"They've said very clearly that they have no problems with our plans. I just can't understand why the Home Office thinks it's appropriate to send a letter like that, which was anonymous in terms of no person's name on it," he said.
He added that there are plans for 1,700 people to protest in London's Trafalgar Square on Saturday.
Speaking to the BBC's Today programme, Mr Tugendhat said that anti-monarchy groups have the "liberty that anybody in the United Kingdom has to protest, what they don't have the liberty to do is to disrupt others".
He added that the complexity of the security operation for the Coronation was heightened by the presence of foreign leaders.
"It's perfectly possible that we're dealing with protest groups that have nothing to do with the UK, but are seeking to protest against a foreign leader who's visiting, or seeking to make a complaint about something that's happening hundreds or thousands of miles away," he said.
Mr Tugendhat refused to discuss what actions could be punished at the Coronation "for fear of encouraging people to find loopholes", but said they were introduced in response to protests in the UK becoming "disruptive" and "intrusive".
The Public Order Act includes a penalty of up to six months' imprisonment or an unlimited fine for "locking on" – which involves individuals attaching themselves to others, objects or buildings.
Any action which "prevents or significantly delays the operation of key infrastructure" including airports, railways, printing presses and oil and gas infrastructure has a maximum penalty of 12 months in prisons, an unlimited fine, or both.
Tunnelling – which includes creating a tunnel, participating in creating a tunnel and being present in a tunnel – can be punished by up to three years in prison, or an unlimited fine, of both.
Police stop and search powers have also been enhanced to be "suspicion-led".
The Home Office describes them as "sensible and proportionate measures" in response to actions by groups such Just Stop Oil and Insulate Britain that have caused "serious disruption".



Read the latest from our royal correspondent Sean Coughlan – sign up here.