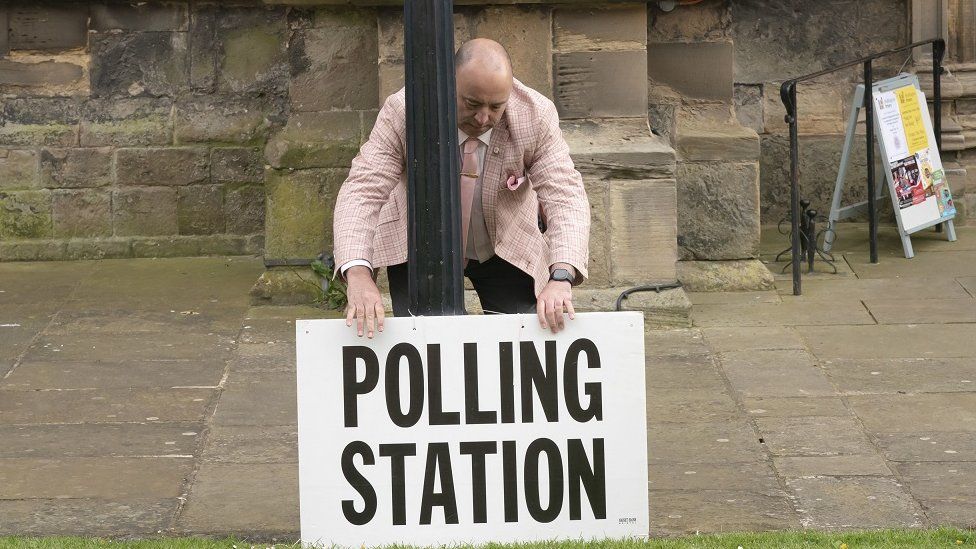 The polls for more than 8,000 council seats on 230 councils, and four mayors, across England have closed.
Millions of votes will now be counted in the first big test of Prime Minister Rishi Sunak's electoral popularity.
The first results are expected just after midnight on Friday morning, with 65 councils counting overnight.
The last time these seats were up for election in 2019, the Conservative Party had its worst results in a generation in traditional heartlands.
Results will continue to be declared throughout Friday, including for the four mayoral contests in Bedford, Leicester, Mansfield and Middlesbrough.
The first result is expected to come at around 00:30 BST from Hartlepool, which is in no overall control and a target for both Labour and the Conservatives. Sunderland is also expected to announce early, providing a measure of Labour's popularity in one of its traditional heartlands.
The final result is forecast to be declared at around 20:00 BST, although this could be later depending on factors such as recounts.
Elections are not taking place in London, Scotland or Wales.


The Electoral Commission, which oversees elections in the UK, said today's election had been "well run" overall but the impact of new voter ID rules needed to be evaluated.
"Some people were regrettably unable to vote today as a result" of the new rules, an Electoral Commission spokesman said.
The Electoral Reform Society, which opposed the change, said there had been "countless examples" of would-be voters being turned away from polling station because of the new rules.
The BBC has not been able to verify the number of voters turned away because of the new rules. But figures for this are expected to emerge in the coming days.
Most of the seats up for election were last contested three prime ministers ago in 2019.
It was a tumultuous time for the two leading parties, the final months of Theresa May's premiership and seven months before Jeremy Corbyn would lead Labour to its worst general election result in 84 years.
The Conservatives lost a total of 1,330 seats in mostly traditionally Tory supporting areas. Labour lost 84 seats – just over 4% of its councillors in those areas.
The main beneficiaries were the Liberal Democrats, who picked up 700 seats – mostly in Remain-supporting areas – while an extra 610 independent candidates were elected on to councils.
Even after losing so many seats in 2019, things are looking tough for the Conservatives this year. If the local election results reflect current opinion polls, they are likely to face the loss of hundreds more seats.
Under Mr Sunak, the party has improved its position in national election polls. But there is still a lot of ground to recover after its popularity crashed when Boris Johnson and then Liz Truss resigned as prime ministers last year.
Northern Ireland Secretary Chris Heaton-Harris said his party was "in for a tough night" after the polls closed.
Conservative Party Chairman Greg Hands has been managing expectations, claiming his party could lose 1,000 council seats.
Labour has enjoyed a significant lead in the opinion polls, but will want its performance to reflect that. It has been downplaying expectations by predicting gains of about 400 seats.
Shabana Mahmood, Labour's national campaign coordinator, said her party "expect to make gains and show we're making the progress in the places we need to win at the next election" following the polls closing.
"We are proud of the positive campaign we have run, focused on the issues that matter most to voters," she added.
Lib Dem and Green targets
The results are likely to be one of the final tests of the major parties' popularity before a general election – expected next year.
The Liberal Democrats are hoping to build on their success in 2019, targeting rural and suburban seats held by the Tories.
Daisy Cooper, the party's deputy leader, said she had "heard real anger and frustration from voters who are sick and tired of being taken for granted by this Conservative government".
"Tonight, their voices will be heard," she said.
The Greens, who also did well in 2019 when they gained 194 seats, are aiming to win outright control of their first council in Mid Suffolk.
In a statement, the Green Party said "we are confident we will have taken votes from both traditionally Labour and Conservative voters and will build on our successes in recent years".
Council elections in Northern Ireland have been moved back to Thursday 18 May because of the Coronation of King Charles III on Saturday.
Most of the councils up for election in England are district councils, responsible for services including bin collections, parks, public housing and planning applications.
Other services in these areas such as roads, schools, social and care services are managed by county councils which are elected at a different time.
The rest of the councils being elected are a mixture of metropolitan and unitary councils – single local authorities that deal with all local services.
Passports, driving licences, and older or disabled people's bus passes were among the documents accepted at polling stations.
Those without the right ID were encouraged to apply for a new free voter certificate, the deadline for which closed last week.